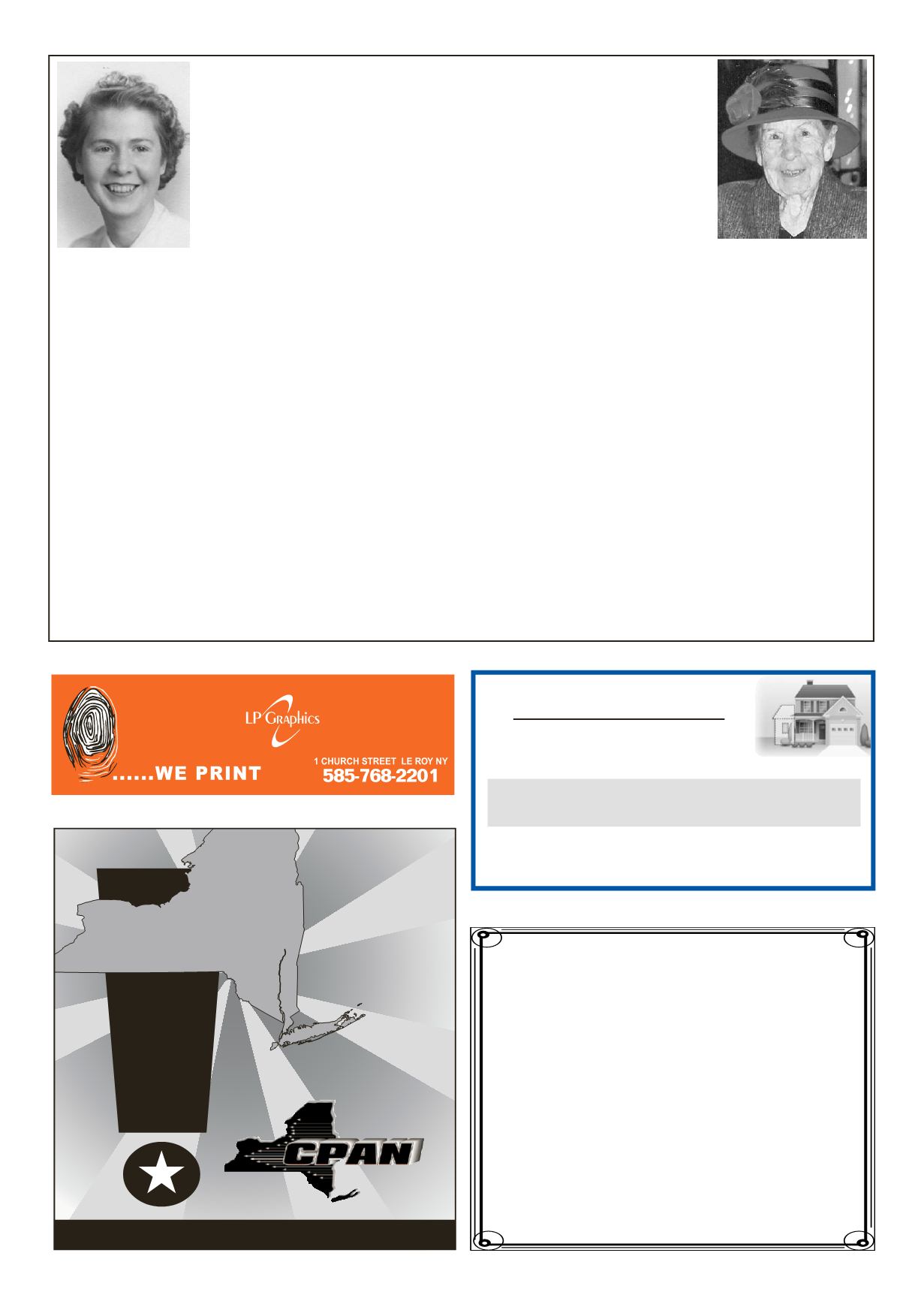 LEROYPENNYSAVER&NEWS - JANUARY 5, 2014
SUBMIT
YOURAD
HERE
ONE
ONE
*$490 for15words. $15 foreachadditionalword.
AGreat Deal toReach theWholeState!
Joseph E. Herron, age 64, formerly of LeRoy, died on
December 22, 2013, inTuscaloosa, Alabama.
He was preceded in death by his parents, Joseph and
Alice Herron. He is survived by his wife, J. Suzanne
Horsley; daughter, Megan Elisabeth Herron; sister,
Elizabeth Cahaney (William); brother, Jon Martin
Herron (Lori); sixnephews; one niece; two beloved dogs
and countless friends.
Joewas a retiredmajor in theU.S. Air Force andmost
recentlyworked for theAmericanRedCross.
A private memorial service will be held at the family's
convenience. In lieu of flowers, the family suggest
donations toCatholicSocialServicesofWestAlabamaor
theAngelFund, c/o theCancerCareCenterofTuscaloosa.
CatharineKrebsWaddellMooreEnfield
March 8, 1907 –December 24, 2013
Catharine Krebs Waddell Moore Enfield, 106, longtime Hereford resident went home to her Lord and Savior on
Christmas Eve, December 24, 2013, inHereford.
ViewingandvisitationwillbeheldonFriday,December27,2013atHerefordHeritageFuneralHome,411E6thStreet.
Aprivate burial will take place at a later time. Services areunder the directionof HerefordHeritage Funeral Home.
Catharine was born inGibson Township, CameronCounty, Pennsylvania onMarch 8, 1907 to Lawrence Edward
NewtonKrebs andMaryEleanor JensonKrebs. Shewas the eldest daughter of 5 siblingswhoarenowall deceased.
Her formal education ended in the 9thgrade after her fatherwas killed inan explosionat the powder plant where
heworked. Tohelp support her siblings, Catharine andhermother took in laundry and she alsoworkedat the Jell-O
gelatin factory inLeRoy,NewYork. In1925 shemarriedLeeRoyKennethWaddell and theyhadonedaughter,RosaLee
Eleanor, in1926. Seeking to improveherself,Catharineattended the famedFannieFarmer'sBostonCooking-Schoolandworkedasahousekeeperand travel
companion for the prominentMissRuthKeeney of LeRoy. In1938, Catharine's husbandof 13 yearswas killed suddenly inan explosionat the same powder plant as her father.
Love of readingbrought anarticle byDr. GeorgeW. Heard, adentist inHerefordand thefirst promoter of fluoride, toher attention. She thought Hereford sounded like anice town so she
and her daughter boarded a train andmoved there sight unseen in 1941. Knowing no one upon arrival, they rented a bedroom fromMr. andMr. Ireland and Catharine soon found a job
working for FrasierMillingand then later at Patton Insurance.
On Valentine's Day in 1945, CatharinemarriedNormanMoore fromBatavia, New York. They ownedHereford Produce and Fertilizer where she was the secretary. She was very active in
manyHerefordclubsandorganizations including theHerefordGardenClub,HomeDemonstration,BetaSigmaPhi, StudyClub,BridgeClub, pastmatronanda60year+memberofEastern
Star and First PresbyterianChurch. She andNorm traveled extensively promoting their Hereford business andmademany close friends across theUnited States andCanada. Thanksgiving
Day in1965, NormanMoore passedaway inFort Lauderdale, FL.
In1966, CatharinemarriedMorris EnfieldSr. whowas also in the produce business and theymoved toSanBenito, TX.Morris EnfieldSr. passedaway in1981.
Catharinemoved back toHereford in 1991 to be closer to family and live in the Hereford home she had kept since 1945. Anothermove came in 1996when shemoved to the country to
live with her granddaughter. Still able to do for herself, she enjoyed the animals, gardening, and visits with friends. After being part of King's Manor Adult Day Care for several years, she
moved toWestgate in June of 2007.
Celebratingher 106thbirthday inMarchof this year, Catharinehas always beenan inspiration toher family andall thosewhohave knownher, especiallyher 5great-grandchildrenand
2 great-great-grandchildren. From growingup andhiking in the AlleghenyMountains toworking various jobs fromNew York toTexas to theNavyDepartment inWashington, DC during
WWII. She believed in hard work, helping those less fortunate, and being thankful in all things. She loved reading; all types of needle work; gardening, especially roses; cooking, playing
pianoand the organand entertaining family and friends.
AlthoughCatharine is nowwithher LordandSavior, Jesus Christ, she remains inour hearts andmemories always.
Precedingher indeathwereherparents,brothersClyde,Lawrence,andCyrilKrebs,and sisters IreneBaratieandVioletKlosse.HerdaughterRosaLeeand son-in-lawC.T.ThamesofHereford.
A special thank you to the staff at KingsManor,most especially Isabel Alejandre andSamaritanHospice.
Catharine is survivedby 3grandchildren- LindaWilliams andhusbandRichardof Hereford, CathyThames of Dimmitt, andGaryThames andwifeTracey of Taylor,Michigan. Five great
grandchildren–BruceWilliams of Boston,RickaCadenaandhusbandTomas ofHawaii, Ashleigh, CodyandClaytonThames of Taylor,Michigan. Twogreat-great granddaughters–Vacious
andBlytheCadenaof Hawaii.
The family suggestsmemorials be to KingsManor of Hereford or the Catharine Enfield book fund at the Schlesinger Library on the History of Women in America, HarvardUniversity, 3
James Street, Cambridge,MA02138.
Express your condolences and sign the online guest bookat
"CompleteCarpentry Service"
CustomHomes •Remodeling•Additions
lpgraphics.net