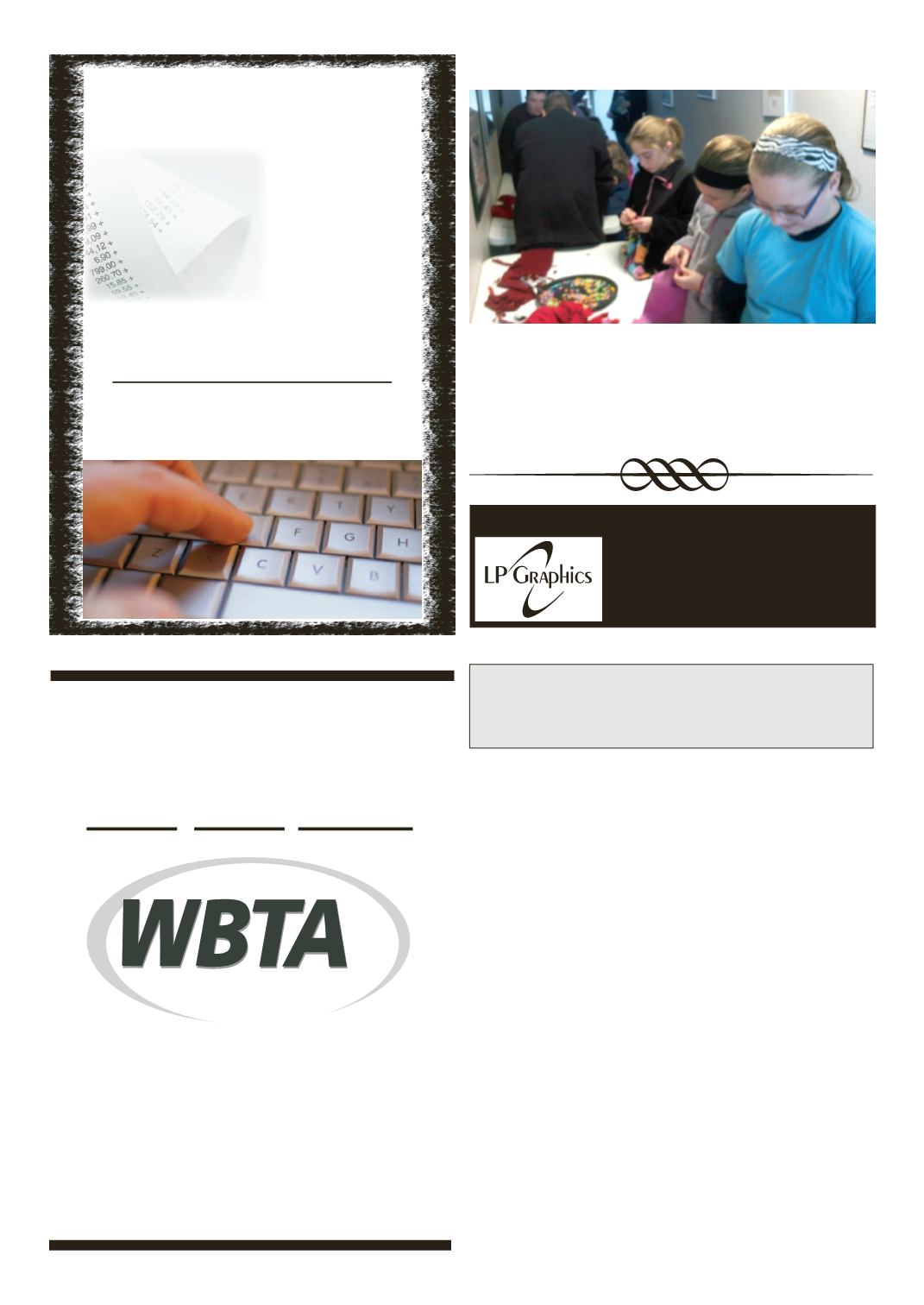 LEROYPENNYSAVER&NEWS - JANUARY 5, 2014
1ChurchSt., LeRoy, NY14482
585-768-2201
FAX585-768-6334
WeDo
i
WBTARadio - 113MainSt., Batavia, NY - (585) 344-1490
As part of a recent community project, 184 scarfs were made
in conjunction with the Gephart family, communitymembers,
teachers, anda largenumber ofWolcott Street School students.
These scarfs were donated to the LeRoy Food Pantry. These
scarfswerealsopart of aChristmas foodpackage thatwent out
toover100 families. Over75peopleparticipated in thisproject!
184 Scarfs Donated
Center and MVP Health Care®
arepleased toannounce that they
have reachedanagreementwhich
will allowUnitedMemorial tobe
includedasanetwork facility for
MVPHealth Insurance products
purchased through theNewYork
State of Health Exchange. The
agreement was reached today,
December 31st and will go into
effect tomorrow, January1,2014.
As part of theAffordableCare
Act, people who do not have
health insurance through their job,
or cannot afford the planoffered
by their employer, now can use
the "Healthcare Exchange" or
"Marketplace" to compare plans
and sign up. InNewYork State,
residents are provided a list of
insurancecompaniesandplans to
select from,basedon theircounty
"We greatly appreciate the
patience and understanding of
ourcommunityasweareworking
to address the sweeping changes
broughtonbyhealthcarereform,"
stated United Memorial's CEO
Mark C. Schoell. "I am pleased
that we were able to bring the
negotiation with MVP Health
Care toasuccessful conclusion."
President, Network Operations,
MVP Health Care said, "We
are happy that UnitedMemorial
MedicalCenter is aparticipating
provider for MVP products in
Genesee County, including new
Exchangecoverage, andwe look
forward to continuing to serve
residents of theBatavia area."
UMMC andMVP
Reach Agreement
JOBOPENING
Resumes arebeing accepted for a
Clerical Bookkeeping
AccountsPayable&AccountsReceivable
DataEntry, RecordKeeping, Filing,
Answer Phones, etc.
Must have computer skills.
PC, Quickbooks&Microsoft Office
Part Time or Full TimeConsidered.
NoWalk-InsPlease.
SUPPORTYOUR LOCALADVERTISERS!
They help sponsor the local news section of the Le Roy Pennysaver.
THANKS FORYOUR SUPPORT!