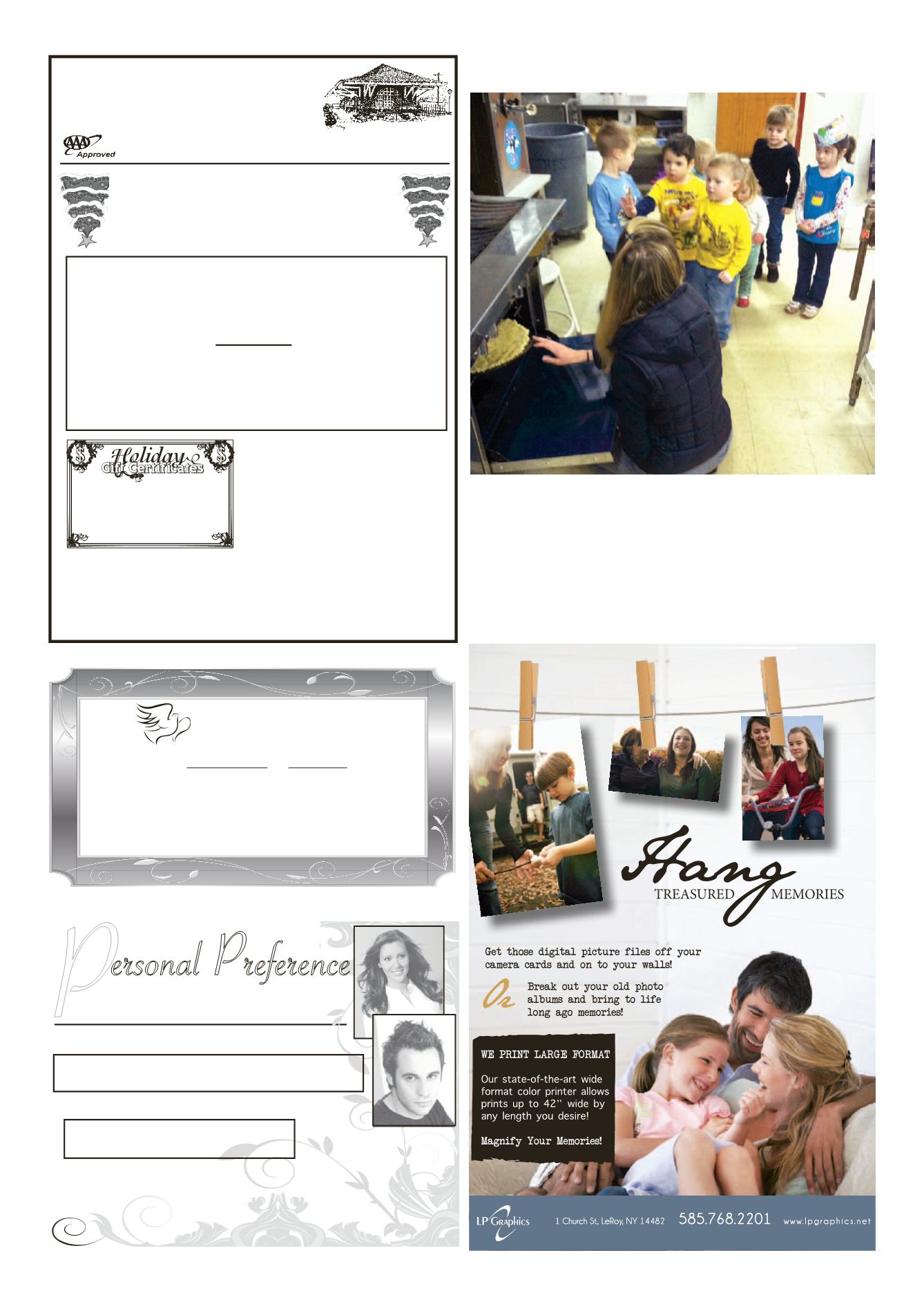 LEROYPENNYSAVER&NEWS - JANUARY 5, 2014
D&RDepot
63LakeSt. (Rt. 19), LeRoy• 768-6270
Let'sMeetAtThe ...
OpenForBreakfast, Lunch&Dinner - 7DaysAWeek 7 am-9pm
D&RDepotGiftCertificates
a perfect fit for everyone,
have no expirationdate and
come in any dollar amount.
DoubleLRental
offering tables, chairs, heaters,
10%discountwhen youuseboth the
D&RCateringServices andDoubleLRental
foryour event.
Visit doublelrental.com, or call us at (585) 344-0023
F
ALCONE
F
AMILY
Funeral&Cremation Service, Inc.
Director/Owner
Director /Owner
FuneralDirector
34Main Street, LeRoy•
768-2250
Proprietor
JoAnnMather • Julie Laurie
Styling For The Entire FamilyBy Appt. Or JustWalk In!
Ear Piercing&Body FacialWaxing
Stop in to see all our hair accessories aswell as our retail line
"Small Indulgences" - Affordable, Quality Jewelry
YOURFAVORITEMAIN STREET SALON!
Where our friendly atmosphere, years of
experience and reputationare your ...
Personal Preference
SalonHrs: Tues.-Thurs. 9 am-8pm, Fri. 9-4pm,
NAILS, SPA PEDICURES&MANICURES BYDEE&MANDY
ThenurserychildrenatLoveBugsPreschoolrecently tookawalk
over to the kitchen at the Parish Center to bake some holiday
treatsand learnabout safety in thekitchenandwhichappliances
cangethotandwhichonesarecold.Picturedherearethechildren
in the afternoon class discovering that anoven iswhat theywill
use tobake their cookies and that it can get veryhot.
Hot Or Cold?
SUNDAY, JANUARY 5thdinnerspecial
ROASTCHICKENdinner - $14.99
(includes soup or salad, realmashed potatoes, beverage
and dessert)
SUNDAY, JANUARY 12thdinnerspecial
STUFFEDPORKCHOPdinner - $14.99
(includes soup or salad, homemade potato pancakes,
beverage, and dessert )