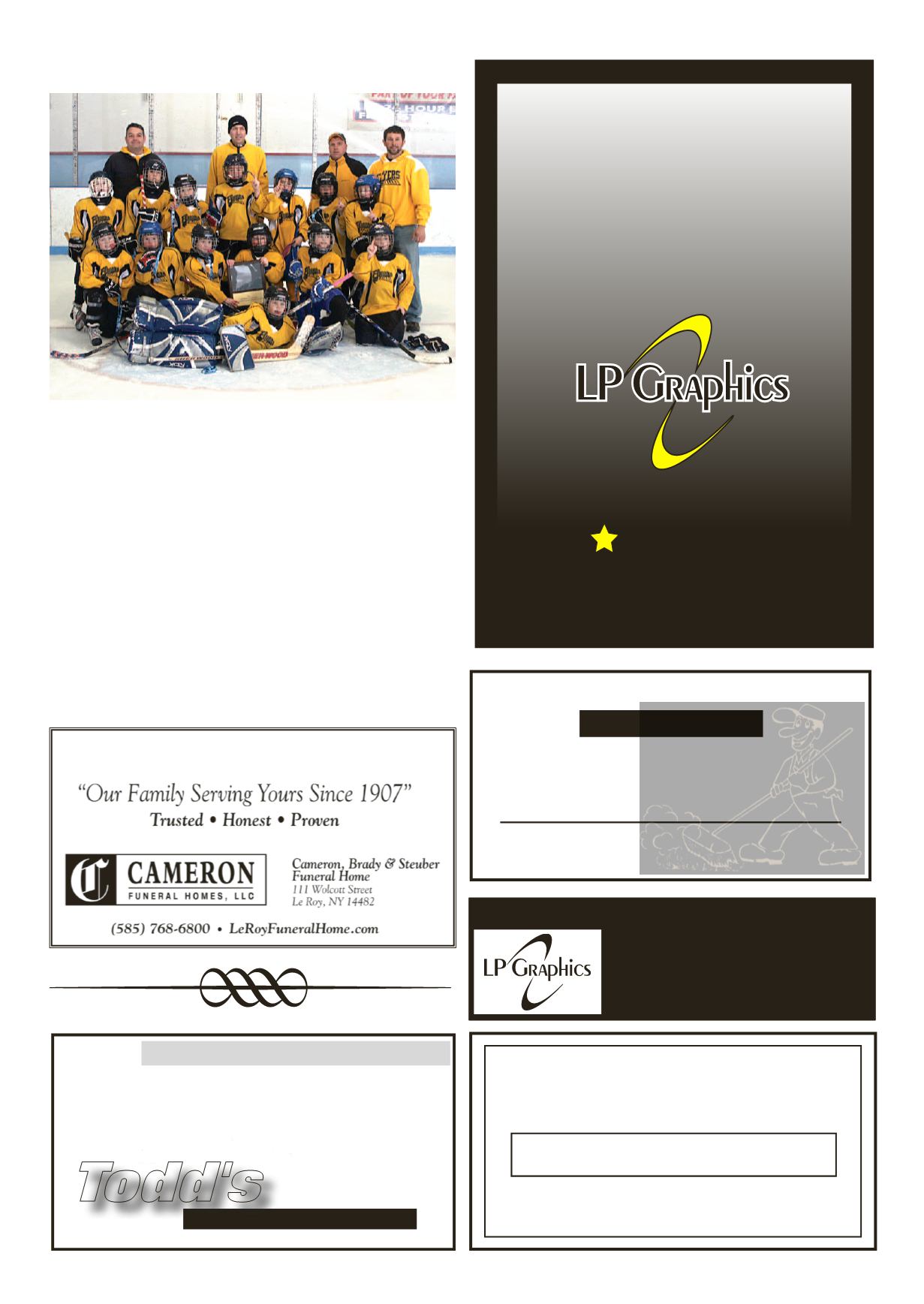 LEROYPENNYSAVER&NEWS - JANUARY 5, 2014
HelpingFamiliesCelebrateaLifeLived
Plumbing • Heating
Installation&Repair Service
For All Residential &Commercial Work
CleaningService
•Carpet &UpholsteryCleaning
•Spot Cleaning&Odor Removal
•Tile&WoodFloor Cleaning&Waxing
•Complete Janitorial Services
TheFirlandFlyers, amite level
travelhockey teamoutofBatavia
entered theirfirstever tournament
TheLakeshore JestersHoliday
TournamentwasheldatLakeshore
IceArena inRochesterandgames
were played Friday, December
The Firland Flyers faced &
The Firland Flyers lineup includes: Brennan Pedersen, Bronx
Bucholz, Chase Cummings, Noah Hudson, Ryan Hamilton,
CooperHamilton,JamesonMotyka,JoeDiRisio,MackWormley,
GregNarburgh,MasonCook,Alex Johnson, NoahWhitcombe
and Will Eschberger. Coached by Kevin Hamilton, Fred
Hamilton, Dan Hudson, Jeff Whitcombe and Joe Eschberger
andmanagedbyBob Johnson.
defeated 6 other teams to clinch
the tournament title! The team
is made up of 7 and 8 year old
children from Batavia, Elba,
Pavilion, LeRoy and other
surrounding communities. The
Firland Flyers are 'Flyered Up'
and looking forward toadditional
tournaments in early 2014.
The Firland Flyers
NewHomes •Additions •Garages •PoleBarns
ToddCarli • Phone 703-0964
Todd's
Decks •Windows •Doors
Kitchens •Baths
CeramicTile
Basement Finishing
CustomShelves/Built-Ins
Siding •Remodeling
Roofing • SnowPlowing
FULLY INSURED
1ChurchSt., LeRoy, NY14482
585-768-2201
FAX 585-768-6334
WeDo
1CHURCHST, • LEROY, NY • lpgraphics.net
WEHANDLEALLASPECTSOFPRINTING...
PROGRAMS
LETTERHEADS
BILLHEADS
FLYERS
BROCHURES
POSTERS
CARBONLESSFORMS
ENVELOPES
RAFFLETICKETS
NEWSLETTERS
RESUMES
TYPESETTING
RUBBERSTAMPS
ENGRAVEDSIGNS
NAMETAGS
COPIES
LAMINATION
COMMUNITYFAX
NEWSANDPICTURES
ADVERTISING
BUSINESSCARDS
HOURS: Monday thruFriday 8:00 to 5:00