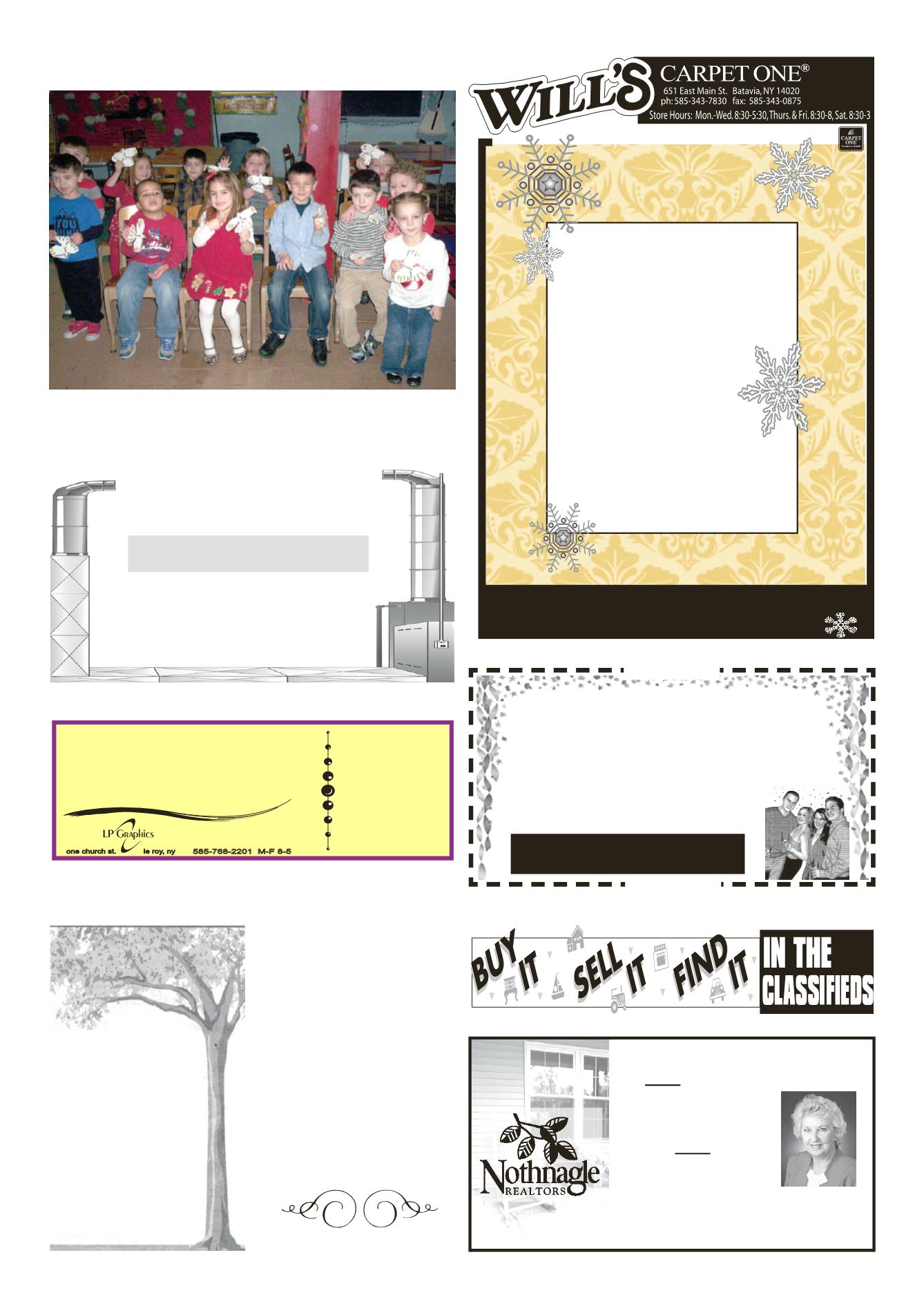 LEROYPENNYSAVER&NEWS - JANUARY 5, 2014
J.M. HEATING
585
.409.6509
ForcedAir&HotWaterSystems
Gas&FuelOil
FurnaceCleaning • Service •Repairs •New Installations
FreeEstimates • 24HourService
American Legion
Post 576
585-768-2090
CLIP&SAVE
CLIP&SAVE
Inside - 2RoomsAvailable
Outside - LargePavilion
DoubleRoll
$14.99
Borders
$7.49
Malovich
Environmental
FREEESTIMATES
Fully Insured
(585) 409-6509
TREE SERVICE
LeRoyNurserySchoolClassesmadedoves foraNewYearwish,
Let there be Peace. They will be hanging up in McDonald's.
Picturedhere is the 3DayClass.
Let There Be Peace
Batavia
585-343-6750
NOW is theBEST time
toBUYwith the interest rates
at their lowest!
Don't wait
toBUY -
call
LindaBeaumont
for all your real
estateneeds.
LindaBeaumont
(585) 768-6315
LicensedReal Estate
Salesperson
Corvallis - Holly C. Kovach
Junior
made the Scholastic Honor Roll
(3.5 GPA or better) for the fall
term atOregonStateUniversity.
A total of 852 students earned
straight-A (4.0). Another 3,631
earned a B-plus (3.5) or better
tomake the listing. To be on the
Honor Roll, students must carry
at least12gradedhoursofcourse
one church st. le roy, ny
one church st. le roy, ny