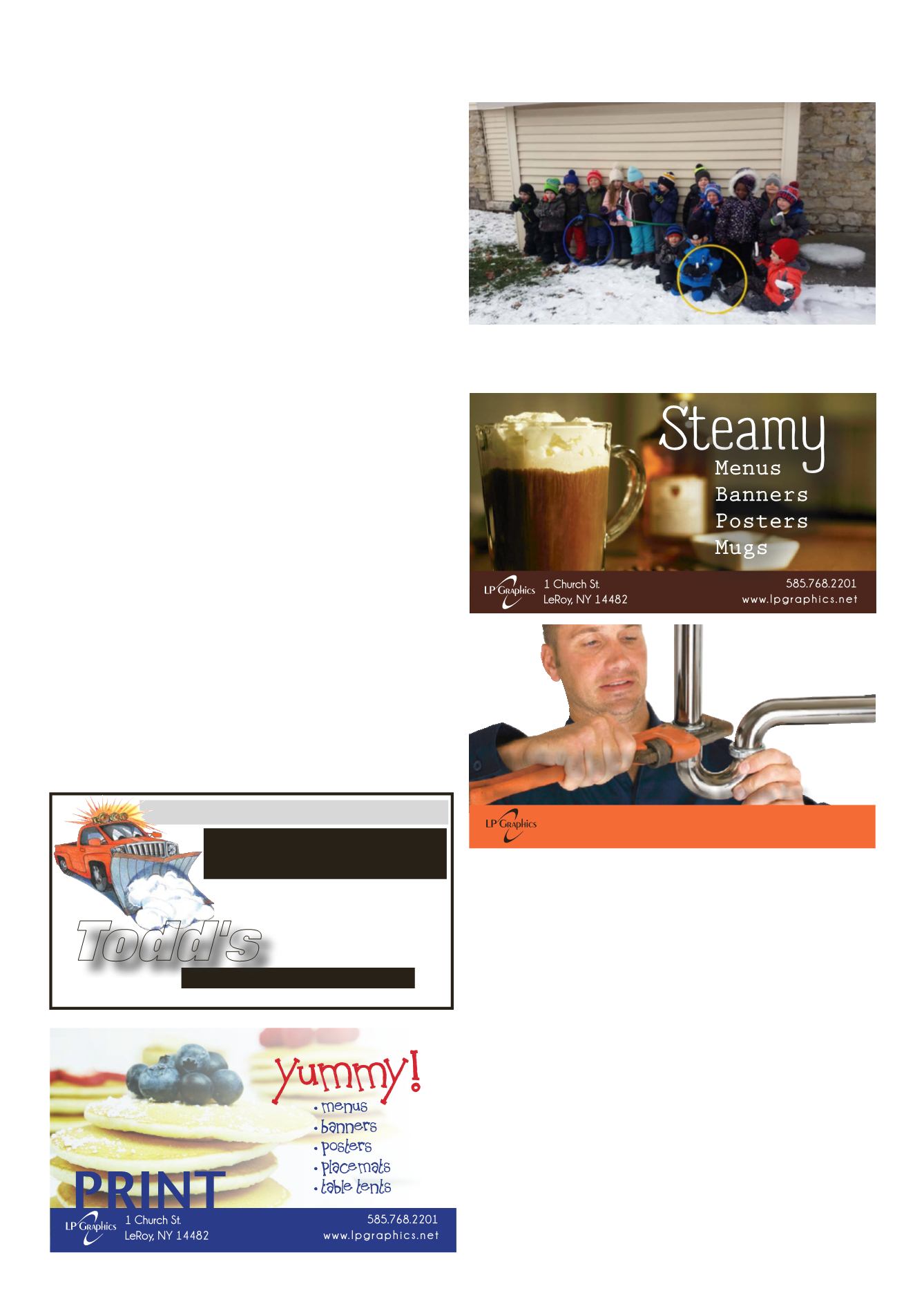 LE ROY PENNYSAVER & NEWS - DECEMBER 18, 2016
I hope you have had
the opportunity to attend some
of the great musical concerts
over the past few weeks! Our
students definitely have the hol-
iday spirit.
I wanted to take a min-
ute and update you on the R.I.T.
E. Project. At this point the proj-
ect is about 75-80% completed.
Be sure to take a peek
at the new Wolcott Street Gym-
nasium. This addition is out of
the ground and enclosed just in
time for the winter weather and
matches the scheme of the older
building perfectly. The gym will
be completed and ready for use
in the spring.
The new library/media
center at the WSS is also near-
ing completion and is sched-
uled to open in February. We
are thrilled with this new space
and look forward to having the
students frequent the library
throughout the school day.
The Memorial Audito-
rium is open for business. The
sound and lightening enhance-
ments will truly improve the
many events that are held in this
location.
The new kitchen area
and elementary office are also
functioning well, although, a
few final tweaks are still needed
in both spaces.
Classrooms in the Wol-
cott Street building are on track
to be completed. Final touches
are happening on the third floor
at this time.
The Trigon building
classrooms have proved to be
a bit challenging in regards to
floor installation. This has set
our timeline back about six to
eight weeks, but we are confi-
dent that the end product will be
worth the wait.
Both Hartwood Park
and the Jr./Sr. High School im-
provements are 99% completed.
A few items, such as fixed fur-
niture for the commons area in
the Jr./Sr. High School and door
hardware are slated for install
over the Christmas break.
Throughout the dis-
trict, "punch list" items (such
as paint touch up, trim and tile
replacement) will continue
throughout the spring. It is truly
an amazing transformation.
Stay warm as winter arrives!
Sincerely,
Kim Cox, Superintendent of
Schools
Message from the
Superintendent
The Pre-K class at Love Bugs Preschool had a great time playing
in the snow this week. The children had so much fun coloring the
snow blue, making snow angels and running around!
Fun in the Snow
Town Supervisor Column
Tis' the Season so I will use
bullet points to highlight town
happenings for this column:
- County 911 tower is
underconstructionatthehighway
dept. on Asbury Rd.- Main
purpose for the town joining
this intermunicipal project is to
provide better communication
for first responders in LeRoy,
particularly for when they exit
their vehicles and need to use
their portable devices
- Final public hearing for pro-
posed revised Comprehensive
Plan will be held on December
29, 7 PM
- Our annual re-organizational
meeting for 2017 will begin at
6:30 PM on January 12, 2017
- Remember, new transfer
station protocols go into
effect on January 1- New punch
cards will cost $30 (can still use
previous unused punches on
older cards) and the station will
open at 8 AM on Saturdays (still
close at the usual 3 PM)- Board
is still debating other procedures
to reduce the deficit at the
station that may be enacted in
the near future
Have a very blessed Christmas
and see you Around Town in
2017!
Stephen R. Barbeau
Supervisor
Connect
withYourCustomers!
EMBROIDERY
Dress Shirts, Polos, Vests, Hats, Jackets, Etc.
1 Church St.
LeRoy, NY 14482
585.768.2201
www.lpg
raphics.net
New Homes • Additions • Garages • Pole Barns
CUSTOM CARPENTRY LLC.
Todd Carli • Phone 703-0964
Decks • Windows • Doors
Kitchens • Baths• Ceramic Tile
Basement Finishing
Custom Shelves/Built-Ins
Siding • Remodeling • Roofing
FULLY INSURED
tfn
Todd's
Now Accepting New
Snow Plow Contracts
Residential • Commercial
Salting • Shoveling