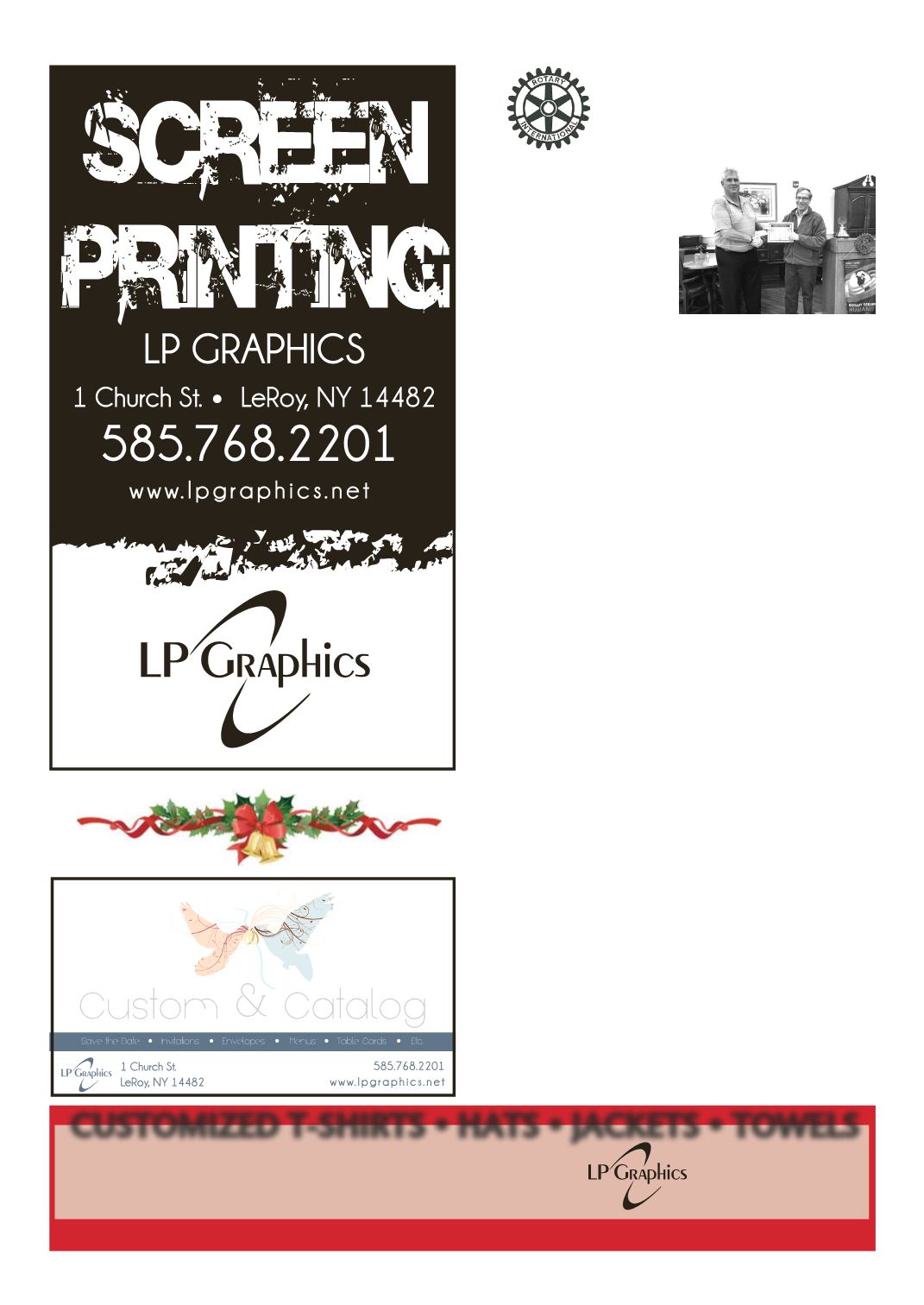 LE ROY PENNYSAVER & NEWS - DECEMBER 18, 2016
1 Church St. | LeRoy, NY 14482 | 768-2201 |
www.lpgraphics.net
EMBROIDERY MAKES
GREAT GIFTS FOR YOUR
FAMILY • FRIENDS • ETC.
CUSTOMIZED T-SHIRTS • HATS • JACKETS • TOWELS
LeRotary
Notes
The holiday season is in full
swing, and everyone was mer-
ry at The Greens for our meet-
ing today. Hailey Babbitt, Ceci
Tillson, and Ally Miller from
LeRoy Central School joined us
today. Greg Rogers, Mayor of
LeRoy, also was in attendance.
We recognized the birthdays of
Carole Wolfe & Ron Pangrazio.
Announcements included:
December 11th: Rotary Carol-
ing at Ellison's
December 21st: Board Meeting
the Greens, 11am
December 31st: LeRoy Busi-
ness Council's First Night,
please help support by purchas-
ing raffle tickets
January 7th: Area 14 Christmas
Party
January 13th: Rotary Christmas
Party, The Graysons
Bob Bennett was fined for miss-
ing for Rotary. Mary Margaret
Ripley, Jim Ellison, and Bob
Boyce were all missing in the
previous weeks due to "work".
Sam Vagg and Erik fix were
missing last week while partici-
pating in "Mock Interview Day"
at LeRoy Central School, and
both had make ups.
Bob Bennett was fined for a
successful hunting season. Jim
Ellison was given a beautiful
picture that surfaced on social
media of him and his bride, and
he gladly paid the fee. Mary
Young and June Dusen paid up
for programs from the Eastern
Cities Dinner that they both
missed.
Mayor Greg Rogers was in
attendance to give us an update
on the Village. Mayor Rogers
began by discussing the sewer
plant on Red Mill Road. This
past year, the plant had two long
term employees retired. The
Village hired Steve Carol as
the new plant manager, and he
is doing a great job. The plant
is still in need of some repairs,
and there was a need to upgrade
some equipment. There was an
increase in the resident's sew-
er bill this past year, but that
should go back down in the next
few years. GAM (Genesee As-
sociation of Municipalities) is in
the process of negotiating with
the county legislators' on coun-
try sales tax distribution. This
is significant revenue for the
village. Mayor Rogers praised
the town, Kim Cox, and the rest
of the school administration
on keeping tax flat again this
upcoming year. Mayor Rog-
ers also commended the Town
Highway Department & the
County Highway Department
for working so well together to
tackle major projects. The Vil-
lage has recently completed ne-
gotiations with the Police Union
and the DPW. Mayor Rogers
also reported that he anticipates
the Village to be completely
debt free within 2 years. Final-
ly, Mayor Rogers discussed the
momentum currently happening
in the Village. We have sever-
al main street properties being
renovated. We also have sever-
al groups of people buying and
renovating older homes in the
village. We are very fortunate
to have these groups making
our community a better place to
live.
Please like the Rotary Club of
LeRoy on Facebook.