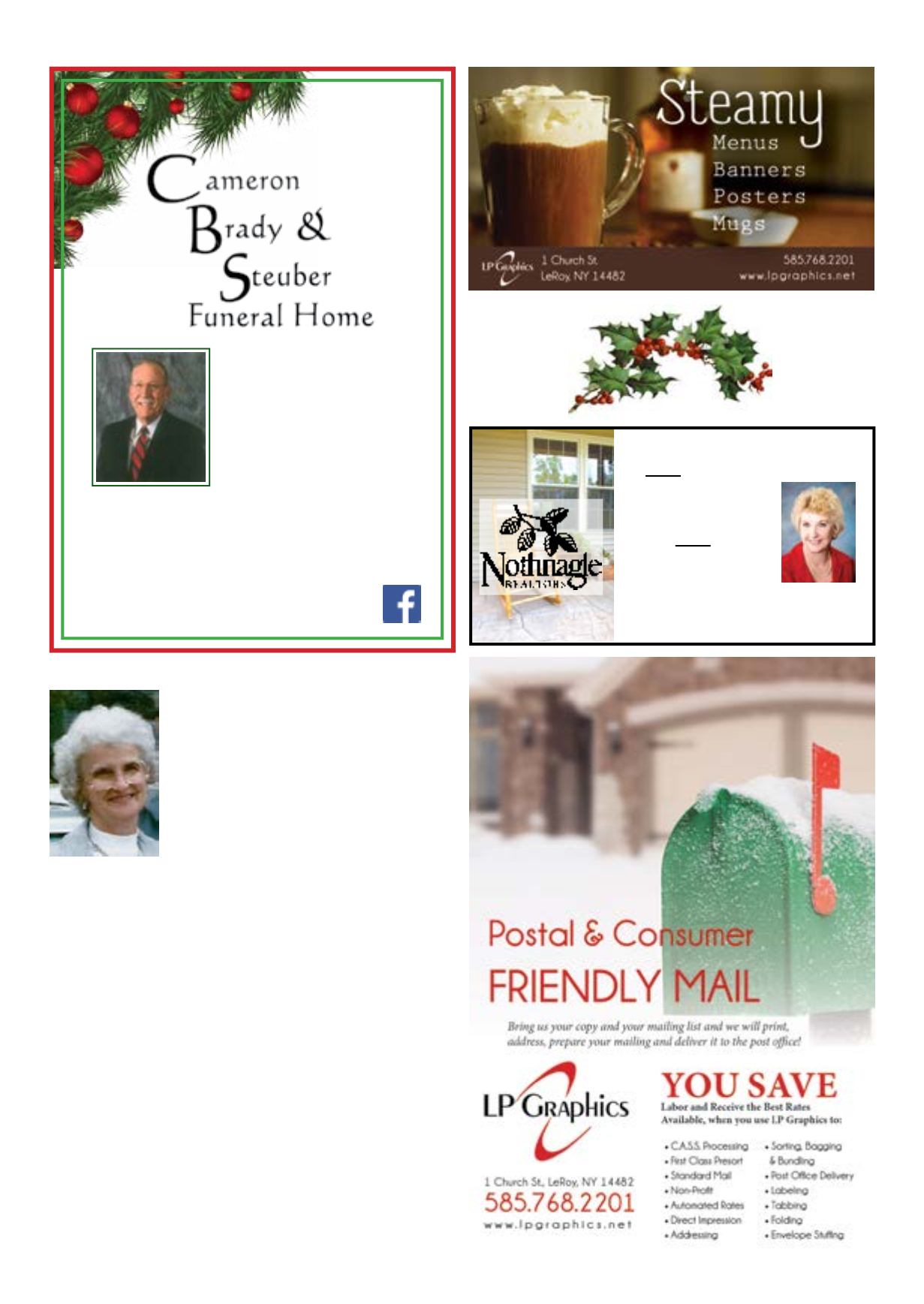 LE ROY PENNYSAVER & NEWS - DECEMBER 11, 2016
Batavia
585-343-6750
NOW is the BEST time
to BUY with the interest rates
at their lowest!
Don't wait
to BUY -
call
Linda Beaumont
for all your real
estate needs.
Linda Beaumont
Home (585) 768-6315
Licensed Real Estate
Salesperson
Multi-Million Dollar Producer
111 Wolcott Street • LeRoy, NY 14482
(585) 768-6800
cameronfuneralhome@yahoo.com
www.leroyfuneralhome.com
Jeff Deragon
Funeral Director/Owner
Happy
Holidays!
Waterman, Virginia B.
(Burns)
LeRoy
- Passed away December 4, 2016
at the LeRoy Village Green Nursing Home
at age 93. She is survived by her children
Daniel (Ann) Waterman of Alabama, NY, Mi-
chael Waterman of Palmyra, NY, Katherine
(James) Barber of LeRoy; Grandchildren
Heidi (Matthew) Osinsky, April (Brian) Seeley, Timothy Barber,
Kimberly (Nicholas) Cavano, William Barber; great grandchil-
dren Matthew Osinsky, Isabella, Bryce, Emelia, Olivia Seeley,
Oliver Cavano. Virginia was predeceased by her husband, Gor-
don R. Waterman in 2003. Virginia was born November 29,
1923 in Buffalo, NY the adopted daughter of John J. Burns and
Georgia McGowan Burns. She was a resident of Stafford and
the Stafford United Methodist Church for over 60 years. Virginia
was also a member of the Stafford United Methodist Women
and the LeRoy American Legion Botts - Fiorito Post # 576 La-
dies Auxiliary.
Calling hours were held on Thursday (December 8, 2016) from
3 - 6 pm at the Cameron Brady & Steuber Funeral Home, 111
Wolcott Street, LeRoy. The Funeral Service was Friday (Decem-
ber 9, 2016) at 10 AM at the Stafford United Methodist Church,
Stafford. Interment took place at Morganville Cemetery, Staf-
ford. In lieu of flowers memorials can be made to The Stafford
United Methodist Church 6134 Main Street Stafford, NY 14143
or the LeRoy Village Green Activities Fund, 10 Munson Street,
LeRoy, NY 14482. To leave a message or send a condolence
visit
leroyfuneralhome.com