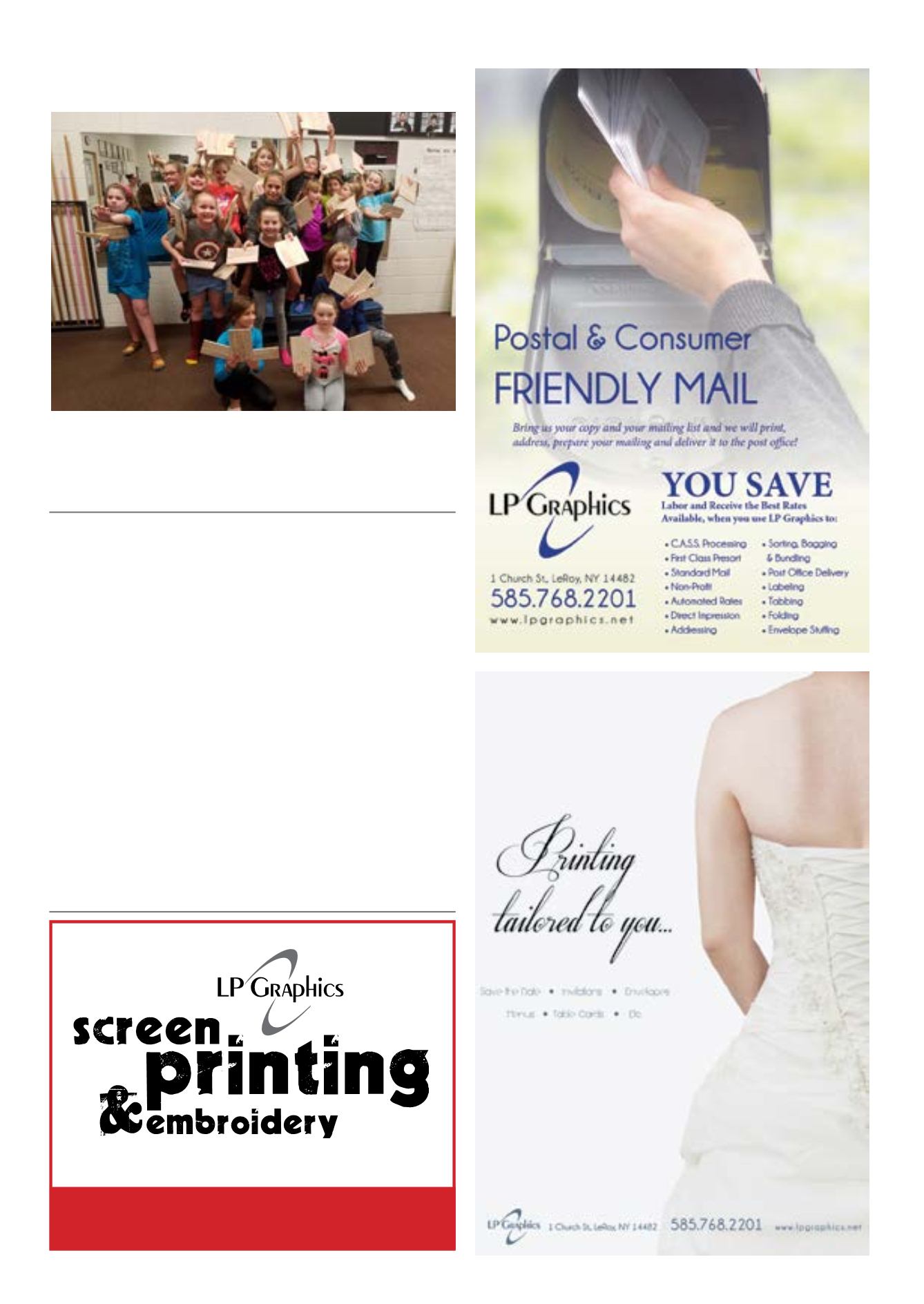 LE ROY PENNYSAVER & NEWS - DECEMBER 11, 2016
1 Church St. | LeRoy, NY 14482
www.lpgraphics.net
Girl Scout Troop 42123 of Le Roy and some of their siblings, 4 of them
Brownies, just completed a Self-Defense Class provided by Fred Merica
at Le Roy Karate and Self-Defense Center. Fred spent over an hour with
the girls discussing self-defense and showing them maneuvers. They
also got to watch a class of kids in their age group, and younger, display
their skills and training. The class ended with individual board breaking.
Girl Scout Troop 42123
The Whiting Law Firm and
Robert F. Humphrey, Esq., are
pleased to announce that Mr.
Humphrey will become "of
counsel" to the Whiting Law
Firm effective January 1, 2017.
Mr. Humphrey will continue
to practice at 3 Main Street,
LeRoy, NY - where he and his
staff have been serving clients
for the past 42 years - until July
1, 2017. Thereafter, his office
and practice will be located at 31
West Main Street, LeRoy, NY.
The Whiting Law Firm has
its main office at the 31 West
Main Street, LeRoy, NY location,
where Reid Whiting and his
two sons, Jake and John, will
Whiting Law Firm
continue to provide a broad range
of quality legal services. The
Whiting law Firm also maintains
an office at 104 Bank Street,
Batavia, NY, where conferences
are held by appointment.
Mr. Humphrey is a general
practitionerwhohas been limiting
his practice to commercial and
residential real estate, estate
planning and administration
and small business matters.
The Whiting Law Firm offers
a broader range of services
including the foregoing, as well
as family law matters, divorces
and other matrimonial issues,
personal injury, and general
litigation.