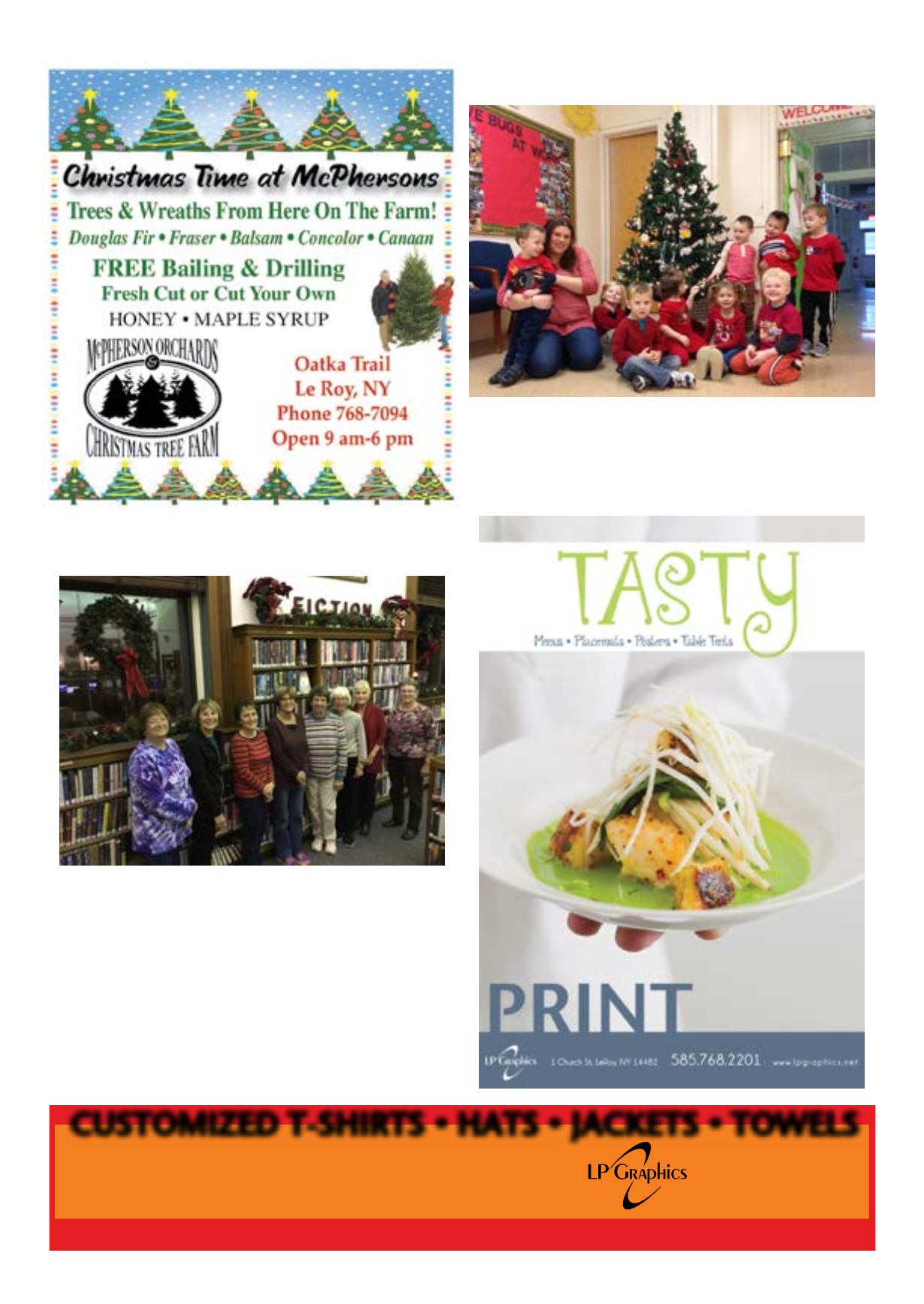 LE ROY PENNYSAVER & NEWS - DECEMBER 11, 2016
1 Church St. | LeRoy, NY 14482 | 768-2201 |
www.lpgraphics.net
EMBROIDERY MAKES
GREAT GIFTS FOR YOUR
FAMILY • FRIENDS • ETC.
CUSTOMIZED T-SHIRTS • HATS • JACKETS • TOWELS
Love Bugs Gets Ready for Christmas!
The Nursery children at Love Bugs Preschool have been busy little elves getting
ready for Christmas! They've practiced cutting, squeezing out glue and shaking
out glitter for many of their Christmas projects. Recently they took a break
from all that hard work to decorate their school tree. The children were able to
choose a special ornament and then found just the right spot to hang it on their
tree. Pictured here are some children from the afternoon Nursery class.
Members of the LeRoy Town & Country Garden Club;
Rita Wallace, Betty Gugino, Joan Ellison, Sue Privit-
era, Eileen Partise, Nancy Baker, Jules Feltes, and Lucy
MacKenzie helped to decorate the Woodward Memorial
Library for the holidays. This is a project the members
really enjoy doing.
The Club will hold it's annual Christmas party at Jules
Feltes' home where Monetary donations will be accepted
for the LeRoy Backpack Club. Contact Jules Feltes at
703-0087 for more information.
LeRoy Town & Country Garden Club