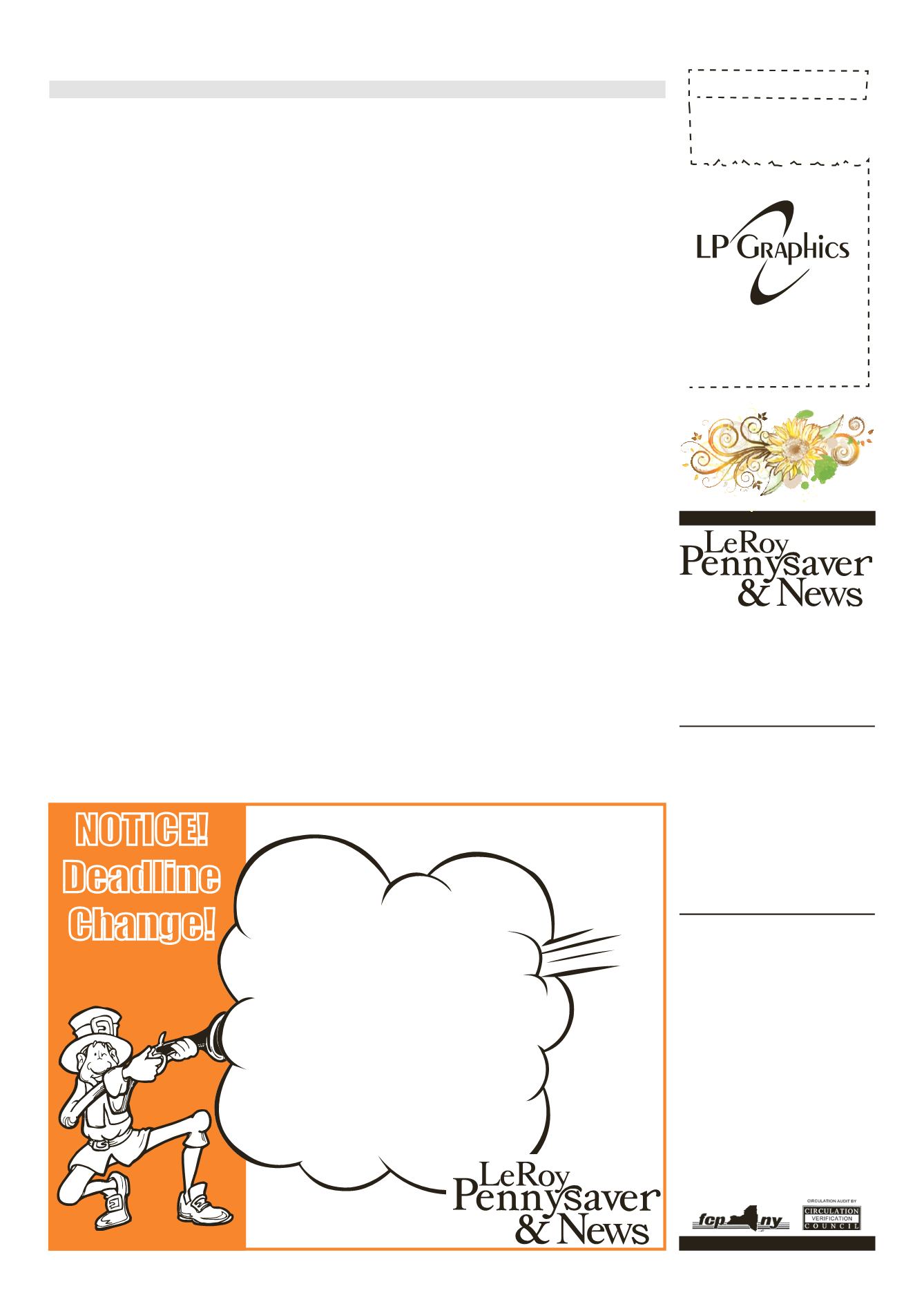 LE ROY PENNYSAVER & NEWS - NOVEMBER 13, 2016
NOTICE!
Deadline
Change!
by Kim M. Cox,
Superintendent of Schools
Happy November! It's
hard to believe that we are
approaching the holiday sea-
son. It has been an exciting
fall with extraordinary sports
seasons and academic pro-
grams. Thanks to all of you
who have celebrated our stu-
dents by attending contests,
meetings, and conferences.
Your ongoing support is crit-
ical to the continued success
in all aspects of our students'
educational journey.
Our staff is also continu-
ing their educational journey.
This year we are focusing on
honing our skills in Profes-
sional Learning Committees
or "PLCs." We also refer to
these as Data Meetings. This
new structure facilitates a
rich dialogue between staff
regarding curriculum, in-
struction, and instructional
practices. Guiding questions
focus on "what's working,"
"what are immediate con-
cerns," "what are possible
solutions," and "what actions
will we take as a group?"
Teachers are also engaged
in several action research
projects that focus on how to
best meet our students' ev-
er-changing needs. This prac-
tice is the basis of continuous
improvement and models
lifelong learning, one of the
Le Roy Central School Dis-
trict graduation outcomes. It
is a powerful way of working
together to impact the prac-
tice of schooling for all!
Our
Wolcott
Street
School Fitness Center is up
and running. It has been
great to see many com-
munity members using the
facilities. Just a reminder,
the hours are: Monday and
Wednesday from 6:00 a.m.-
8:00 a.m., and Tuesday and
Thursday from 5:00 p.m.-
8:00 p.m. For more infor-
mation contact us at wssfit-
ness@leroycsd.org or call
768-7115, x-1109.
Work continues on
The
R.I.T.E Project
. We are
pleased that our Wolcott
Street School Memorial Au-
ditorium updates are com-
pleted and it looks beautiful.
We are especially excited
about the new lighting and
sound systems that have been
installed. You will be able
Superintendent ' Column
s
Due to the
Thanksgiving Holiday...
The
DEADLINE
For Ad & News copy for the
Issue of Nov. 27
is moving up to
TUESDAY, NOV. 22
nd
AT 5:00 P.M.
to experience this firsthand
when you attend one of the
many upcoming concerts and
programs. Our kitchen up-
dates are also 95% complete.
We are operational, but are
still adjusting some electrical
and equipment needs within
the kitchen itself. At the Jr.-
Sr High School, the tennis
courts are completed and
have already been used for
physical education classes.
As the weather changes, how-
ever, the nets will come down
until spring. The student
common areas are nearing
completion, as is the lighting
in the cafeteria. The next big
piece of the project includes
the completion of the new
Library/Media Center in the
W
olcott Street School and the
n
ew Special Education Of-
fice. Both should be nearing
completion by late January/
early February.
In closing, on November
11th, honor all veterans on
Veterans' Day. We thank
you for your service and
sacrifices that have allowed
us to enjoy the many free-
doms of this great country.
We are forever grateful!
1 Church St., Le Roy, NY 14482 | (585) 768-2201
Le Roy's Best Advertising Medium
EDITOR/PUBLISHER
David J. Grayson
editor@leroyny.com
CIRCULATION
editor@leroyny.com
HOW TO CONTACT US
STREET ADDRESS
1 Church St.
Le Roy, NY 14482
TELEPHONE
(585) 768-2201
FAX
(585) 768-6334
WEBSITE
www.leroyny.com
CLASSIFIEDS
office@leroyny.com
COMMUNITY CALENDAR
SUBMISSIONS
calendar@leroyny.com
EDITORIAL SUBMISSIONS
editor@leroyny.com
DISPLAY AD SUBMISSIONS
pennysaver@leroyny.com
The
Le Roy Pennysaver
will not knowingly accept or
publish advertising which is fraudulent or misleading
in nature. The publisher reserves the right to reject or
cancel any advertising.The
Le Roy Pennysaver
assumes
no financial responsibility for typographical errors in
advertisements, but if at fault, will reprint the portion of
the ad in which the error appears. Style, size of type and
location of advertisement are left to the discretion of the
publisher. The opinions expressed in this publication
are not necessarily those of the publisher. We cannot
guarantee the return of photographs.
© 2010
Le Roy Pennysaver
1 Church St.
•
LeRoy, NY 14482
585.768.2201
www. l pg
r aph i c s. ne t
EMBROIDERY