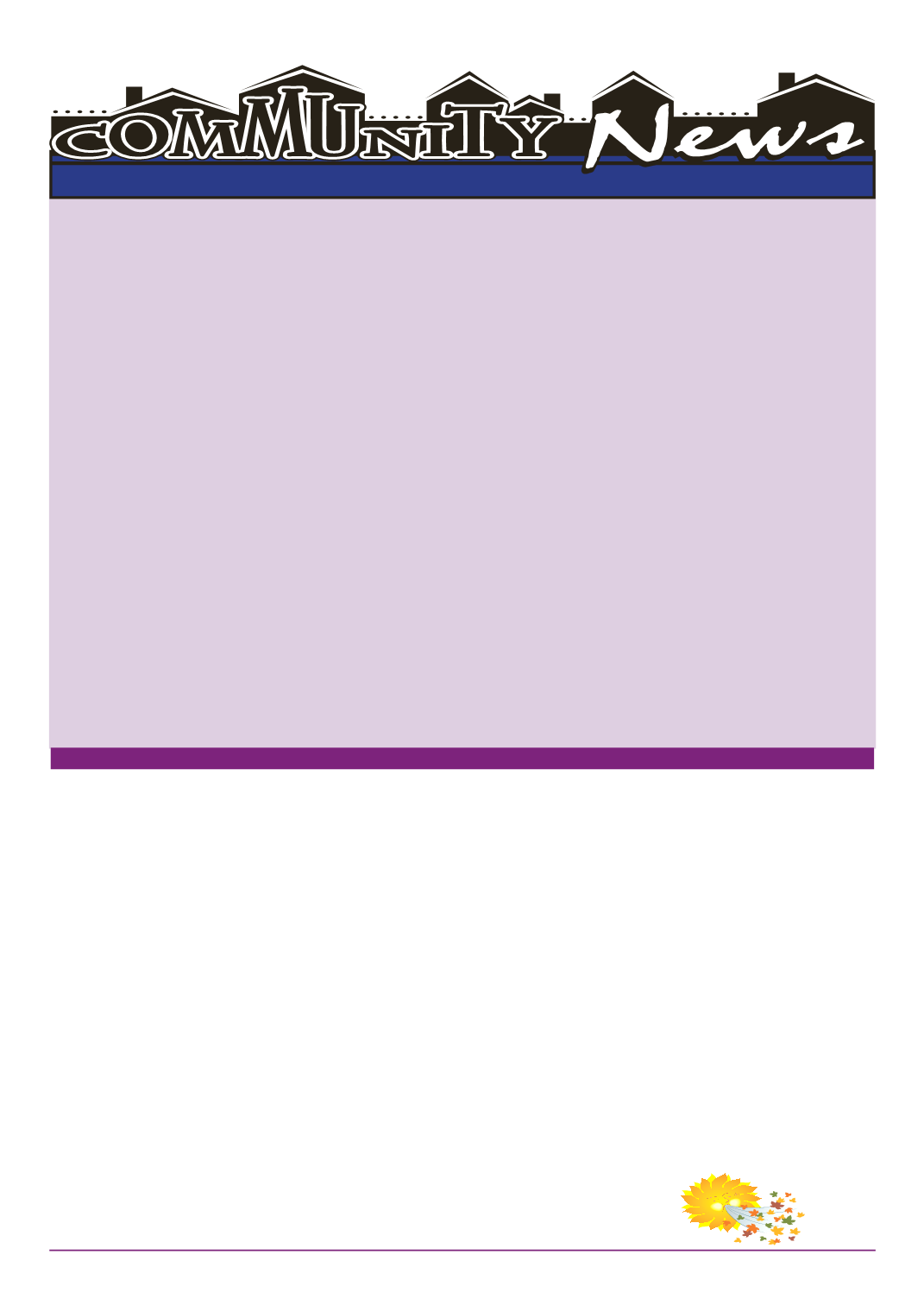 LE ROY PENNYSAVER & NEWS - NOVEMBER 13, 2016
MONDAY, NOVEMBER 14
TOPS (Take Off Pounds Sensibly)
meets Monday evenings at the LeRoy
Presbyterian Church, corner of Clay &
Main Streets. Doors open at 6:00 PM and
meeting is from 6:30-7:15PM. Visitors are
always welcome. Call 585-768-7103 for
more information.
Toddler Time for Twos and Threes at
the Woodward Memorial Library, every
Monday through November 14 from
10:30 - 10:50AM.
TUESDAY, NOVEMBER 15
Preschool Storytime : Every Tuesday at 11
am featuring stories, craft and songs at
Pavilion Public Library, 5 Woodrow Dr.,
Pavilion. For info call: 584-8843.
Preschool Storytime For children ages 3, 4,
5 and 6 at theWoodwardMemorial Library.
Every Tuesday through November 15 from
6:30-7:00 PM.
Finding Dory - Movie Showing at the
Woodward Memorial Library for children
Batavia - Keith W. Passmore
, 87, of Batavia, passed
away suddenly on Sunday, November 6, 2016 at his home
in
Batavia.Mr.
Mr. Passmoreworked at LeRoyMachine for
over 20 years prior toworking and retiring fromU.S. Gyp-
sum in Oakfield. There are no prior visiting hours. Private
services will be held at the convenience of the family.
South Byron - Homer Dean Ivison
, 89, a longtime
farmer of South Byron, NY, passed away on November
6, 2016 at the Episcopal Church Home in Rochester. Mr.
Ivison was born February 3, 1927 in Batavia, NY a son of
the late Harold and Alice Scoins Ivison. Friendsmay call on
Wednesday from4 to 7 p.m. at H.E. Turner &Co, Inc., 403 E.
Main St., Batavia, where services will be held on Thursday
at 10 a.m. In lieu of flowers, memorials may be made to
SouthByronMethodistChurch,7526Byron-StaffordRoad,
South Byron, NY. Burial will be in Byron Cemetery, Byron.
Byron - JuneR. Vile
, 93, of Byron, formerly of the Albany
area, passed away on Saturday, November 5, 2016. Private
services will be held at the convenience of the family. She
will be laid to rest inMaplelawn Cemetery, Elba. Memori-
alsmaybemadetoJohnson'sElderlyCare,6815Route237,
Byron, New York 14422 or to Heritage Christian Services,
275 Kenneth Drive, Suite 100, Rochester, NewYork 14623.
South Byron - David P. Swinton
, 60, of South By-
ron, passed away unexpectedly on Sunday, November
6, 2016. Family and friends may call on Thursday from
4:00 p.m. to 8:00 p.m. at the Bohm-Calarco-Smith
Funeral Home, 308 East Main Street, Batavia.
Wyoming - Mrs. Sandra B. Duckworth
, age 68,
resident of Wyoming passed away on Sunday, Nov.
6th. Calling hours will be at Robinson and Hackemer
Funeral Home, Warsaw on Wednesday, November 9,
2016 from 2-4 & 7-9 PM. In lieu of flowers, please
make donations to Wilmot Cancer Center, 300 E. River
Rd., PO Box 278996, Rochester, NY 14627 or to the
Wyoming County HomeCare & Hospice, 450 N. Main
St., Warsaw, NY 14569.
Candi L. Cook, 31 of Pavilion/Perry
passed away
November 6, 2016. Family and friends may call from
2-4 and 7-9 pm on Wednesday November 9th and
from noon-1pm on Thursday November 10th at the
Eaton-Watson Funeral Home, LLC., 98 North Main St.
in Perry. MEMORIALS: Memorials may be made to the
Wyoming County SPCA 808 Creek Rd. Attica, NY 14011
Pavilion- Mary Jane Logsdon
, age 93, of Big Tree
Rd. passed away Friday, November 4th, 2016. Friends
of Mary Jane may call Wednesday November 9th, 2016
from 2pm to 8pm at the Weeks Funeral Home 123 N.
Main St. Warsaw. Memorial contributions may be
made in Mary Jane's name to the Mary Immaculate
Parish at 11095 St. Mary's St., Pavilion, NY 14525, to
the Pavilion Fire Department at PO Box 156 Pavilion
NY, 14525 or to Homecare and Hospice at 450 North
Main St. Warsaw, NY 14569.
Judith E. (née Mosman) Peterson
, 56, of LeRoy
passed away peacefully after a lengthy battle with
cancer surrounded by family on Friday November 4,
2016. Family and friends are invited to call on Sunday
November 6, 2016 from 1:00-3:00PM at Gilmartin Fu-
neral Home & Cremation Company, Inc. 329-333 West
Main Street Batavia, New York 14020. In lieu of flowers,
memorials may be made to Roswell Park Cancer Insti-
tute Alliance Foundation Elm & Carlton Streets Buffalo,
NY 14263.
www.roswellpark.org/giving.
Community Calendar Submissions should
be sent to:
c a l enda r@l e r oyny. c om
WEEKLY EVENTS
OBITUARIES
in grades K-6 on Tuesday, Nov. 15 at
3:15 p.m. Registration is required! Call
768-8300 or register online at
www.
woodwardmemoriallibrary.org.
LeRoy Zoning Board of Appeals Meeting
(asnecessary)Nov. 15, 7:30PM at theTown
Hall, 48 Main Street. For further info call
768-6910 ext. 223
WEDNESDAY, NOVEMBER 16
LEGO & Game Club at the Woodward
Memorial Library for children in grades
K-6 on Wednesday, November 16 from
3:15 – 4:15 p.m. Build with Legos, play
board games with your friends, or jam
out on Guitar Hero. There is something
for everyone. Registration is NOT required.
Village of LeRoy BoardMeeting, November
16 at 7PM at the Village Hall, 3West Main
Street.
The Senior Citizens of Le Roy and Stafford
meet the third Wednesday of the month
from March through December for dinner
and a planned program. We meet in the
Knights of Columbus Hall behind Save-
A-Lot on West Main Street. Each person
a
ttending brings a generous dish to pass
or pays $4.00 each for a nice buffet meal
and social. Bring your own place setting
and beverage. Coffee, tea and dessert
are provided. Dinner is served at 6:00 pm
followed by a program. Please joinus for an
enjoyable evening. Any questions, please
contact Judy Ridley, Director @ 768-2001,
or Sharon Frost at: 768-6846.
THURSDAY, NOVEMBER 17
Thanksgiving Mosaic program at the
Woodward Memorial Library for grades
3-6 on Thursday, November 17 from 3:15
– 4:15 p.m. Use dried beans to create
a Thanksgiving-themed mosaic. Sketch
out your design and then bring it to life
with beans! Registration is required. Call
768-8300 or register online at
www.
woodwardmemoriallibrary.org.
GRACE'S CLOSET: A clothing giveaway
program sponsored by Le Roy United
Methodist Church, 10 Trigon Park, LeRoy,
9:30 to 11:30AM every Thursday. We have
clothing for all ages. We are in need of
boy's clothing sizes 0-3T. Donations can
be dropped off at the house next to the
church. Please put all bags INSIDE on the
back porch. NO ELECTRONICS, COMPUTERS,
DISHES, etc. Open Tuesdays 5-6:30 pm.
Any questions call the office at: 768-8980.
FRIDAY, NOVEMBER 18
Penuel Christian Fellowship, One Step
to Freedom addictions ministry, a Christ
Centered Addictions program, a weekly
meeting every Friday at 7 pm. Call the
Church formore information at: 768-6901
or 594-9575.
Penuel Christian Fellowship is organizing
a young adult fellowship and Bible study.
Ages: 12 and up, Time: Fridays from 7-9
pm, Study: the book of Romans (a 16week
c
ourse), taught by Josiah Gariboldi. Place:
7115West Main Street.