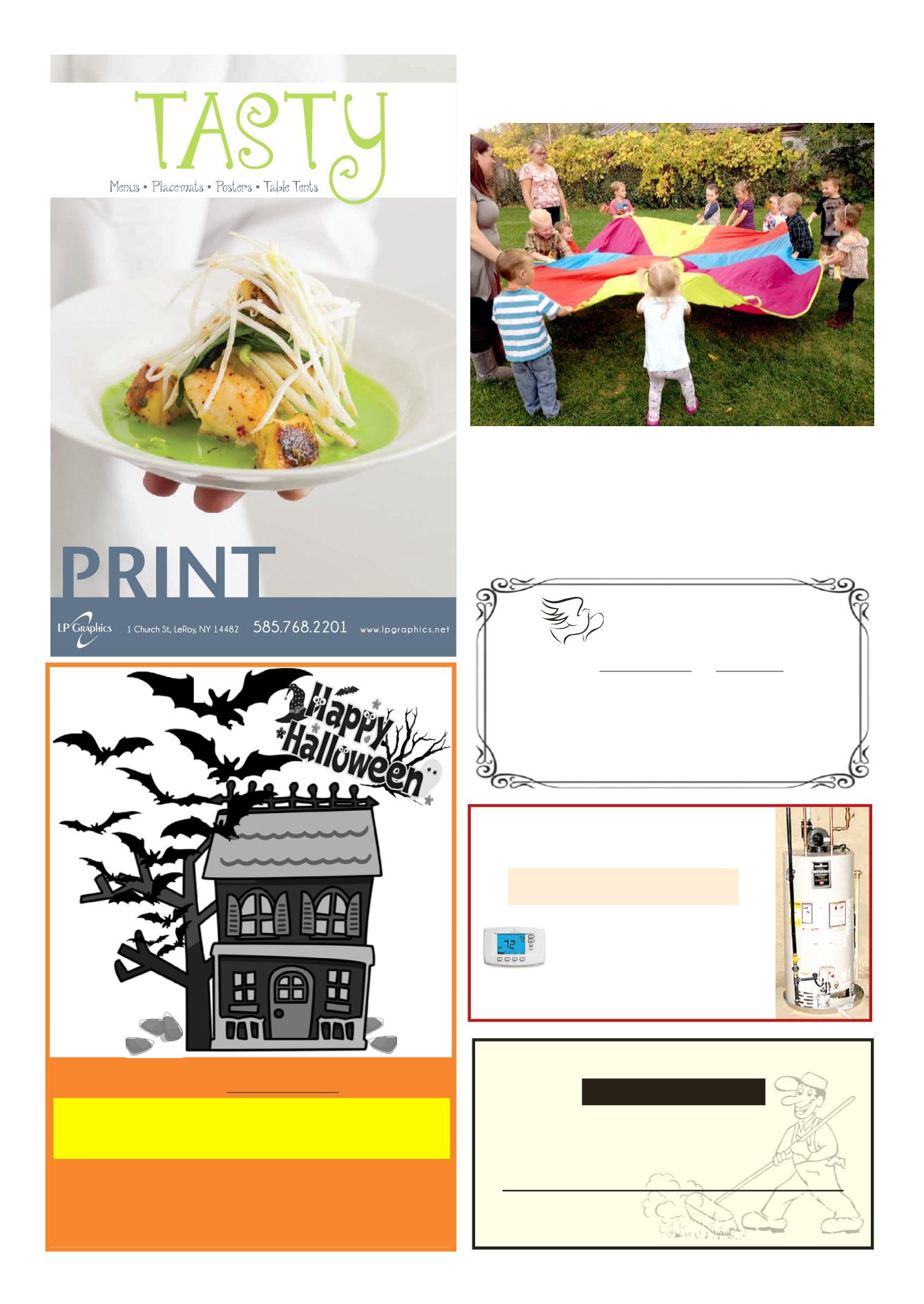 LE ROY PENNYSAVER & NEWS - OCTOBER 23, 2016
8700 Lake Rd.
LeRoy, NY 14482
(585) 768-2400
www.falconefuneralhome.com
Vern C. Falcone
Jenna M. Falcone
Director / Owner
Funeral Director
F
ALCONE
F
AMILY
Funeral & Cremation Service, Inc.
Vern C. Falcone
Director/Owner
PO Box 187
8700 Lake Road
LeRoy, NY 14482
(585) 768-2400
vern.fffcs@yahoo.com
"A LOCAL FAMILY
CARING FOR LOCAL FAMILIES"
Love Bugs
A Hands on Lesson all about Fall
Last week, the Nursery children at Love Bugs Preschool
took full advantage of the beautiful fall weather! They
made special fall binoculars before they went outside to
search for "signs of fall." After searching high and low,
they stopped to make a leaf scarecrow and play a few
games too. Pictured here are the children in the after-
noon nursery class shaking all the fall things they found
off their parachute!
Heating • AC • Plumbing • Electrical
GAS, FUEL OIL, FORCED AIR &
HOT WATER HEATING SYSTEMS
24 Hour Service • Free Estimates • Fully Insured
Residential, Commercial
Mobile Homes
J.M. Heating
585-297-0724
30 Years Experience
11/4
The Clean Sweep
Cleaning Service
•Carpet & Upholstery Cleaning
•Spot Cleaning & Odor Removal
•Tile & Wood Floor Cleaning & Waxing
•Braided & Area Rug Cleaning
•Complete Janitorial Services
9300 Warsaw Road, Le Roy, NY
John M. Joy •
Call 768-8497
eow
Party at the Parsonage!!!
Sunday, Oct. 30th, 2016
12:30pm-3:30pm
FIRST BAPTIST CHURCH OF LEROY'S PARSONAGE
7 East Main Street
FREE!!!
FREE FAMILY FUN!
Join us for a spooktacular time!
Face Painting!
Bobbing for
Apples!
Treats!
Pumpkins!