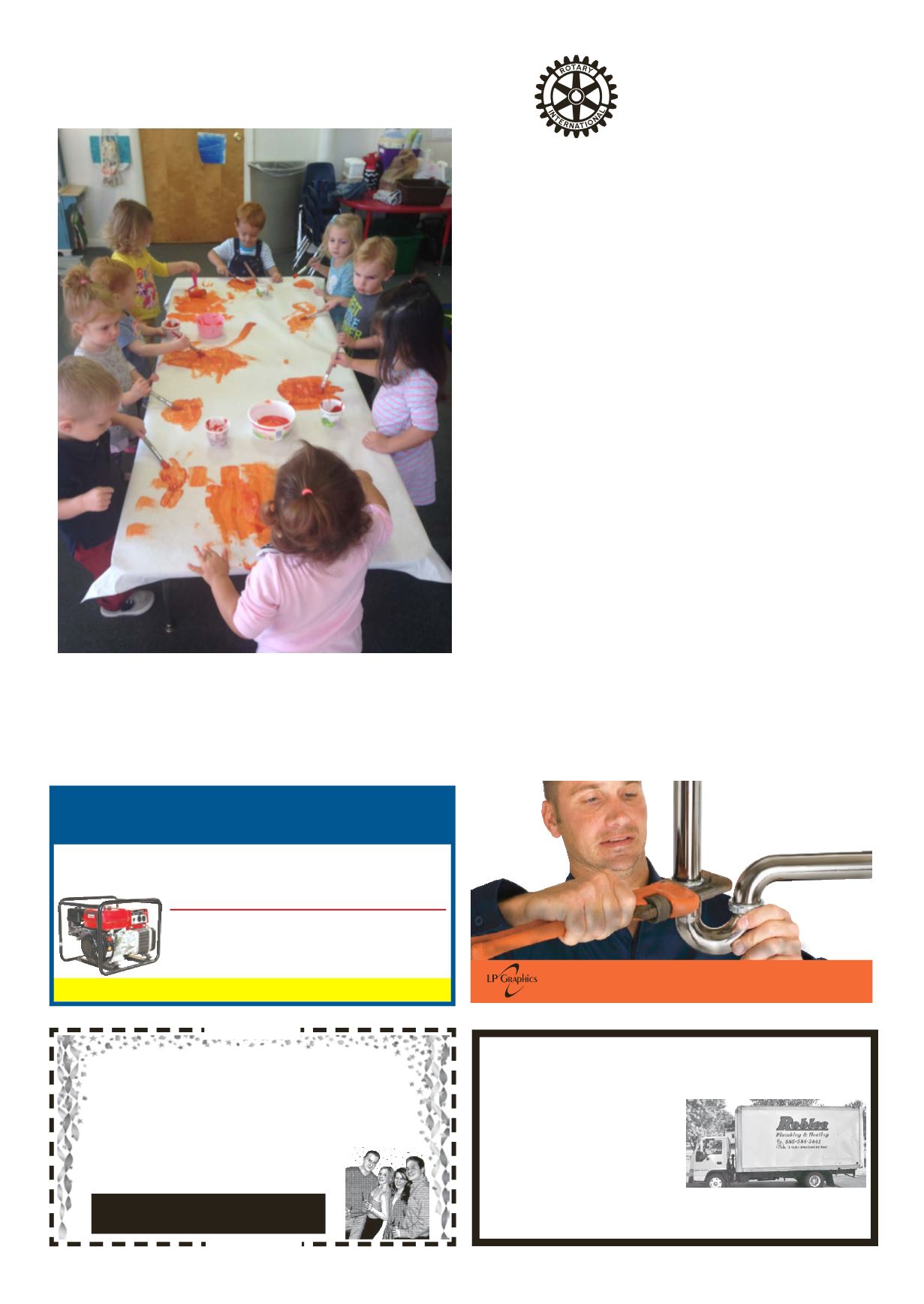 LE ROY PENNYSAVER & NEWS - OCTOBER 2, 2016
Joe's
11/4
Small Engine Repair
Call (585) 815-3959
ATV's • Snowmobiles • Generators • Snowblowers
Tuesday-Friday, 10 am to 4 pm, Other Times By Appt.
8525 Rt. 237, Stafford, NY
Service & Repairs - ALL MAKES & MODELS
Pick Up & Delivery Available
All Major Credit Cards Accepted
The Playgroup friends at Love Bugs Preschool have had a great
first few weeks of school. Not only are they starting to get into
a little routine, but they are having fun too! Pictured here
are some of the children working on one of their first painting
projects together!
Little Bugs Playgroup
Painting Fun
LeRotary
Notes
Having An UPCOMING EVENT?
Need A Place TO HAVE IT?
American Legion
Post 576
53 West Main St., Le Roy, NY
585-768-2090
CLIP & SAVE
CLIP & SAVE
Inside - 2 Rooms Available
Outside - Large Pavilion
eow
Several guests were in atten-
dance at the September 21st
meeting of the LeRoy Rotary
Club. John Green, resident of
LeRoy, Brian Foeller, Business
Administrator for LeRoy Central
School, and Sally Heisman, a
Visiting Rotarian from Geneseo.
Several announcements were
made. Larry Boylan talked about
the upcoming Past Presidents'
Dinner at the Stafford Country
Club. There will be a Milne
Scholarship meeting on October
5th and a Rotary Euchre Night
on October 8th. Bob Bennett
reported on the Appliance Raffle.
President David Grayson went
down the list of missed meet-
ings: Martha Bailey, Bob Ben-
nett, Mike Caznata, Jerry Mc-
Cullough, Jim Ellison, Eric Fix,
Lauren Humphrey - all either
had a make-up or paid with a
green card.
Lauren Humphery was fined
for going to Syracuse for a group
travel show and Eric Fix was
fined because his son needed
"hashtag two" pencils for school.
There were other fines for Jerry
McCullough, Martha Bailey, Bob
Bennet, Mike Caznata, and Jim
Ellison.
Kim Cox and Brian Foeller
presented an update on the 2014
R.I.T.E. Project. 85% into the
project, floor was difficult to put
in and stick, some floors required
that the entire cement part had to
be removed with jackhammers,
some classrooms were waiting
for cupboards, but despite the
difficulties, the school opened
on time. In the elementary school
there was a kitchen remodel, and
the kitchen will be fully reopened
September 30th. There is a new
elementary office, a new Main
Entrance located at the back of
the school, and two pickup and
drop-off areas. In the Junior-Se-
nior High School, there is a safer,
more user-friendly entrance, a
new library, new "makerspace",
the cafeteria has been redone
with a new floor, more space, and
adult-sized booths. At Hartwood
Park, there is a new pressbox,
new soccer benches, new score-
board, dugouts have been moved
to the other side of the field, the
track has been resurfaced, and
there are five new tennis courts.
KimCox discussed theWolcott
Street Fitness Center, which will
be open to the public on October
3rd. Those choosing to use it must
be registered and trained, and
there will be a $25 annual fee.
Connect
withYourCustomers!
EMBROIDERY
Dress Shirts, Polos, Vests, Hats, Jackets, Etc.
1 Church St.
LeRoy, NY 14482
585.768.2201
www.lpgraphics.net
ROBLEE
Plumbing & Heating, LLC
10991 Lake Rd., Pavilion • (585) 584-3841
Full Insured
LUXAIRE
Furnaces
GOULD
Pumps
NYS Certified Backflow Tester
All Types Of Plumbing
& Heating Jobs
Water & Sewer Lines • Water Treatment & Conditioning Systems
eow
Established 1947