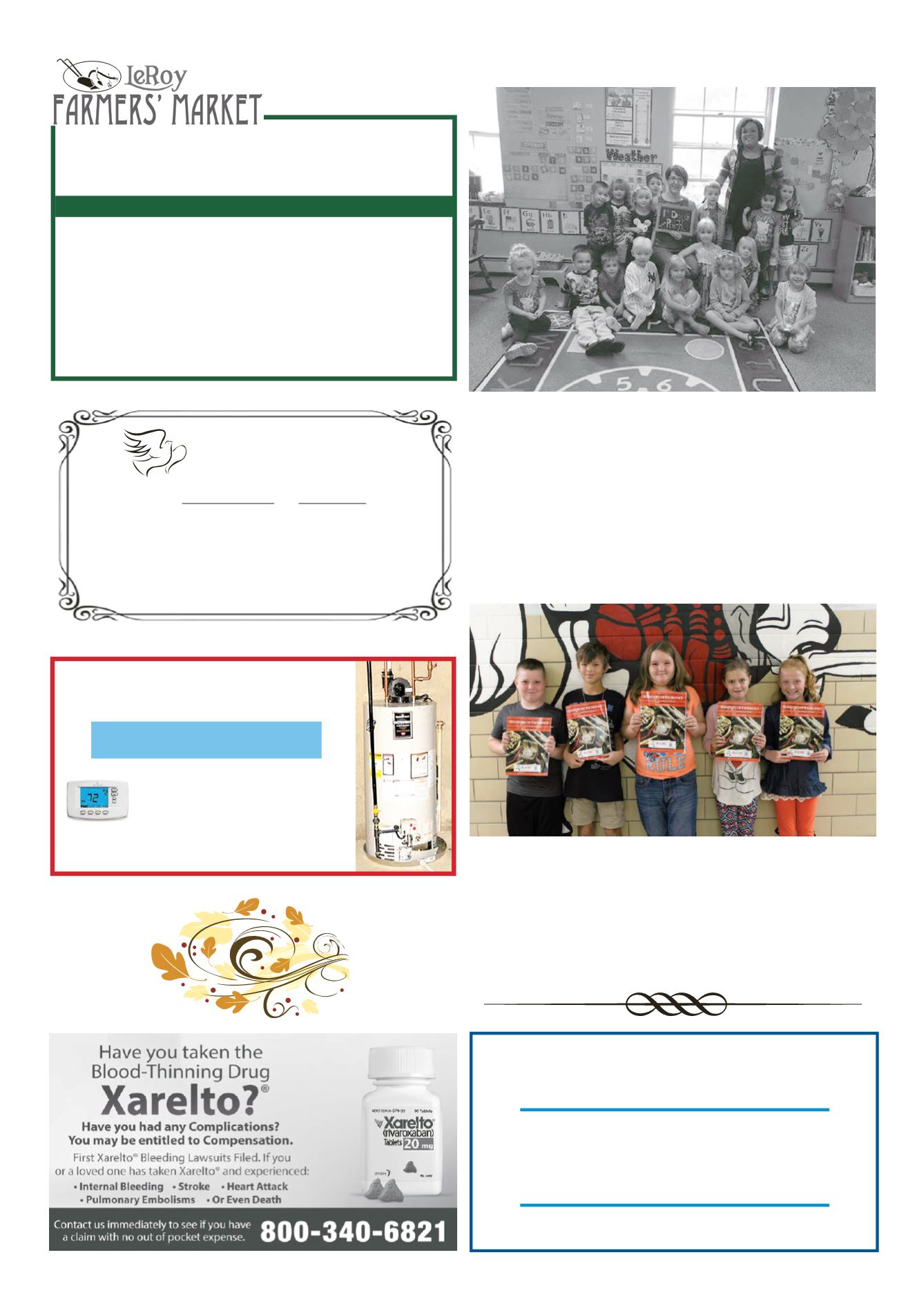 LE ROY PENNYSAVER & NEWS - OCTOBER 2, 2016
8700 Lake Rd.
LeRoy, NY 14482
(585) 768-2400
www.falconefuneralhome.com
Vern C. Falcone
Jenna M. Falcone
Director / Owner
Funeral Director
F
ALCONE
F
AMILY
Funeral & Cremation Service, Inc.
Vern C. Falcone
Director/Owner
PO Box 187
8700 Lake Road
LeRoy, NY 14482
(585) 768-2400
vern.fffcs@yahoo.com
"A LOCAL FAMILY
CARING FOR LOCAL FAMILIES"
Heating • AC • Plumbing • Electrical
GAS, FUEL OIL, FORCED AIR &
HOT WATER HEATING SYSTEMS
24 Hour Service • Free Estimates • Fully Insured
Residential, Commercial
Mobile Homes
J.M. Heating
585-297-0724
30 Years Experience
11/4
Sunshine Nursery School welcomes our new students to Pre-k.
The students had fun exploring our room and getting to know
one another. What a wonderful start to a new school year!
Welcome to SNS Pre-k!
For the 2016-2017 school year, the LeRoy Rotary Club gracious-
ly donated lesson books to all students who began playing an
instrument as a beginner. The program, known as R.A.M.P.
(Rotary Assistance Music Program) began in the spring of 2010
and has run for seven school years. This year, 71 students are
taking part in the program, and since the program began, close
to 495 lesson books have been distributed.
Rotary Assistance Music
Program
(RAMP)
Continues
for a Seventh Year
www.leroyfarmersmarket.wordpress.com
• Le Roy Farmer's Market on Facebook
TRIGON PARK
Saturdays Through October 22nd
9:00 am-12:30 pm
LOCAL • FRESH • DELICIOUS • NUTRITIOUS
Seasonal Fruits &
Vegetables
Will Be Arriving Weekly!
ALWAYS LOOKING FOR NEW VENDORS & VOLUNTEERS
Contact Mary Margaret Ripley - 297-2441
October 1
Help Wanted
OFFICE MANAGER
BOOKKEEPER
• Needed 10 hours a week
• Must be computer literate
• Experienced in business financial practices
• Good with people
• Able to handle confidential information
Send resume to First Presbyterian Church,
7 Clay St., LeRoy, NY 14482,Attn: Office Manager Search.
10/2