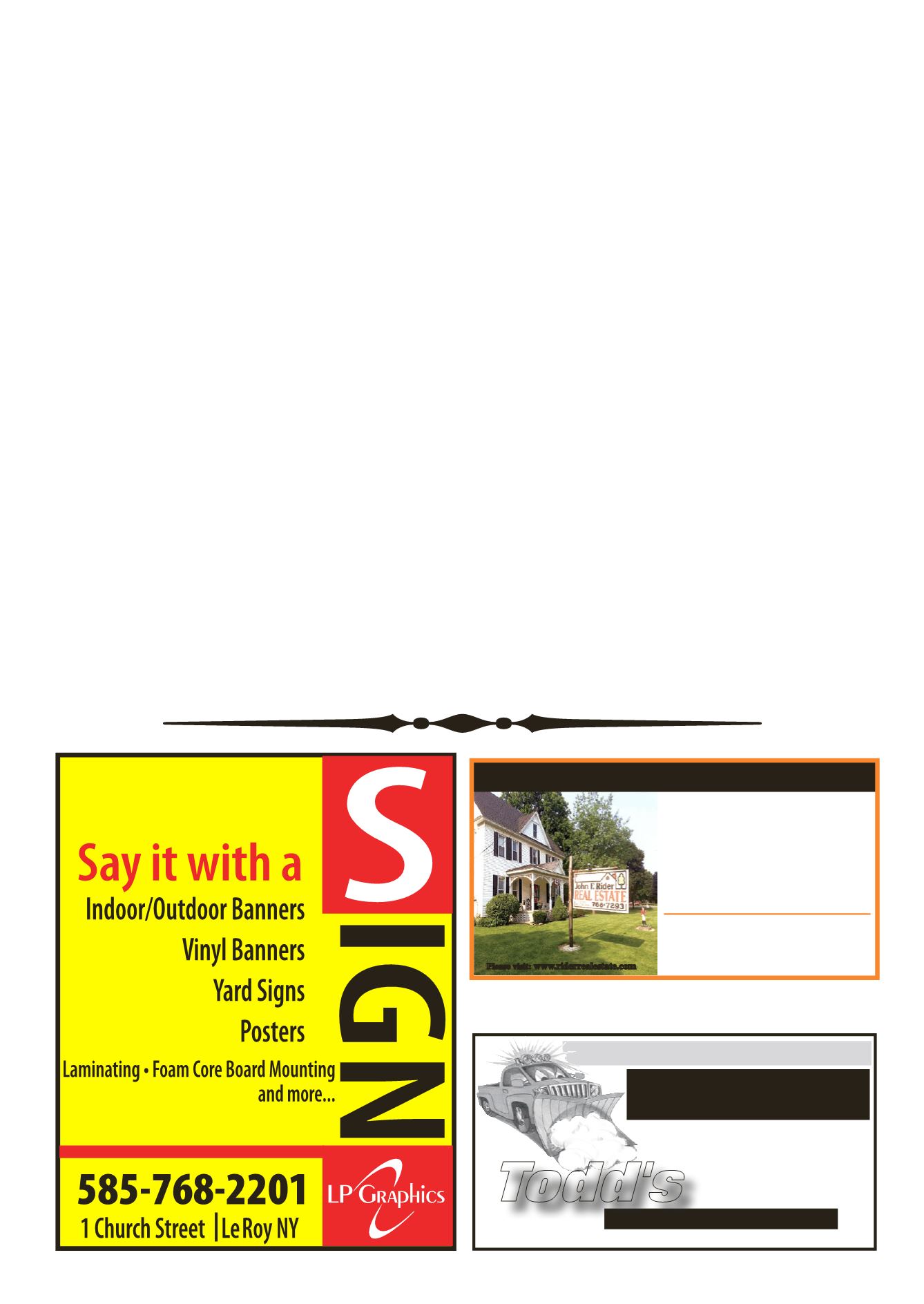 LE ROY PENNYSAVER & NEWS - OCTOBER 2, 2016
lpgraphics.net
New Homes • Additions • Garages • Pole Barns
CUSTOM CARPENTRY LLC.
Todd Carli • Phone 703-0964
Decks • Windows • Doors
Kitchens • Baths • Ceramic Tile
Basement Finishing
Custom Shelves/Built-Ins
Siding • Remodeling • Roofing
FULLY INSURED
tfn
Todd's
Now Accepting New
Snow Plow Contracts
Residential • Commercial
Salting • Shoveling
On another beautiful Sunday
afternoon, rival Cal-Mum made
the 7 mile trek down Route 5, as
the Junior Knights played their
first game at the newly renovat-
ed Hartwood Park. Coming off
their best team defensive game
of the year, the Knights defense
continued t hei r dominance
while being led by a balanced
offensive attack.
Cal-Mum won the toss and
deferred, giving LeRoy the ball to
start the game. A 5 yard penalty
by the defense gave LeRoy 1st &
5 at the 40 yard line. Runs of 10
yards by Luke Lathan, 4 yards
by Adam Woodworth, 3 yards
by Jude Sherman and 4 yards by
Woodworth sandwiched a second
offsides on the defense. This set
up 2nd & 6 at the 34 yard line.
LeRoy's left side, featuring Aaric
Luce, Jace Jedrewski & Jake
Higgins, opened a gaping hole for
Jude Sherman to burst through on
his way to a 34 yard touchdown
run. Luke Lathan powered in the
extra point for an early 8-0 lead.
On Cal-Mum's first possession,
Jack Egeling, Luke Lathan and
Wyatt Draper all made plays at
or behind the line of scrimmage
LeRoy Junior Knights – LeRoy 32 – Cal-Mum 0
forcing a 4th and 12. Cal-Mum
chose to punt the ball away giv-
ing LeRoy possession at their 47.
A balanced, up tempo, 9 play
drive featuring runs by Luke
Lathan, Adam Woodworth and
Jake Higgins set up LeRoy at
the 2 yard line. DJ O'Geen, Wy-
att Draper and Grady Gilligan
opened up the right side allowing
Adam Woodworth to walk un-
touched into the end zone. LeRoy
14 – Cal-Mum 0.
LeRoy's defense led by Aaric
Luce, Joey Reschke, AndrewDa-
vis and DJ O'Geen again forced
a three and out after three plays
for negative yardage. After a Cal-
Mum punt, LeRoy took over at
Cal-Mum's 47 yard line to begin
the second quarter.
LeRoy's next drive featured the
four-headed monster of Lathan,
Sherman, Woodworth and Higgins
as all four contributed with runs
taking the ball down to the 2 yard
line, where Luke Lathan finished
off an 8 play drive to make the
score 20 – 0 LeRoy.
It took only one play for Le-
Roy's defense to get the ball
back as Holden Sullivan and Jack
Egeling burst through the line,
almost taking the handoff, to
force a fumble that was recovered
by Holden Sullivan.
One play later, LeRoy convert-
ed a turnover into points. Le-
Roy's second wave of offensive
linemen, Brandon Shirley, Gaven
Myers, Nick Noble, Cameron
Wilson, Austin Bogue, Connor
"CC" Corcimiglia & Drake
Schwab, got in on the action
executing their blocking assign-
ments perfectly, as Jude Sher-
man burst through a huge hole
to race 31 yards for his second
touchdown of the day. Halftime
Score - LeRoy 26 – Cal-Mum 0.
LeRoy's defense did not allow
a 26-0 halftime score to impact
their effort in the second half.
32 different LeRoy defenders
teamed up to allow only 3 yards
on 17 carries by the Red Raiders
over the final two quarters.
The final touchdown of the
game came after LeRoy's de-
fense gave the offense the ball at
Cal-Mum's 10 yard line. Behind
textbook blocks by Brandon Shir-
ley and Gaven Myers, Connor El-
more got free around the left end
and sprinted untouched into the
end zone for his first touchdown
of the year. Final Score LeRoy
32 – Cal-Mum 0.
LeRoy's defense was led by
Jack Egeling with 11 tackles
including 4 for a loss & Holden
Sullivan with 6 tackles, 5 for
a loss and a fumble recovery.
Luke Lathan recorded 5 tackles
and a fumble recovery. Andrew
Davis, Aaric Luce, Jude Sher-
man each with 3 tackles. Adam
Woodworth with 2 tackles. Wyatt
Draper, Connor Elmore, Noah
Kaczanowski, Cameron Max-
well, Alex Spezzano and Cole
Tonzi, each with 1 tackle.
LeRoy's offense was powered
by Jude Sherman with 4 carries
for 70 yards and 2 TD's followed
by Adam Woodworth with 7
carries for 42 yards and a TD,
Connor Elmore with 7 carries for
42 yards and a TD, Luke Lathan
with 7 carries for 41 yards and a
TD, Jake Higgins with 5 carries
for 35 yards, Noah Kaczanowski
with 2 carries for 31 yards and
Joey Reschke with 3 carries for
4 yards.
LeRoy plays at York on
Sunday, October 2nd at Noon.
John F. Rider Real Estate
Not the biggest, just the best.
www.riderrealestate.com
8130 E. Main Street Road, LeRoy
768-7293
Please visit:
www.riderrealestate.com
John F. Rider,
Licensed Real Estate Broker
Steve F. Rider,
Licensed Real Estate Broker
JoAnn Snyder & Greg Rogers,
Assoc. Brokers