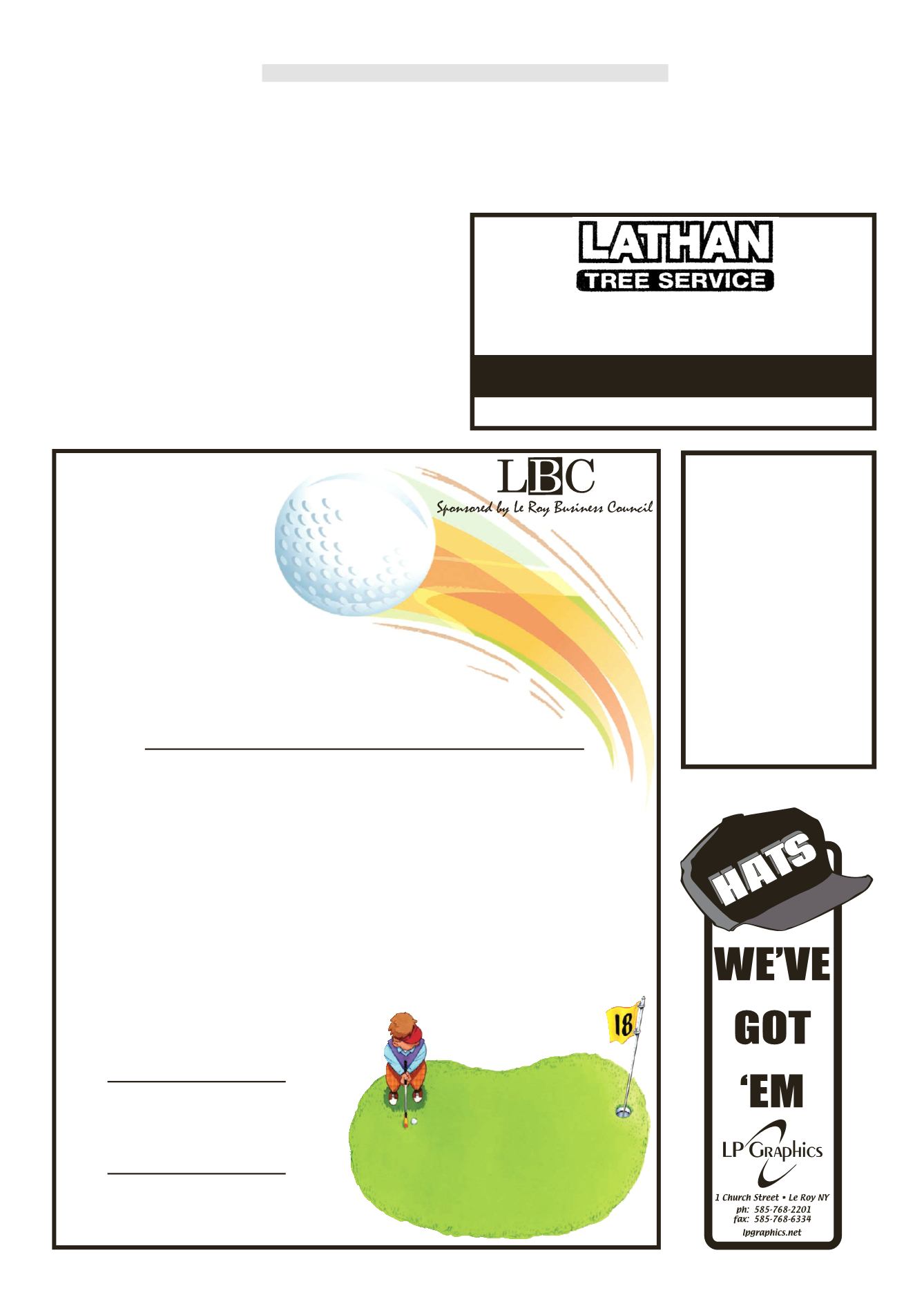 LEROYPENNYSAVER&NEWS -AUGUST 14, 2016
LeRoy
CountryClub
7759EastMainRoad, LeRoy, NY 14482
Tuesday, September 13th
Make all checks payable to:
Deadline for registration is 9/6/16
CompletedRegistrations to:
113Gilbert St., LeRoy, NY14482
BobBennett - 585-356-2719
Enjoy a complete program of special events,
18holes of golf (including cart), lunch
and an exciting awards banquet...
All for just $65 / player • $25 for dinner only
· Longest drive contests
· Closest to the pin
· Closest to the line
byGreg "Porp"Rogers
Mayor
proaches swiftly, Iwould like to
thank the Garden Club for the
flowers on Main St. With the
heat, we have had to keepwater
on theseplantsall the time; there
wasnohelp fromMotherNature.
Alongwith thesedutiesweadded
the watering of the sod around
LadyLiberty. SpeakingofLady
Liberty, doesn't she look great?
Many thanks to all the people
whomade thispossible; it is truly
another thing that sets our little
Village apart from the others.
Wehave a tentative agreement
Notes From TheMayor's Office
withour PoliceUnion, thanks to
all the people involved on both
sides.Notonlydo thepolicepro-
tectuseverydaybut theyarevery
aware and sympathetic to the fi-
nancial needs andchallenges the
Village faces. In negotiations, if
neither side getswhat theywant,
andboth can livewithwhat they
have, it's probably a fair deal.
You may have noticed an in-
crease in your sewer bill, this
ismeant to be a one to two year
increase, and we are currently
takingmeasures to lower therates
towards the old ASAP. Thanks
Many people have stoppedme
togivepositivecommentson the
directionofourVillage. It seems
tomewehavesome realmomen-
tum building, we will do all we
LeRoyBusinessCouncil
Golf Tournament
local news section of the
THANKS
FORYOUR
SUPPORT!
585-768-2278
LeRoy, NY
Since 1971 .... ExperienceCounts
PROFESSIONALTREESERVICE
TREETRIMMING • TREEREMOVAL • STUMPREMOVAL
FreeEstimates • Fully Insured
AcceptingAll Major Credit Cards
Enjoy the rest of the summer.
"What Washington needs is,
adultsupervision"BarackObama