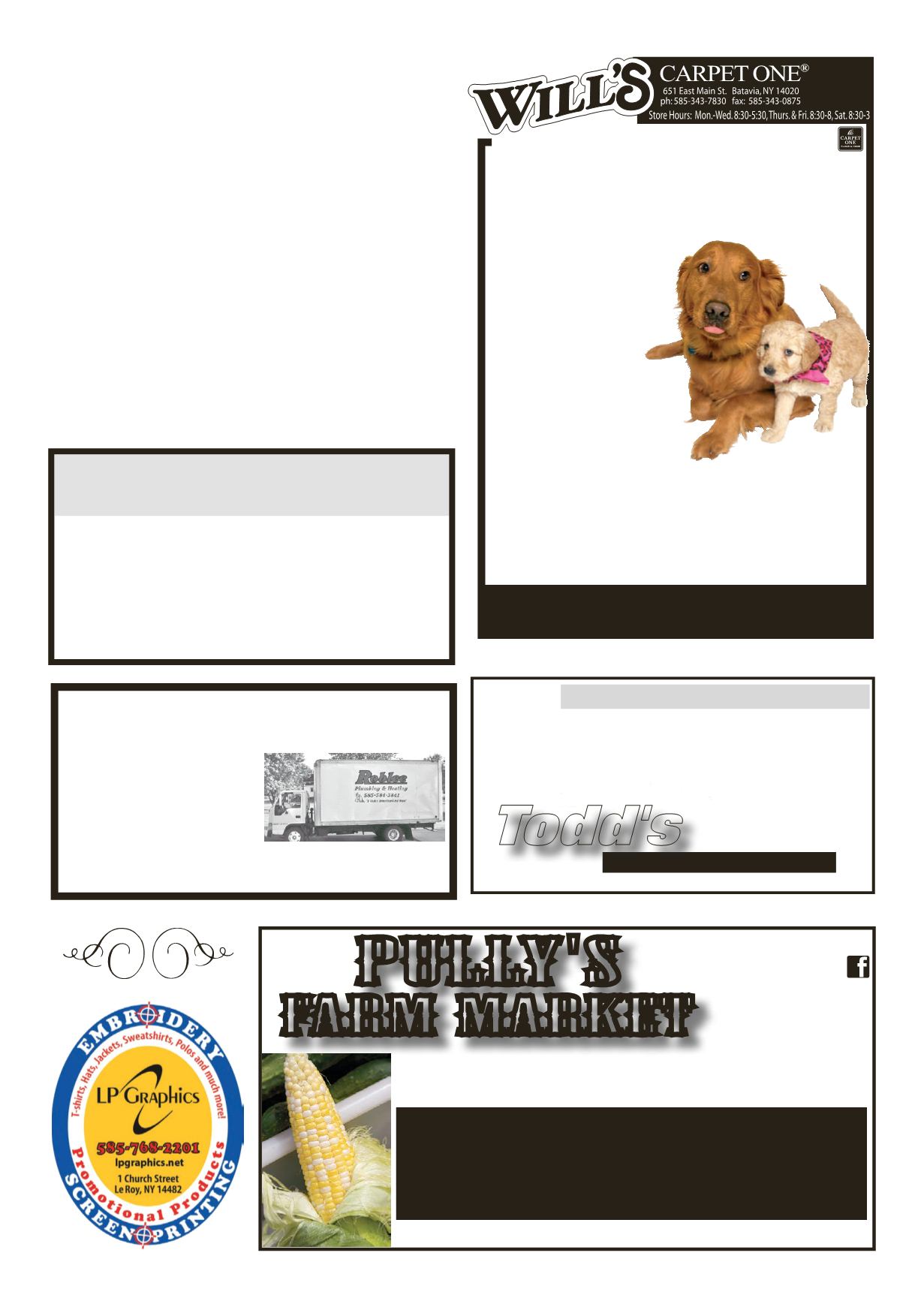 LEROYPENNYSAVER&NEWS -AUGUST 14, 2016
TheONE store for your perfect floor.
FLOOR
&HOME
ROBLEE
Plumbing&Heating, LLC
10991LakeRd., Pavilion • (585) 584-3841
Full Insured
LUXAIRE
GOULD
NYSCertifiedBackflowTester
Water&Sewer Lines •Water Treatment&ConditioningSystems
Will'sCarpet-One
Floor&Home
• Has theLARGEST selection of in-stock
Fiber Floor&Wallpaper in the
• Get our total installed price& compare
ALLWORKMANSHIP GUARANTEED • INSURED
297-9097 • 768-7737
• InteriorPainting
• Plaster/LathRestoration
•Drywall&DrywallRepair
•TextureRemoval
• Floors Stripped
&Refinished
•OldCeilings&Walls
MadeLikeNew!
MikeDarby'sPatch&Paint
08/10/2016 -TheLeRoyPolice
Department in conjunction with
the NYS Department of Health
and the Genesee County Health
Department, have secured two
drop boxes which are located
inside the LeRoy Village Hall at
Thedropboxes are a safeplace
for the public to dispose of both
excess medications and sharps
(needles).Theboxeswill beopen
to the general public for walk up
disposal starting theweek ofAu-
gust 22, 2016 on weekdays from
8:03 am to 4:30 pm and after
hours by contacting the on duty
DropBoxesForExcess
Medications&Needles
LeRoyPoliceOfficerviadispatch
The boxes are labelled, one for
excess medications only and the
otherforsharpsonly. Asalways, if
you are aVillage resident and are
unable to get to the Village Hall
the ondutyofficerwill pick them
The safe disposal of the excess
medicationsboth reduces the riskof
themedications entering thewater-
shedand take themoutof thehands
of thosewhomayabuse themwhile
the safedisposal of the sharps/nee-
dles reduces the riskof transmission
of communicable diseases.
NewHomes •Additions •Garages •PoleBarns
ToddCarli • Phone 703-0964
Todd's
Decks •Windows •Doors
Kitchens •Baths
CeramicTile
Basement Finishing
CustomShelves/Built-Ins
Siding •Remodeling
Roofing • SnowPlowing
FULLY INSURED
8160LakeRd. (Rt. 19)
LeRoy, NY
1/2mile southof Thruway
768-2280 • 704-1157
Hours:Mon.-Sat. 9-6, Sunday9-5
pullysfarmmarket.com
Jams • Jelly •Honey • Syrup
Gift CertificatesAvailable!
Watermelon •Cantaloupe • Peppers
Cherries • SummerSquash •Zucchini •Onions
Cucumbers •Tomatoes • Peaches