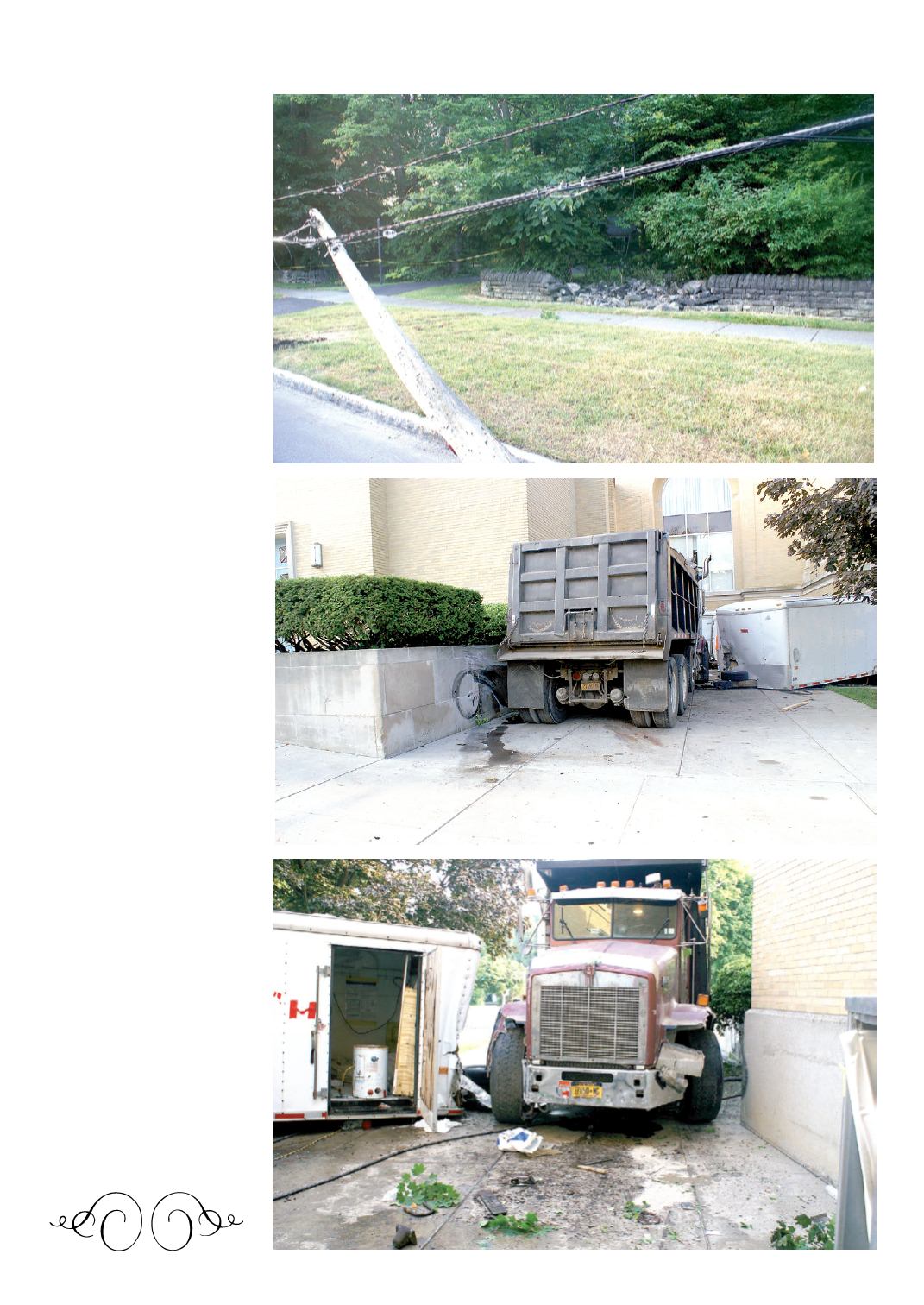 LEROYPENNYSAVER&NEWS -AUGUST14, 2016
08/12/2016
A 67 year oldHolleyman is be-
lieved tohavesufferedamedical
emergency prior to the series of
accidents on East Main Street
at around 4 am on Thursday
boundonEastMainStreetwhen
hefirst attempted todo a3point
turn in the 10 wheeler he was
operating in the area of 57 East
Main Street. Upon doing this,
he drove the truck up over the
curbandbrokesome rather large
branches off of a tree in front of
that residence. He thenproceed-
edwest for just a short distance
whenhis truck thenwentupover
thecurb in front of the residence
located at 44 East Main Street.
His truck snapped a utility pole
in two and also crashed into a
cobblestone typewall in front of
It appears that he backed his
truck out of that location and
proceeded west on East Main
Street where he then drove his
truckupover the curb in front of
theWolcott Street School.
The truckcontinued southwhere
it then struck two construction
trailers which were parked up
near the main entrance of the
school. The trailers suffered
heavy damage and were also
pushed into theschoolwhichalso
suffered some minor damage.
Howewas transported toUMMC
by LeRoy Ambulance for some
minor injuries as well as the
medical condition he suffered.
There are no charges pending at
Assisting the LeRoy Police
Department at the scene were
membersof theGeneseeCounty
Sheriff'sDepartment,NewYork
StatePolice aswell asmembers
of the New York State Police
Commercial Enforcement Unit
andmembers of theLeRoyFire