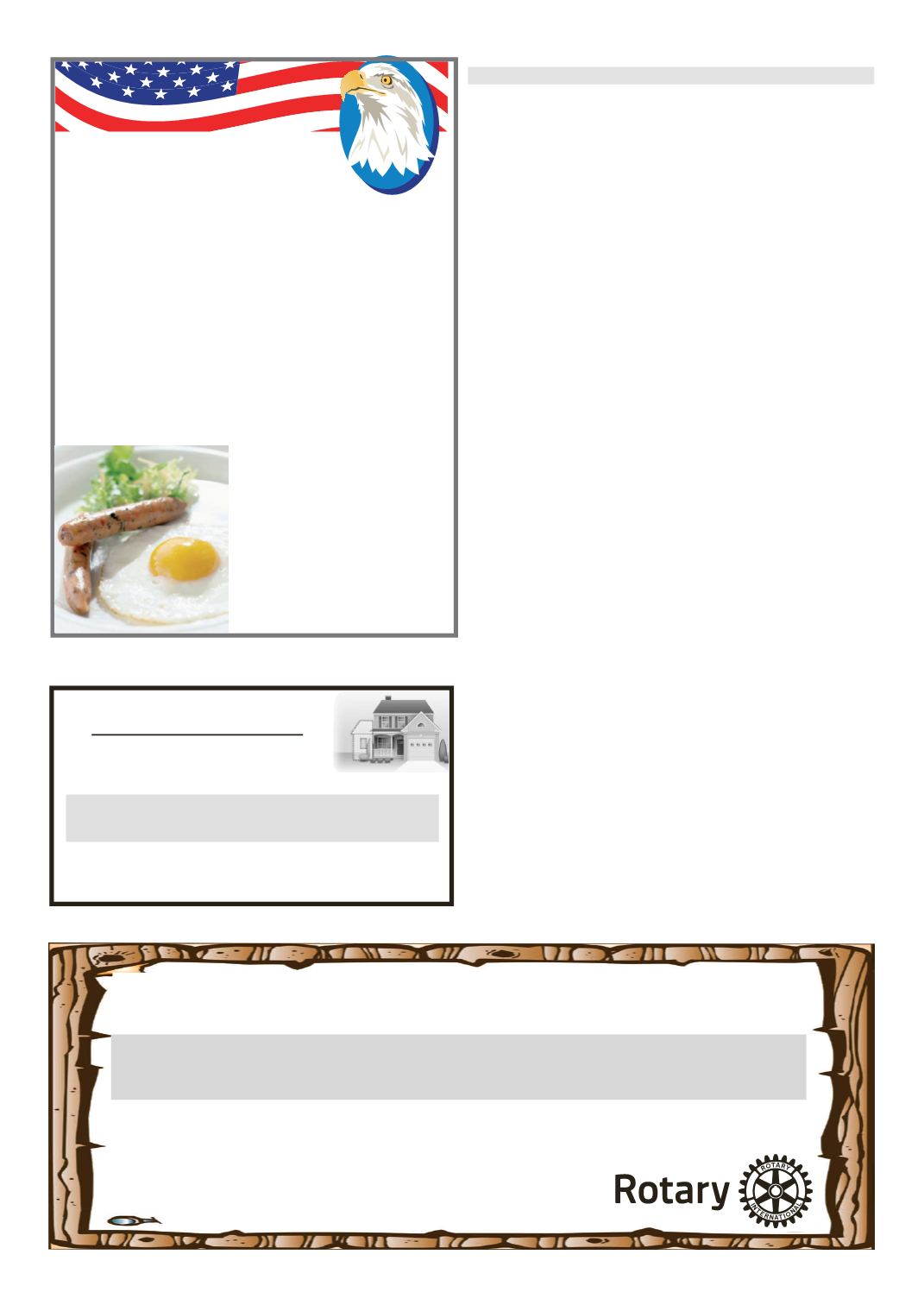 LEROYPENNYSAVER&NEWS -APRIL 3, 2016
LeRoy
Servicemen'sClub
Sunday,April 10th, 2016
8:00 am –Noon
ALLYOUCANEAT
53WestMainSt., LeRoy, NY
Also serving a good time
with your localVeterans.
"CompleteCarpentry Service"
M
ILLER
B
ROTHERS
B
UILDERS
CustomHomes •Remodeling•Additions
Roofing• Siding
DANIEL
MICHAEL
byKimM. Cox
Superintendent of Schools
The past fewweeks have been
very busy at the district. On
Wednesday,March23rd,weheld
the bid opening for the RITE
Project. The following contracts
Sitework:
VillagerConstruction, Inc.
General Trades:
D'Agostino
General Contractors, Inc.
HVAC:
Bell Mechanical Con-
tractors, Inc.
Plumbing:
T. Bell Construction
Corp.
Electrical:
Blackmon-Farrell
Electric, Inc.
Muchof the constructionwork
will begin inMay and will con-
Tuesday,
April 5, 2016 at 6:30 p.m. in
Memorial Auditorium
will be a communitymeeting to
update anyone interested on the
plans and impacts of the project.
Several important changes at the
WolcottStreetSchoolwillbedis-
cussed.We hope you can attend.
We have also been putting the
final touches on the 2016-2017
School Budget, however, we are
still awaitingoncrucial informa-
tionanticipatedonApril1stwhen
the Governor releases the State
Budget. We do anticipate some
increases to the School Budget
primarily due to increases in op-
erating and contractual commit-
ments. Iwillhaveamoredetailed
outline of the budget in the next
few weeks. As a reminder, the
budget hearing is scheduled for
May 10th and the vote will be
Tuesday,May17, 2016
Speaking of the budget vote,
this year we will have a few
changes.Thefirst is that thisyear
we will be using paper ballots.
As you may know the law has
discontinued the use of lever
machines, thereby making mu-
nicipalities use either the optical
scanningmachines or paper bal-
lots. Unfortunately, wewere not
able to rent these machines this
year, so we will be using paper
ballots. The second change is in
regards to the time of the vote.
Voting hours will be adjusted
to allow time tomanually count
Votinghourswill be
from 8:00 a.m. to 8:00 p.m. on
Tuesday,May 17, 2016
will occur in the usual location,
however, itwill be located inside
the Trigon Gym as opposed to
the hallway corridor. There will
be several reminders of these
The annual bus purchase vote
washeldonTuesday,March29th.
Thankyou foryour approval and
support aswemaintainour trans-
Finally, Iwould like tocongrat-
ulate the Le RoyCentral School
District Music Department, and
the entire community, for being
"America's Best
Communities for Music Edu-
cation."
of teachers, talented students,
and community support to have
this designation year after year!
Thanks forallyoursupport in this
As you can see, never a dull
moment.More to come soon!
RotaryCommunityFundingRequests
Thedeadline for Rotarycommunity funding requests has beenextended.
All requests for the 2016-17Rotary yearmust be submittedby
April 15, 2016
using the formprovidedon the LeRoyRotarywebsite.
Even if your organizationhas been funded in thepast,
anew requestmust be submitted for each year
that funding is requested.
Clubof LeRoy