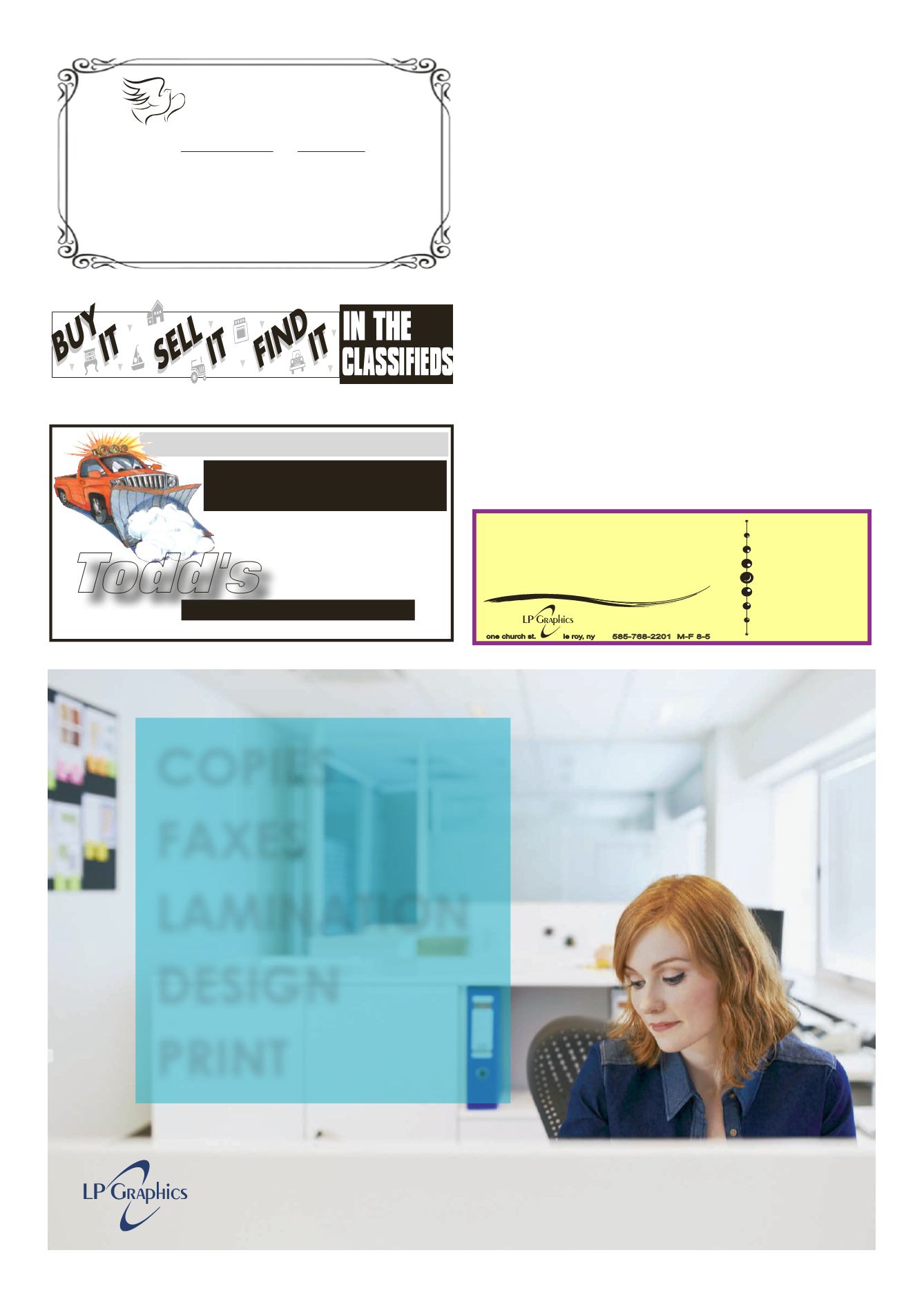 LEROYPENNYSAVER&NEWS -APRIL 3, 2016
Director /Owner
FuneralDirector
F
ALCONE
F
AMILY
Funeral&Cremation Service, Inc.
Director/Owner
"ALOCALFAMILY
CARINGFORLOCALFAMILIES"
1ChurchSt., LeRoy, NY14482
585.768.2201
raphics.net
COPIES
FAXES
LAMINATION
DESIGN
PRINT
TheAmericanLegionAuxilia-
ryBottsFioritoUnit576LeRoy,
NY has selectedHannahArneth
as there Girls State Candidate
Hannah, daughter of John and
Tammy Arneth of Le Roy, is a
Junior atLeRoyCentral School.
e is Secretary of Rotary Inter-
act Club, Vice President of her
Junior Class, and Secretary of
NationalHonorSociety. Hannah
is also a Youth Court member.
Being a Youth Court member
allows her to participate as a tri-
bunal judge, bailiff, prosecuting
attorney, or defense attorney in
thecaseof a teenage respondent.
EmpireGirlsState isahands-on
week-longeducationalworkshop,
focusingonAmericanismand the
political process, sponsored by
the New York State American
Legion Auxiliary. The goal of
theprogram is tohelp students to
betterunderstanddemocratic ide-
alsand thepartweas individuals
play in carrying out these ideals.
Thisprogram,whichhasbeenac-
credited by theNational College
Credit RecommendationService
(National CCRS) is a non-parti-
san attempt to teach high school
junior girls about government,
politics, andAmericanism.
Auxiliary Empire Girls State
program will be held June 26,
2016-July2,2016atTheCollege
ofBrockport inBrockport, NY.
ArnethSelected
ToAttendGirls State
one church st. le roy, ny
one church st. le roy, ny
NewHomes •Additions •Garages •PoleBarns
ToddCarli • Phone 703-0964
Decks •Windows •Doors
Kitchens •Baths•CeramicTile
Basement Finishing
CustomShelves/Built-Ins
Siding •Remodeling •Roofing
FULLY INSURED
Todd's
Residential • Commercial
Salting • Shoveling