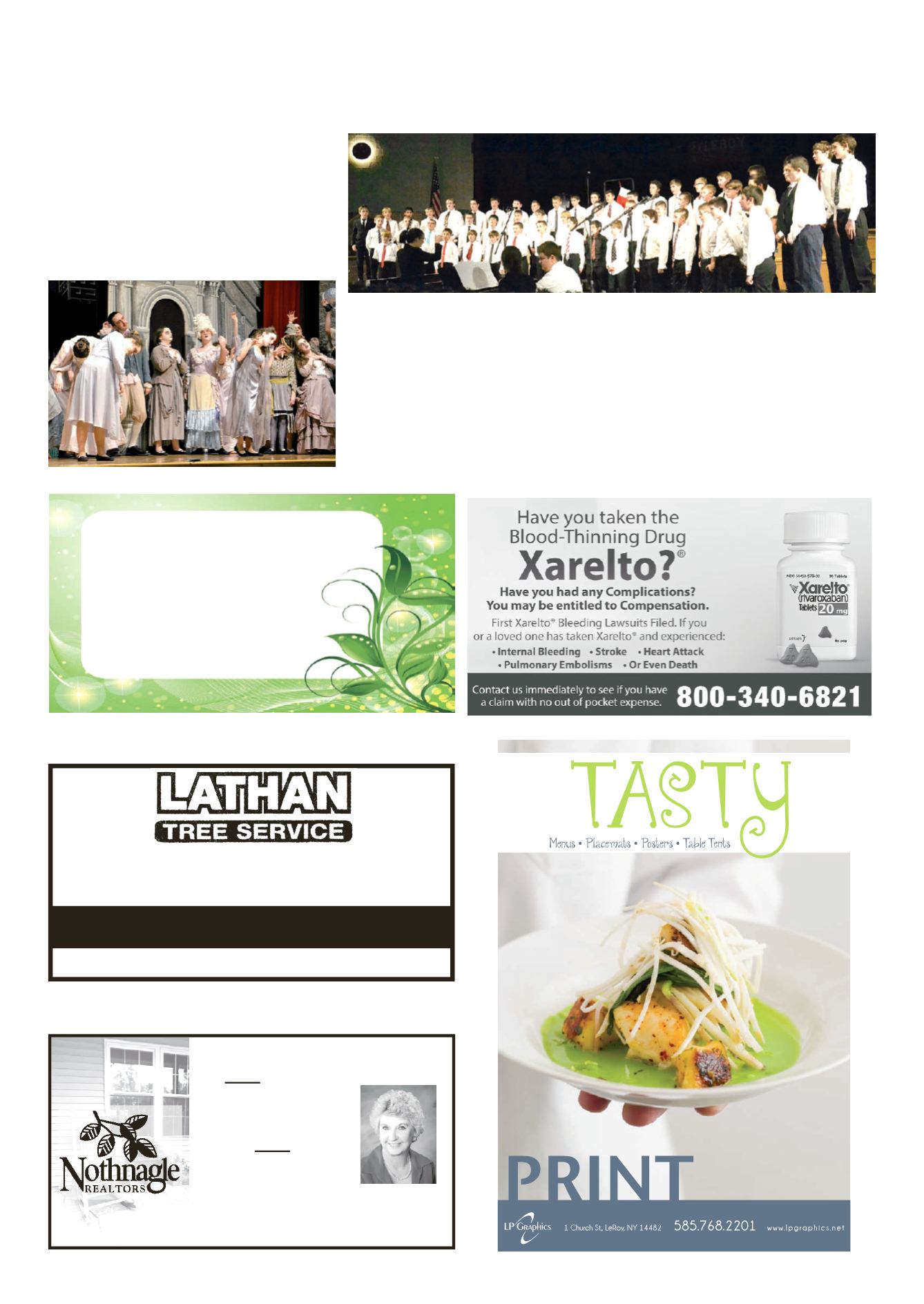 LEROYPENNYSAVER&NEWS -APRIL 3, 2016
Batavia
585-343-6750
NOW is theBEST time
toBUYwith the interest rates
at their lowest!
Don't wait
toBUY -
call
LindaBeaumont
for all your real
estateneeds.
LindaBeaumont
Home (585) 768-6315
LicensedReal Estate
Salesperson
Multi-MillionDollar Producer
7:00 pm •Wednesday,April 20, 2016
atMorganvilleUnitedChurch ofChrist
8466MorganvilleRd., Stafford, NY
585-768-2278
LeRoy, NY
Since 1971 .... ExperienceCounts
PROFESSIONALTREESERVICE
TREETRIMMING • TREEREMOVAL • STUMPREMOVAL
FreeEstimates • Fully Insured
AcceptingAll Major Credit Cards
MorganvilleCemeteryAssociation
designatedLeRoyCentralSchool
District as one of the 2016 Best
Communities for Music Educa-
tion (BCME). This designation
is awarded to district and school
music education programs "for
outstanding efforts by teachers,
LeRoyCSDNamedBestCommunity
ForMusicEducation
students in chorus and over 210
students in band district wide.
According to Mary Luehrsen,
NAMM Foundation executive
director, the Best Communities
designation brings "hard-won
visibility tomusic classes, pro-
grams and departments that are
keeping music education alive
inourschools."Congratulations
to the Le Roy Music Depart-
ment: Lindsay Buckel, Jessa
Dechant, Dan DeLuca, Jackie
McLean, BradMeholick, Matt
Nordhausen, students, parents
and school community on their
hard work and dedication to