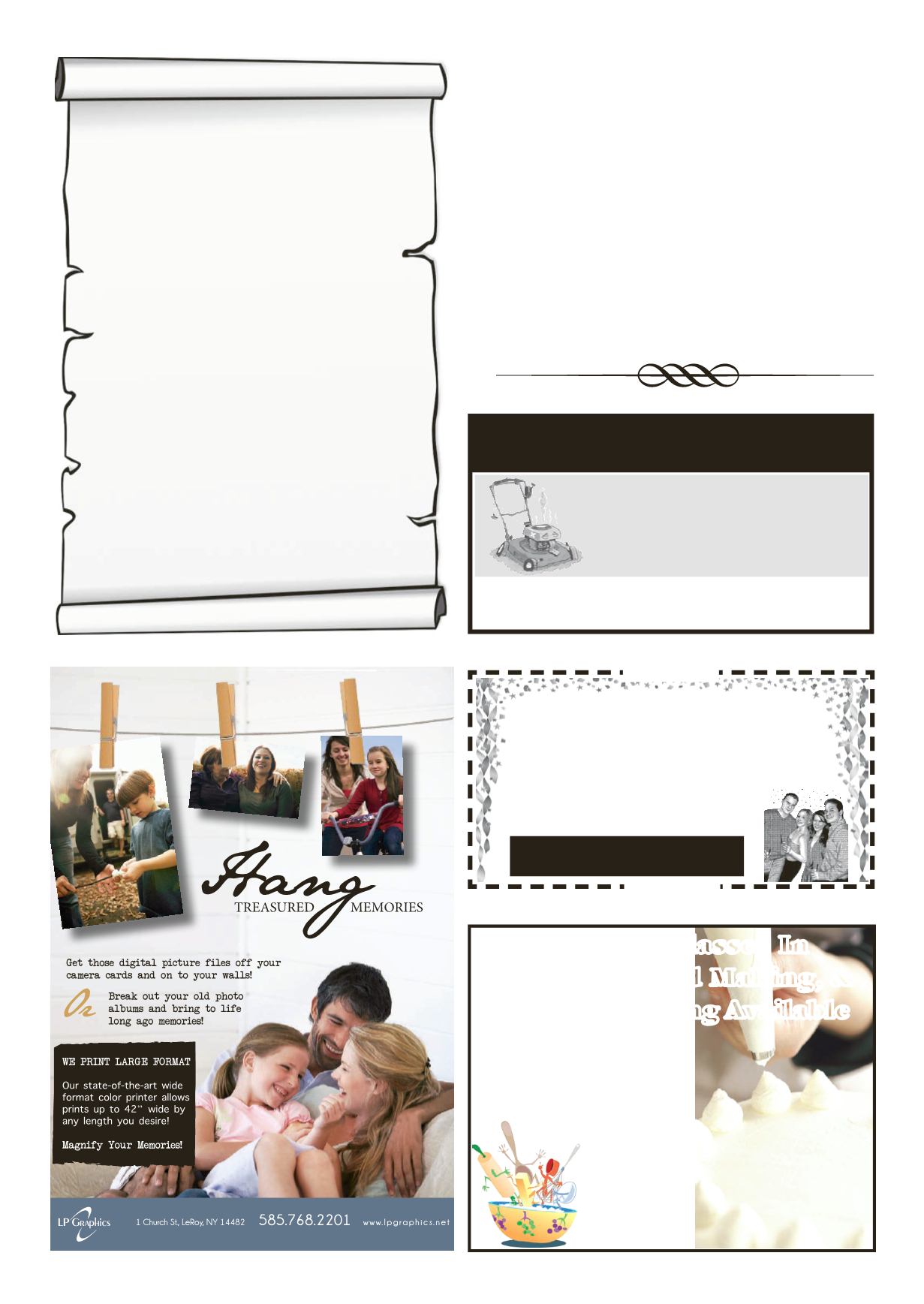 LEROYPENNYSAVER&NEWS -APRIL 3, 2016
Freshman Becca Schwan
(LeRoy,NY)of theRITwomen's
track and field team, was named
the 2015-16 Liberty League
Women's IndoorTrackandField
Rookie of theYear onThursday,
Schwan enjoyed an excellent
indoor season for the Tigers in
2015-16. She broke a five-year
old school mark at the ECAC
Championships in the1,000-me-
ter run, finishing third overall in
a time of 2:57.82. Schwan was
also part of the distance medley
relay team that smashed their
ownschool recordby13seconds,
with a time of 12:00.04 at the
ECAC's. Schwan was second
in both the 800-meters and dis-
tancemedley relayat theLiberty
LeagueChampionships andwas
theNewYorkStateChampion in
Individually, Schwan was a
two-timeLibertyLeagueRookie
of theWeek (Feb. 29,March 7).
American Legion
Post 576
585-768-2090
CLIP&SAVE
CLIP&SAVE
Inside - 2RoomsAvailable
Outside - LargePavilion
• Engine andTransmissionRebuilds
• Lawn andGardenEquipment
•ATV's, Dirt Bikes • Light Equipment
• PickUp andDeliveryAvailable
8525Rt. 237, Stafford, NY
Class sizes
limited to 4 inmy
home or larger
group
venues
can be
arranged.
Please contact
MaryMargaret
Ripley
at 297-2441 for
more info.
Toour family, friends, neighborsandco-
workers for theprayers, food, calls, cardsand
supportgiven tousduring thisdifficult time.
Thankyoualso toEast SideNursingHome,
blessing it is toknowhowmany trulycare.
Thankyou toFalconeFamilyFuneral andCre-
mationService inLeRoy, especially toVern,
Debbieand Jenna for thecaregiven toour
Thankyoualso toPastor JeremyVanSant for
theencouraging sermon.Your support and
kindwordsweremuchappreciated.