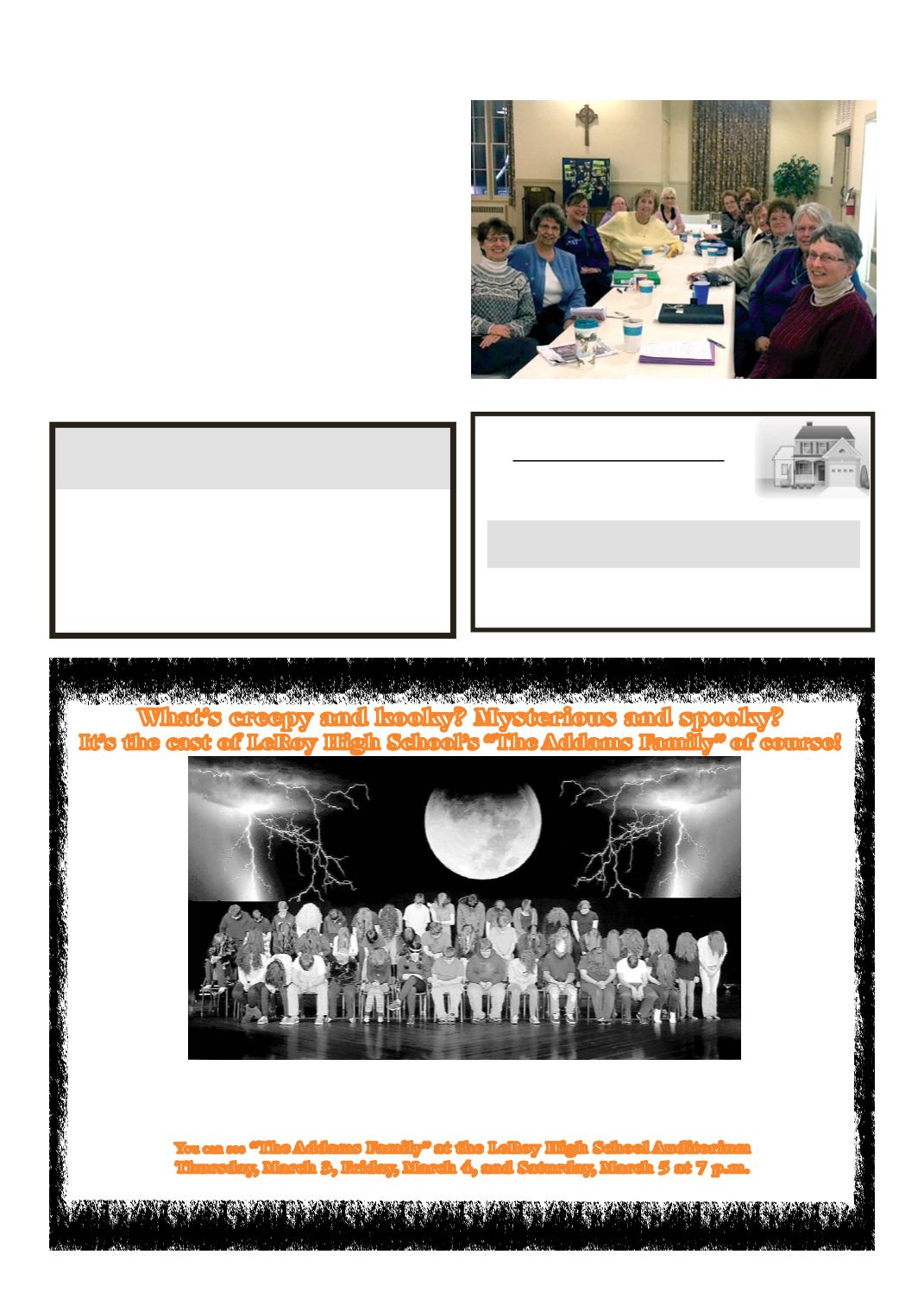 LEROYPENNYSAVER&NEWS - FEBRUARY 21, 2016
"CompleteCarpentry Service"
M
ILLER
B
ROTHERS
B
UILDERS
CustomHomes •Remodeling•Additions
Roofing• Siding
DANIEL
MICHAEL
A dedicated group of LeRoy students in grades 7 through 12 have been working hard sinceNovember to bring this funny, energetic musical
to the stage. The show has all of the classic characters from the original cartoons and TV series, includingGomez andMorticiaAddams,
who must decide what to do when daughterWednesday brings a "normal" boy home for dinner. The result is a lot of laughs and toe-tapping
musical numbers that are not to be missed. The show is brought to life by over 125 talentedLeRoy students in the cast, pit, and crew.
"TheAddams Family"at the LeRoyHigh SchoolAuditorium
Thursday,March3, Friday,March 4, and Saturday,March5 at 7p.m.
Tickets are available at the LeRoyHigh Schoolmainoffice or at
What's creepy andkooky?Mysterious and spooky?
It's the cast of LeRoyHigh School's"TheAddams Family"of course!
try Garden Club of LeRoy held
their Pot Luck Supper at Olm-
stead Hall in the First Presby-
terian Church of LeRoy. They
enjoyed the delicious food and
heldabusinessmeeting todiscuss
tentativeplans for2016datesand
The Garden Club offers Pro-
grams such as: informative ses-
sions by Master Gardeners and
Landscaping experts; garden
tours in thesummer;and learning
how tomakegarden accessories.
The annual SpringPlantAuction
in June is open to the public.
Club members actively par-
ticipate in gardening activities
around the Village of LeRoy.
Activities include decorating
Woodward Library & the Post
OfficeatChristmas;plantingand
caring forflowersonMainStreet,
and at the three village entrance
beds. The members have also
assisted with flowers for special
programs at the Village Green
The March meeting will be
held on March 9th at 7:00 pm
at the First Presbyterian Church
in LeRoy. Anyone interested in
more information should contact
Ann Walters at 737-9481 or
Town&CountryGardenClub ofLeRoy
ALLWORKMANSHIP GUARANTEED • INSURED
297-9097 • 768-7737
• InteriorPainting
• Plaster/LathRestoration
•Drywall&DrywallRepair
•TextureRemoval
• Floors Stripped
&Refinished
•OldCeilings&Walls
MadeLikeNew!
MikeDarby'sPatch&Paint