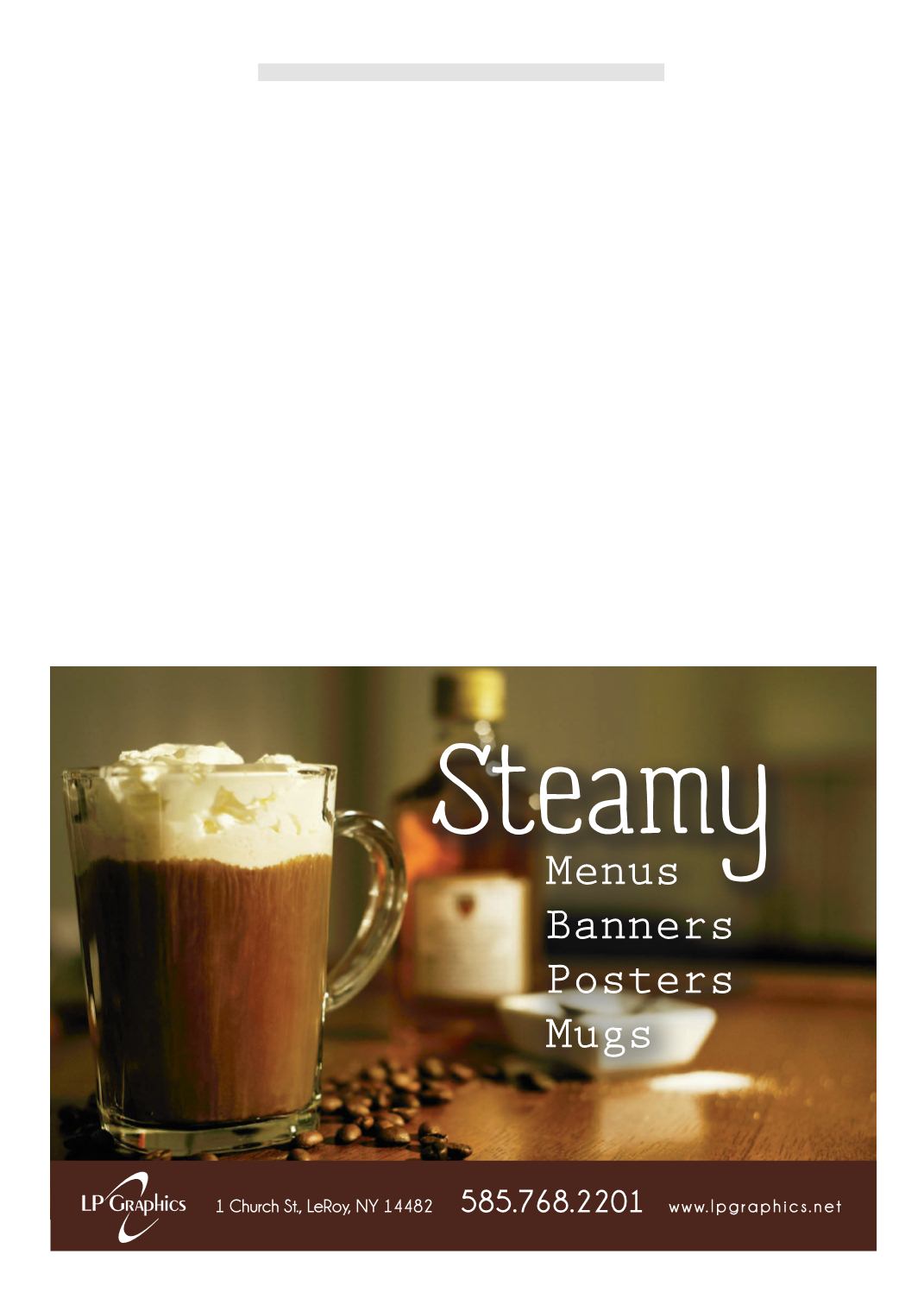 LEROYPENNYSAVER&NEWS - FEBRUARY 21, 2016
AROUNDTOWN
byStephenR. Barbeau
Supervisor, Town ofLeRoy
(585)768-6910 x 231
Most, if not all, of those el-
igible for the NYS property
tax freeze rebate program have
received your checks by now.
Though there are various opin-
ions as to the value of this pro-
gram, it should be noted that the
reason we received a check at
all was due to the extraordinary
efforts of local taxing entities at
keeping the tax levies below the
LeRoyanseligibleshouldhave
received their checks by now. If
you have not, and believe you
are eligible, youmay contact the
Statedirectlybycalling518-453-
8146 (thenpress1whenprompt-
ed).Donot call the town,village,
or school for inquiriesabout this,
as it is a state-run project and
we have no information onwho
is eligible nor the formulas for
ThisweekIwould like tofocus
on themanyareasofcooperation
theTown is involved inwithother
municipal/serviceentities.These
cooperativeeffortsprovidemany
enhanced serviceswhilekeeping
costs lower than having to "go it
alone."Someareannual projects
while others are "one-timers."
- America'sBest Communities-
Village of LeRoy, Genesee
- NYS Tax Freeze Program -
- NYSWorkers'Compensation-
- Kayak launchonOatkaCreek-
Village and Genesee County
- Web site domain -Village and
- Fueldepot-VillageandLeRoy
- Water District #10- Town of
- Senior Citizens programs-
- Recreation/Pool- Village and
- Highwayprojects-Villageand
- Festivals- Village and Fire
- CommercialParkproposedde-
velopment-VillageandCounty
- Cell tower for emergency
first responder needs- Village,
- Assessment services-Townsof
I would also like to echo
my thanks and congratulations
to our fire department officers,
firefighters, Chief's Award win-
ner Joe Orlando, and Firefighter
of the Year Jerry Diskin. But, I
would also like to put a plug in
to anyonewhomight be looking
for an opportunity to serve our
community. There are three fire
companies who "feed" active
dutyfirefighters toourfiredistrict
(Oatka Hose, Chemical Hose,
Hook andLadder). Not too long
ago, each company provided 30
active firefighters and each had
a waiting list immediately able
to fill vacancies. Now, as I un-
derstand it, there are just over 50
activefirefighters total.
In addition, there were many
local employers who allowed
active firefighters to leave work
whenanalarmwentoff.Wedon't
have those local employers any
more andmanyfirefighterswork
out of town, leaving the daytime
hours with an increased scarcity
of thoseable toanswer acall.We
allknow thateconomicandsocial
times havemade it very difficult
forvolunteerorganizationsbut, if
youhave some timeat all, please
speak with any fire department
officerabouthowyoumighthelp.
ThankyouandseeyouAround
Town.