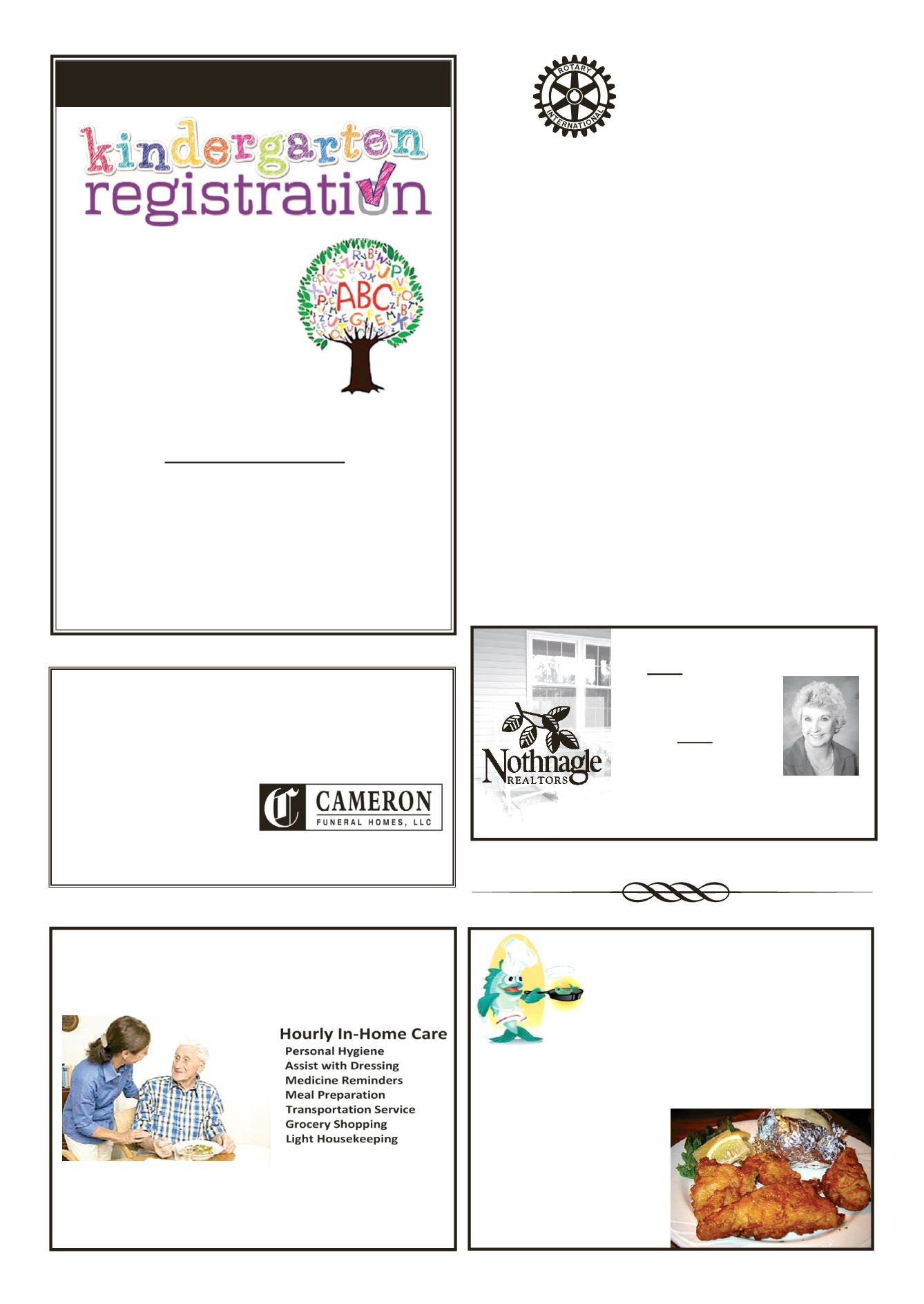 LEROYPENNYSAVER&NEWS - FEBRUARY 21, 2016
HelpingFamiliesCelebrateaLifeLived
"Our FamilyServingYours Since 1907"
Trusted•Honest •Proven
Cameron, Brady&Steuber
FuneralHome
111Wolcott Street
LeRoy,NY14482
(585) 768-6800 •
Likeus onFacebook
LeRotary
Notes
Batavia
585-343-6750
NOW is theBEST time
toBUYwith the interest rates
at their lowest!
Don't wait
toBUY -
call
LindaBeaumont
for all your real
estate needs.
LindaBeaumont
Home (585) 768-6315
LicensedReal Estate
Salesperson
Multi-MillionDollar Producer
HelpingHands In-HomeCare
CaringPeopleAssistingSeniors!
"AnAlternativeToAssistedLivingOrANursingHome"
"Love begins by taking careof the closest ones -
the ones at home."
"Local PeopleYouKnowandTrust"
FullyLicensed, Certified& InsuredSince2010
BarbaraRider-Hotze 737-7264 • HowardHotze, Jr. 690-7811
Companionship&
DailyActivities
It was chillywinter day at The
GreensofLeRoy forourmeeting
today. Former Le Roy Rotarian
FranDeYoung joined us for our
meeting today. Announcements
included: Le Roy Historical So-
ciety Dinner/Auction is March
12th,RotaryLeadership Institute
isMarch 19th, Graze toRaise is
nowscheduled forMay13th.The
UnitedWayDayofCaringwillbe
May18th andRelay forLifewill
JerryMcCullough andMarcia
McKenzie were both called on
for missed meetings. Jerry Mc-
Cullough was also fined for a
recent concert & overnight with
his lovelywife.MaryYoungwas
tagged for a report on theWood-
ward Memorial Library Dessert
in theStacksFundraiser.Nanette
Chiulli was asked to pay for her
Onasadnote,ourcondolences
goout to the familyofSueJones,
recentlydeceasedwifeof former
LeRoyRotarianDr. Bob Jones.
Rotarian Randy Vink was our
program speaker today. Randy
educated thegroupon theprocess
of inductinganewmember in the
Club. Rotary is always looking
to grow our tremendous club.
Randy alsodiscussedour annual
events including our Appliance
Raffle andGraze toRaise.Mark
your calendars for May 20th,
as this is the date of this year's
Graze to Raise Fundraiser to be
held at the Mercy Grove. This
year's event will have gourmet
appetizers, wine tasting, and
fabulous auction items. Contact
SamVagg for tickets at svagg@
Please like theRotaryClub of
Is Scheduled for
Wednesday,
March 2nd
9:30 am to 2:30pm
and in the evening from
6:00pm to7:30pm
and
Thursday,March 3rd
9:30 am – 2:30pm
Registrationwill be held at the
Wolcott Street SchoolOffice,
which is located onWolcott St., behind theLibrary.
An "eligible child" is a child residing in the
LeRoyDistrict andwhowill be 5 years old
on or beforeDecember 1, 2016.
Formore information, please contact the
ElementaryOffice at 585-768-7115.
Wolcott Street School
FISH FRY
(585-502-5155)