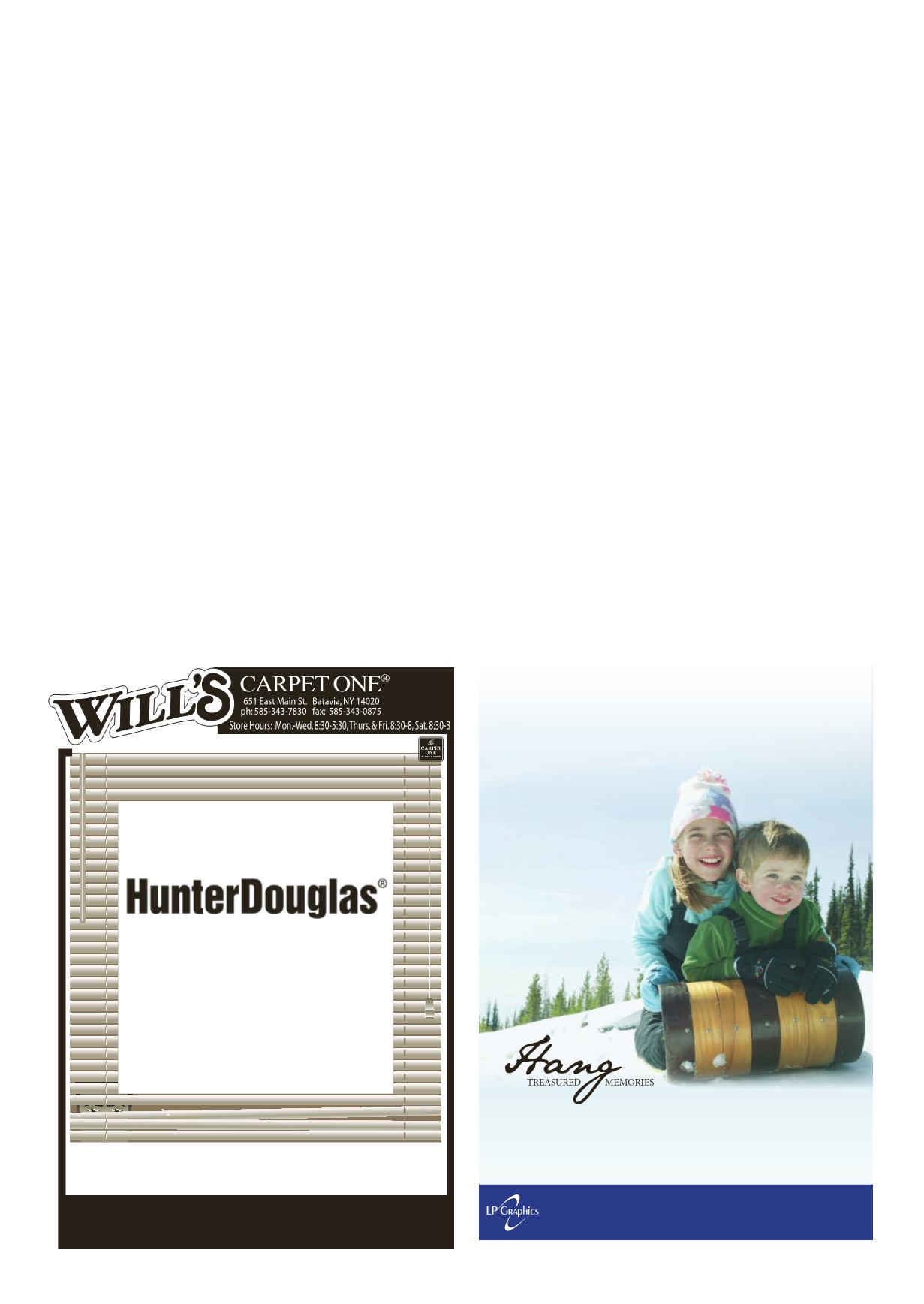 LEROYPENNYSAVER&NEWS - FEBRUARY 21, 2016
20%
OFF
CustomMade
WindowShades
andBlinds
Sale!
•FinancingAvailableToQualifiedBuyers
•Professional InstallationAvailable
TheONE store for your perfect floor.
FLOOR
&HOME
bySenatorRanzenhofer
February 2016
Recently,bills toenactaspend-
ingcapand term limits forSenate
andAssembly leaderspassed the
State Senate. I voted in favor of
both measures. Additionally, I
voted for legislation to end the
GEA school aid cuts. Now, my
main focushas turned toworking
on theNewYorkStateBudget.
his budget proposal last month.
Since then, I have been review-
ing its contents, and have heard
from residents across the 61st
SenateDistrict. I havealsobeen
listening to state department
heads and other members of the
public togathermore information
during numerous Joint Legisla-
Joint hearings concluded last
week, and thenext step is for the
Senate and Assembly to draft
separate budget proposals. In
theSenate, theone-housebudget
resolutionwill reflectourbudget
The majority of that work is
conductedbybudget subcommit-
tees. Ihavebeenselected toserve
on twosubcommittees,Economic
Development/Taxes and Educa-
tion. Being a member of these
important committees will help
to advancemy budget priorities:
This year's budget should
reject any new taxes and limit
spending growth to below two
end this year. These cuts have
had a disproportionate financial
strain on rural and suburban
school districts – and property
taxpayers.GEAbudget cutshave
hadanevenworse impact onour
State funding for Roswell
Park Cancer Institute should be
ShareYourBudget Priorities andHelpDevelop
AFiscallyResponsiblePlan
maintained at the same level as
last year. Reducing support for
the Buffalo-Niagara Medical
Campus' largest tenant sends the
wrongmessage tomedical com-
paniesandscientists interested in
The Executive budget short-
changes Upstate New York's
roads and bridges by $6 billion,
resulting in35%more for down-
state's Metropolitan Transporta-
tionAuthority. I amfighting for
trueparityof state transportation
GovernorCuomohasallocated
an additional $27million for the
Tuition Assistance Program for
undocumented, illegal immi-
grants. I oppose this proposal.
A plan to publicly finance
campaigns has been proposed
under theGovernor'splan. Inmy
opinion, taxpayerfundedpolitical
campaigns using your hard-
earned tax dollars is a bad idea.
These budget priorities are
only a start. Residents can share
theirbudgetprioritieswithmeby
visitingmywebsite, ranzenhofer.
nysenate.gov, and accessing the
State Budget Informational web
page. You can review specific
parts of the Executive proposal
and Senate Analysis, and get
updates on important news.
As your State Senator, I will
beworkingover thenext several
weeks toensure the2016-17State
Budget reflects theaspirationsof
families,veterans, seniorcitizens,
young professionals and small
businesses in our community.
Working together, I am con-
fident that we can develop and
enact anon-time,fiscally respon-
sible plan to ensure a brighter
future for Western New York.
As always, I'll be sure to keep
As crispas theday they weremade.
WE PRINT LARGE FORMAT
Our state-of-the-artwide format color printer allows
prints up to 42"widebyany length youdesire!
Get thosedigital
picture files off your
cameracards and
on to your walls!
1ChurchSt., LeRoy, NY14482
585.768.2201