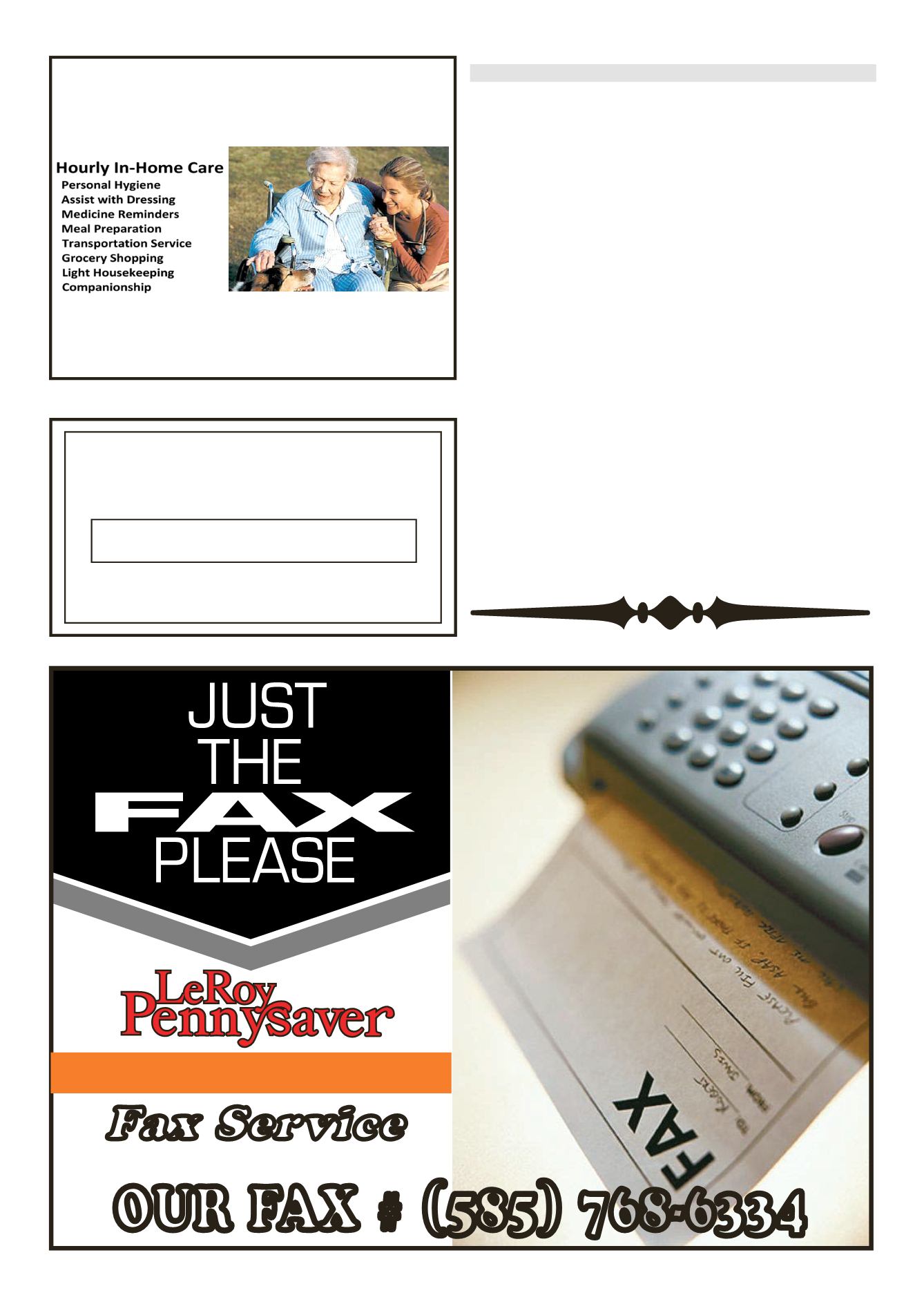 LEROYPENNYSAVER&NEWS - JANUARY 17, 2016
Plumbing • Heating
Installation&Repair Service
For All Residential &Commercial Work
byGreg "Porp"Rogers
Mayor
The NewYear has begun and
I would like to thank the LeRoy
BusinessCouncil and their spon-
sors' for the fireworks display
on New Year's Eve, they were
outstanding. This is just another
example of what makes LeRoy
You may have noticed Bill
Farmer and his crew working
on the sidewalk and building at
1 Main St. this is not a Village
project but it is great to see, this
cornerstone of Main St. on the
The Village word for the up-
coming year is momentum, it
seems we have it going in our
favor now andwe planon riding
and pushing it as far as it takes
us. We just received a grant for
$20,000 for a waterfront proj-
ect, while it may not seem like
a huge amount it is part of a
plan that goes on every year.
We are investigating fixing the
dam gates and thismoneymight
be just what we needed. Keep-
ing the water level up in the
dry summer months has been a
challenge,withno real long term
The Village is looking into an
agreement with John Eisenhard,
a local forestry professional,
to assist with some of the tim-
ber we have by our Wastewater
Treatment Plant aswell advising
on some of the trees around the
Village. I have been asked to es-
tablish a tree committee, to help
with the determination on both
cutting and planting, thiswill be
a project in the near future, John
"Even if you are on the right
track, you will get run over if
you just sit there."Will Rogers
Notes From TheMayor's Office
HelpingHands In-HomeCare
CaringPeopleAssistingSeniors!
"AnAlternativeToAssistedLivingOrANursingHome"
"Love begins by taking care of the closest ones -
the ones at home."
"Local PeopleYouKnowandTrust"
FullyLicensed, Certified& InsuredSince2010
BarbaraRider-Hotze 737-7264 • HowardHotze, Jr. 690-7811
1ChurchSt., LeRoy, NY • (585) 768-2201