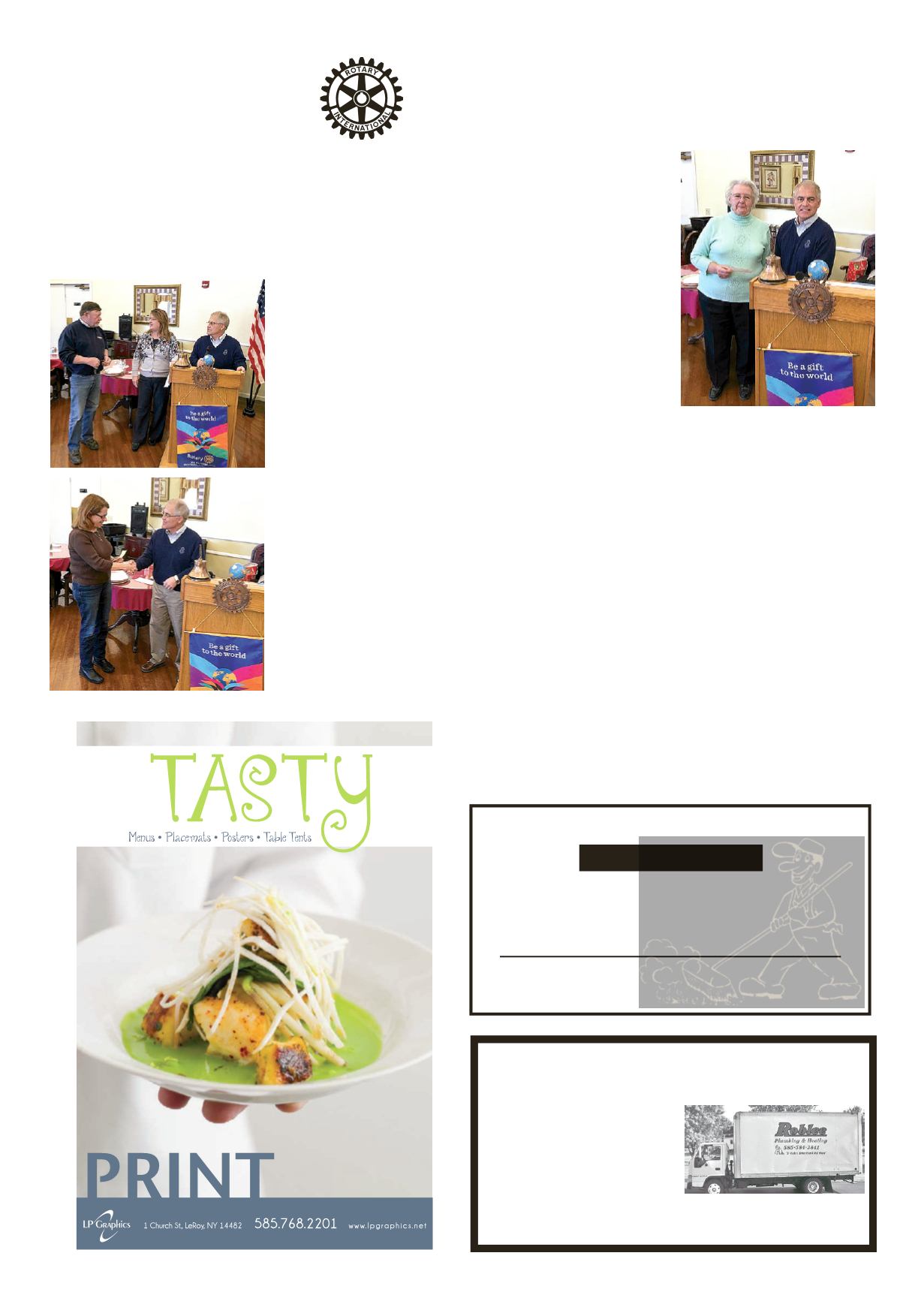 LEROYPENNYSAVER&NEWS - JANUARY 17, 2016
LeRotary
Notes
CleaningService
•Carpet &UpholsteryCleaning
•Spot Cleaning&Odor Removal
•Tile&WoodFloor Cleaning&Waxing
•Complete Janitorial Services
ROBLEE
Plumbing&Heating, LLC
10991LakeRd., Pavilion • (585) 584-3841
Full Insured
LUXAIRE
GOULD
NYSCertifiedBackflowTester
Water&Sewer Lines •Water Treatment&ConditioningSystems
of LeRoy's 1/6/2015 meeting,
President Tony Gugino rang the
bell andwelcomedLeRoyHigh
School Seniors,ColtonDuyssen,
er as guests. Selby Davis, Judy
Ridley and Laura Mooney were
After thePledgeofAllegiance,
Prayer, and Four Way Test, an-
nouncements were made: Tom
McGinnis was presented with
a, "ThankYou" for his service to
our Club.Most recentlyTom
was an integral part of our,
"Buckets of Hope" project.
Mrs. Bruce Milne has made
a donation to our scholarship
fund in memory of her late
husband. Our Club present-
Auction to LCCP's Grace's
Kitchen and the LeRoy Food
Pantry. SelbyDavis (Grace's
(Le Roy Food Pantry) each
took some time to update us
on their programs. Grace's
Kitchen has settled in nice-
ly at their new location (The
Masonic Lodge). Selby en-
couraged everyone to stop in,
have a meal, and enjoy the
fellowship. Judy let us know
that the holiday season was
families received help this year.
The pantry is always in need of
non-perishable and monetary
donations to help them support
the many families and individ-
uals in need in our community.
Martha Bailey, Christine Ge-
phart, TomMcGinnis, TimMoag
and Carol Wolfe were all cited
To begin our fining session
for the day, TomCox was com-
plimented for his, "nice shirt"
whichwasBuffaloBills themed;
and though President Tony is
partial to the team, it didn't
stop him from fining Tom. Anil
Sawhney was reprimanded for
leaving behind a most precious
gift at our recent holiday party,
he of course had to pay up to
retrievehisprize.TimMoagwas
charged for some good tax news
and David Grayson was recog-
nized for his 28 year Rotary
Today for our program, Laura
Mooney, president of Batavia's
Volunteers forAnimals, presented
about the non-profit organiza-
tion. She started as a volunteer
several years agoanddiscovered
a passion for the animals. The
agencywas formed in 1984 as a
rescue and rehabilitation facility
for animals. The organization
takes unwanted animals and,
through an application process,
helps to properly place them
into loving homes. The animals
are well cared for and receive
all necessary vaccines as well
as spay/neuter. The shelter is
always in need of monetary do-
nations to help provide vet care,
food and supplies. Volunteers
are also welcome. For more in-
formation call 585.343.6410 or
For more information on the
Rotary Club of Le Roy please,
"Like" us on Facebook, follow
us on Twitter or check out our