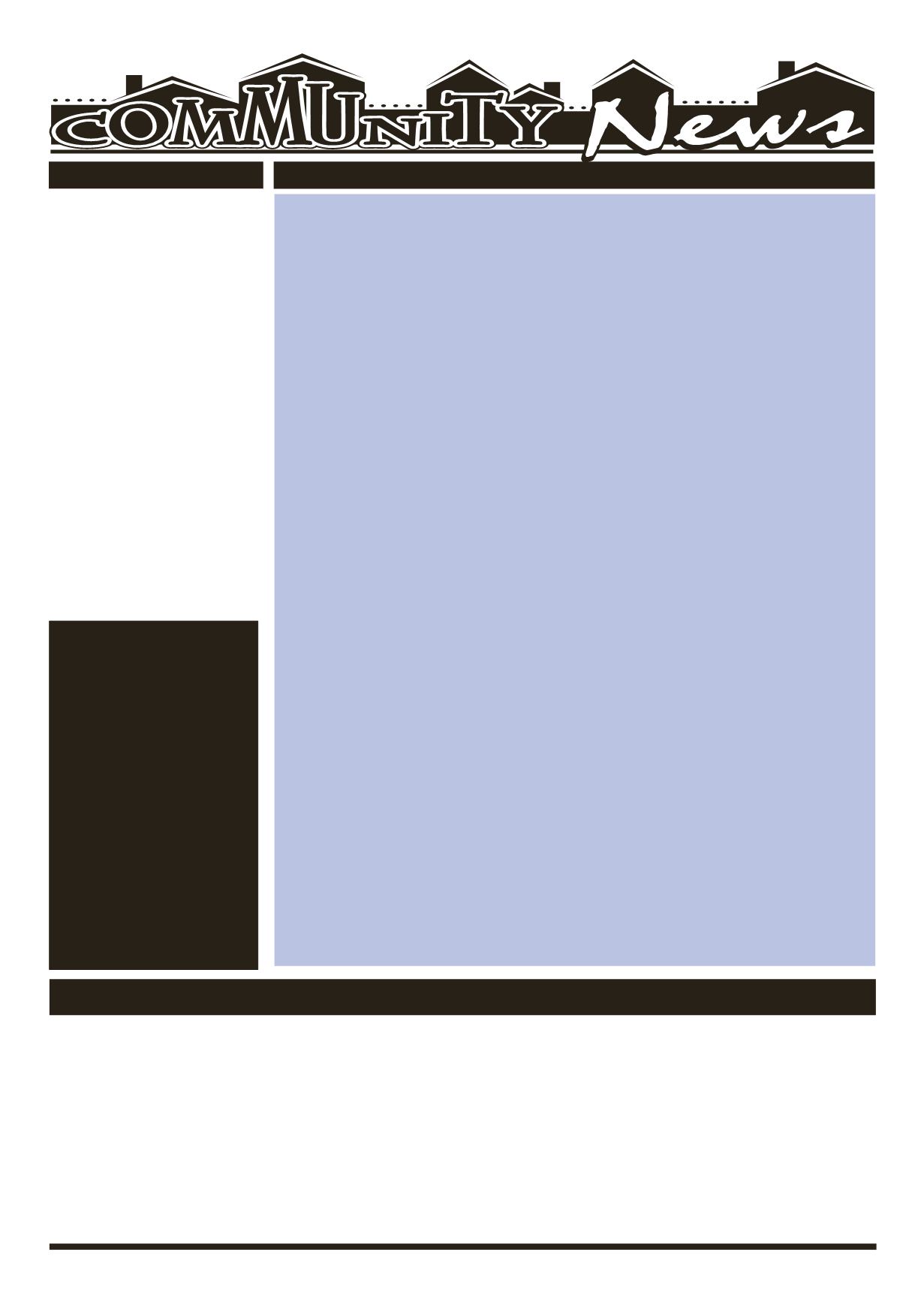 LEROYPENNYSAVER&NEWS - JANUARY 17, 2016
All GeneseeCounty residents, 60andolder, can takepart in thisweek'sactivitiesat theBataviaSenior Center, 2BankSt., Batavia. Formore information, call 343-1611.
SENIORCITIZENSACTIVITIES (January 18th - January 22nd)
WEEKLYEVENTS
OBITUARIES
MartinLutherKingHoliday–SeniorCenterClosed
NewsletterAssembly
is scheduled tobeginat 8:45a.m.;
ARepresentative from IndependentHealth
is available from9:30a.m. to
Cribbage
is scheduled tobeginat 1:00p.m.
LifespanMeeting isscheduled tobeginat10:00a.m.
Euchre
is scheduled tobeginat 1:00p.m.
Tai Chi
is scheduled tobeginat 9:30a.m.…..
GentleFitness
is scheduled tobeginat 10:30a.m.;
Cribbage
Bridge
isscheduled tobeginat1:00p.m.
ArtClass
is scheduled tobegin at 10:00 a.m.;
LineDancing
is scheduled tobegin at 10:00 a.m.;
Euchre
HumanServicesFocusGroup
is scheduled tobeginat 2:00p.m.
SUNDAY, JANUARY17
Konnect Youth Group at LivingWaters Church,
LeRoy. Sundays from6:30 to8:30pm forages12-18. "BringDown
all theWalls! Connect with God and Connect with others." For
more information, check us out online at: livingwatersleroy.org/
MONDAY, JANUARY18
TOPS (Take OffPounds Sensibly)
the LeRoy Presbyterian Church, corner of Clay & Main Streets.
Doorsopenat6:00pmandmeeting is from6:30-7:15pm.Visitors
arealwayswelcome. Call 585-768-7103 formore information.
TUESDAY, JANUARY19
Preschool Storytime:
Every Tuesday at 11 am featuring stories,
craft and songs at PavilionPublic Library, 5WoodrowDr., Pavilion.
LCCP'sGRACE'SKITCHEN:
A FREEdinner everyTuesdayevening,
5-6:30pmat theMasonicCommunityCenteron12BankSt. Plenty
of parking. Takeout&deliveryareavailable. Formore info. contact
SelbyDavisat585-738-8882or
GRACE'SCLOSET:Aclothinggiveawayprogram
RoyUnitedMethodistChurch,10TrigonPark,LeRoy,9:30amto11:30
ameveryThursday.Wehaveclothing forall ages. Weneedbedding
of all kindsespeciallyblankets.Donations canbedroppedoffat the
housenexttothechurch.Pleaseputallbags INSIDEonthebackporch.
NOELECTRONICS, COMPUTERS,DISHES,etc.
OpenTuesdays5-6:30
pm.
Anyquestions call theoffice768-8980.
AXIS StudentMinistry at LivingWaters Church
LeRoy. Tuesdays from 6:30 to 8:30 p.m. for 7th to 12thgrade. Our
goal is for teens' lives to be impacted, and radically changed. For
more information, check us out at:
TownofLeRoyPlanningBoardMeeting
attheTownHall,48MainSt.Forfurther info.Call768-6910,Ext.223.
WEDNESDAY, JANUARY20
Wednesdaysfrom6:30pmuntil8:00pm-
will behaving their youthprogram. titled"JOY CLUB". It is open to
children in thepre-schoolageup to6thgrade. Itwillbeheldat the
church10956S. LakeRoad, Rte. 19. It isa fun timeofBible stories,
game time, refreshmentsandmemorywork. Call for further infor-
mation585-584-3179 ext. 12. Leave your name andnumber and
the secretarywill call youback.
LEGO& Game Club at theWoodwardMemorial
children ingradesK-6 from3:15 -4:15p.m.BuildwithLegos,play
boardgameswithyour friends, or jamoutonGuitarHero. There is
something for everyone. Registration isNOT required.
The senior citizens of LeRoy and Stafford
Wednesday of eachmonth for a pot luck dinner and a planned
program. Wemeetat theKnightsofColumbusHall locatedbehind
Save-A-Lot onWestMain Street. Each person attending brings a
generousdishtopassorcontributes$4.00Foranicebuffetmealand
social. Pleasebring your ownplace settingandbeverage. Coffee
and tea are provided. Dinner is served at 6:00 pm and a program
follows. Please join us for an enjoyable evening. Any questions,
pleasecontactJudyRidleyat768-2001orSharonfrostat768-6846.
THURSDAY, JANUARY21
FRIDAY, JANUARY22
Penuel Christian Fellowship,
One Step to Freedom addictions
ministry, aChrist CenteredAddictionsprogram, aweeklymeeting
everyFridayat7pm. Call theChurch formore informationat768-
PenuelChristianFellowship
isorganizingayoungadult fellow-
shipandBible study. Ages: 12andup, Time: Fridays from7-9pm,
Study: the book of Romans (a 16week course), taught by Josiah
Gariboldi.Place: 7115WestMainStreet.
SATURDAY, JANUARY23
UPCOMINGEVENTS
CommunityCalendar Submissions shouldbe sent to:
Le Roy
Pennysaver
Lougheed, 54, of Bergen, passed
away suddenly Saturday, (January
9, 2016) at his home, in Bergen.
In lieu of flowers, memorials may
bemade toAmerican Legion, Mer-
rill-Sackett-White Post #575, P.O.
Box 207, Bergen, NY14416.
NC/WYOMING - James Edward
Fancher, age 76 of Laurel Hill, NC,
formerly of Wyoming, New York,
passedawayonSunday,December
BATAVIA/LEROY - Joseph Car-
bery of Batavia/LeRoy passed
away 01/09/2016. He was born