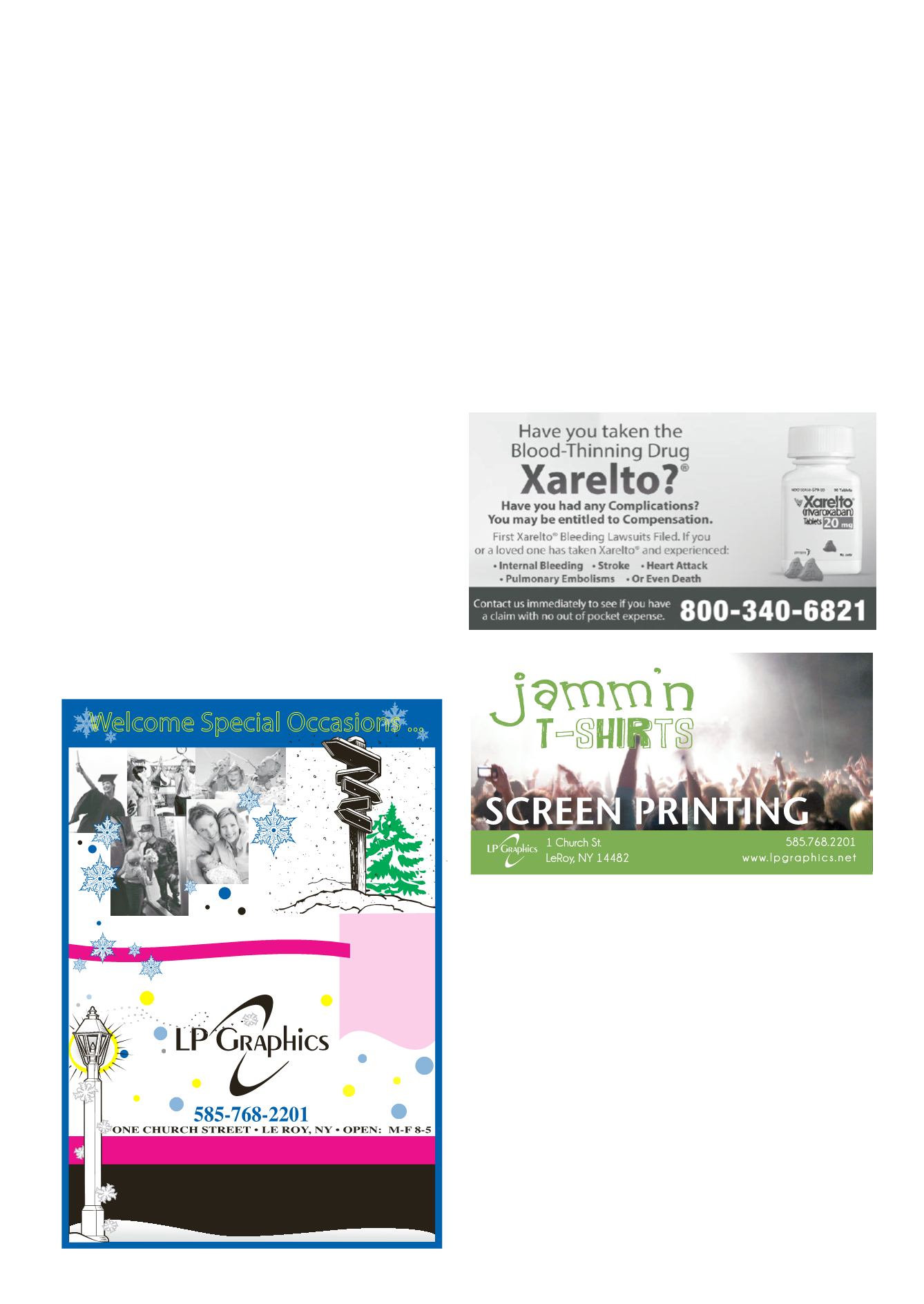 LEROYPENNYSAVER&NEWS - JANUARY 17, 2016
JacquelynCarson
onta students who earned Pro-
vost's List honors for the fall
2015 semester. Toqualify for the
Provost's List, a student must
earn a perfect 4.0 grade-point
average while carrying a course
HaileyWhite
was among 1,513 SUNYOneo-
nta students who earned Dean's
List honors for the fall 2015 se-
mester. To qualify for theDean's
List, a studentmust earn agrade-
point average of 3.5 or higher
while carrying a course load of
DanielWeaver
was named to the Dean's List at
LehighUniversity in the fall 2015
semester. This status is granted to
students who earned a scholastic
averageof 3.6or betterwhile car-
rying at least 12 hours of regular-
Elizabeth A. Perrin
ident of LeRoy, was named to
the Dean's List for the Fall 2015
semester at Alfred University
(AU). She is a sophomoreBiolo-
gyMajor and studentsmust earn
aminimumof 3.5gradepoint av-
erage to qualify for this honor.A
graduate of LeRoy High School,
Liz is the daughter of William
andChristine Perrin of LeRoy.
Genesee Community College,
including all seven campus loca-
tions inBatavia,Albion,Arcade,
Dansville, Lima, Medina and
Warsaw, proudly announces that
the following studentsareamong
462 studentswhowere named to
the President's List for the Fall
2015 semester. Students hon-
ored on the President's List have
maintained full-time enrollment
and earned a quality point index
of 3.75 (roughly equivalent to an
munity College Fall 2015 Pres-
ident's List honorees, with their
hometowns, are listed below:
Berggren, Gina Buda, Carolyn
Smith, Brette-Morgan, Janae
Stacy, Christine Stevens, Kevin
Marymagdalen Gabalski, Re-
bekah Ireland, SaraKota,Abigail
Noeth,Michael Tucker ofByron
Emily Gernold, Skye Gregory,
James Hamler, Randal Henning,
Joshua Hotze, Meghan Merica,
Morgan Pasquale, Katherine
Patton, Kari Piazza, Paul Thater,
Sarah Worley, Grace Worthing-
Peter Sherman, Taylor Tracy
Paine, Katelyn Richenberg of
Students honored on the Pro-
vost's List are enrolled part-time
and earned a grade point average
of 3.75 (roughly equivalent to an
A) or better. This year's Genesee
Community College Fall 2015
Provost's List honorees, with their
hometowns, are listed below:
Madeline Corcimiglia, Sarah
Corcimiglia, David Mackey of
LindaCassidy,MatthewCray,
Bethany DiSalvo, Lauren Hull,
Aaron Lyons, Rebekah Miller,
CaseyMiller, KaraMiller, Mary
Jason Everett, Sandra Fanton,
Joshua Spicer, Rebekah Spicer,
BenjaminWerner of Pavilion
ChristinaBrydges, StacyWha-
Providing care for a loved one
withAlzheimer's disease can be
stressful and isolating, but sup-
port groups can provide coping
tools and a welcoming embrace
fromothers in the sameposition.
tionWestern NewYork chapter
sponsors a number of caregiv-
er support groups, which meet
monthly, and are designed to
provide emotional and social
support for caregivers and help
participants develop methods
and skills to solveproblems.The
groups encourage caregivers
to maintain their own personal,
physical, and emotional health,
as well as optimally care for the
Caregivers in the Batavia area
are invited to attend themonthly
meeting at the Richmond Me-
morial Library in Batavia (19
Ross St.), which meets on the
3rdWednesday at 7:00 p.m.
Information about the other
support groupmeetings that take
place across WNY is available
byvisiting theChapter'swebsite
at alz.org/WNYor by calling1.8
Send in your own artwork or let our
come upwith a design to suit your style and your event.
....with a Sign
FOR ANYOCCASION
WelcomeSpecialOccasions ...
lpgraphics.net
DementiaCaregiverSupport
GroupMeets inBatavia