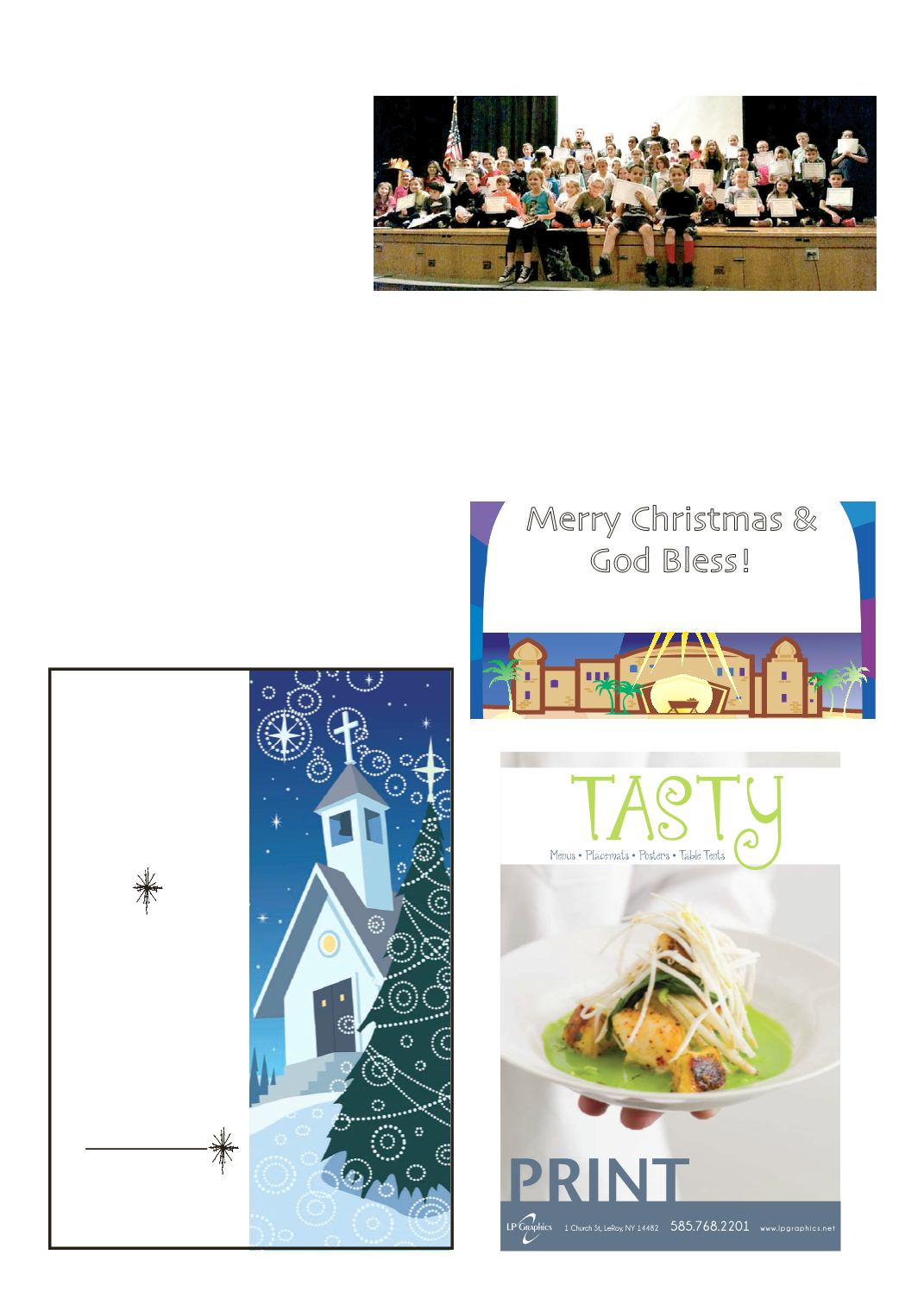 LEROYPENNYSAVER&NEWS -DECEMBER 20, 2015
The Health and Physical Ed-
ucationDepartment atGenesee
Community College congratu-
lated Wolcott Street School in
Le Roy for winning the 2015
Play toGetFitChallenge.LeRoy
has captured the title two years
in a row. This is the fourth year
GCChasconducted theprogram.
The Genesee Play to Get Fit
Program was created for third,
fourth and fifth graders in the
GLOW (Genesee, Livingston,
OrleansandWyomingCounties)
region to show howmany min-
utes theyspendengaged inphys-
ical activity outside of school.
Children keep track through
a specially designed "Play to
Get Fit" calendar log. Walking,
biking, running, skating, swim-
ming, playing a sport, playing
tag, playing on a swing set and
other active, creative games are
all eligible for active "credit."
However, video fitness games
utilizingWii orXboxKinect are
Wolcott Street School in Le Roy
came out on top with a total
Each student participant also
Condidorio, Tony Piazza and
Corina Dunn, all from LeRoy,
who were the top three students
in the GLOW region, recorded
the highest amounts of physical
activity. Inaddition, the top three
students at each participating
school districts were also recog-
nized for their efforts. The other
winningstudentsat theparticipat-
•Pavilion–1stColtonDziekan;
2nd Christopher Doody; 3rd Er-
• Byron-Bergen – 1st Haylee
Gartz;2ndAutumnMathisen;3rd
"Play toGet Fit is all about the
LeRoystudentswhoparticipated inGCC'sPlay toGetFitprogramarepictured
with theircertificates.PhysicalEducationTeacherMichaelHumphrey (inback)
holds the plaqueWolcott Street School earned for recording themostminutes
of physical activity.
LeRoyWinsAgain inGCC'sPlay toGet FitChallenge
kidshavingfunandbeingactive,"
Professor Dziekan said. "Once
again, I think we accomplished
our mission and congratulations
to Le Roy and all of the partici-
Comeworship
with the
The First Baptist
Church of LeRoy
on
Christmas Eve
Classical guitar
concert
Candlelight Service
Everyone is
welcome!
MikeDarby's
Patch&Paint