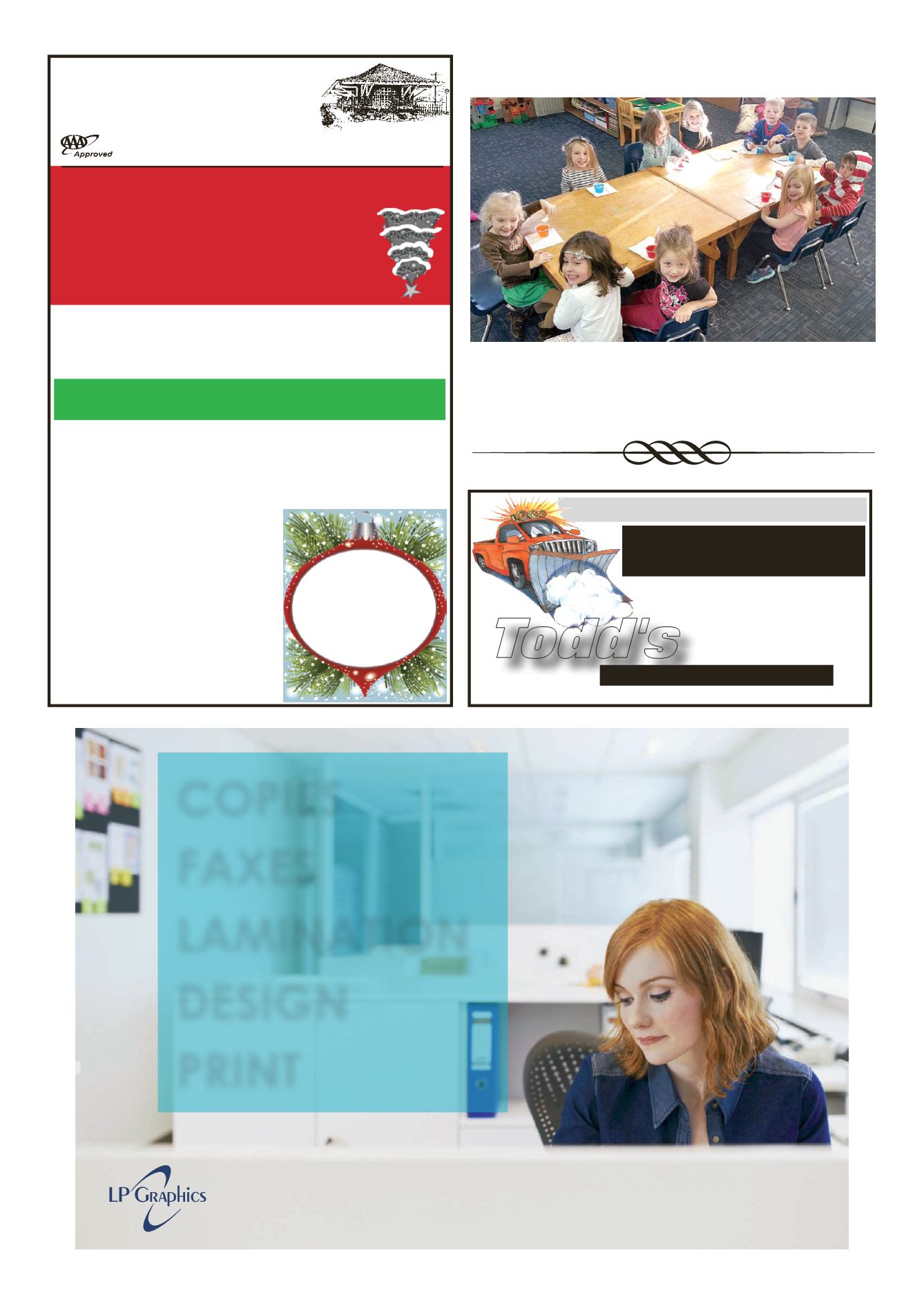 LEROYPENNYSAVER&NEWS -DECEMBER 20, 2015
D&RDepot
63LakeSt. (Rt. 19), LeRoy•768-6270
Let'sMeetAt The ...
OpenForBreakfast, Lunch&Dinner - 7DaysAWeek7am-9pm
1ChurchSt., LeRoy, NY14482
585.768.2201
raphics.net
COPIES
FAXES
LAMINATION
DESIGN
PRINT
Ourholidaydecorations areupupup,UP!
Make plans to bring friends and family to see our unique
treatment of theholiday season.
Until Sunday, Jan. 10thwe invite you to count thenum-
ber of TEDDYBEARS in theDepot decorations towin
$400.00 in gas cards.
The closest number to the correct number (without going over)wins.
SUNDAY, DEC 20thDINNERSPECIAL
DEPOTSHOREDINNER
AMaine lobster tail, two homemade crab cakes, potato,
seafood bisque or salad& homemade crème puff - $22.99
We are openThursday, ChristmasEveday& evening,
serving 7am - 8pm. Evening reservations are strongly suggested.
SUNDAY, DEC. 27thDINNERSPECIAL
SWISSSTEAK
with peppers& onions
Servedwith soup or salad, choice of potato, and dessert - $17.99
NEWYEAR'SEVE
andwill serve lunch and dinner
Dinner specialswill includeSteak and
Seafood combos - chateaubriand for 2,
seafood specials and our regularmenu.
Remember –wehave a full bar
service forholiday toasting.
OnNewYear'sDay theDepotwill
open at 9 am& servebreakfast
until 1pm.Wewill serve lunch or
dinner fromnoonuntil 7pm.
J-E-L-L-O IsFor JWeek
The children at Love Bugs Preschool had a wonderful time
learning all about Jell-O!Theypaintedwith Jell-O,made some
deliciousredandgreenJell-OandevenhadaJell-Osnack. What
a great treat to eat fromLeRoy!
NewHomes •Additions •Garages •PoleBarns
ToddCarli • Phone 703-0964
Decks •Windows •Doors
Kitchens •Baths•CeramicTile
Basement Finishing
CustomShelves/Built-Ins
Siding •Remodeling •Roofing
FULLY INSURED
Todd's
Residential • Commercial
Salting • Shoveling