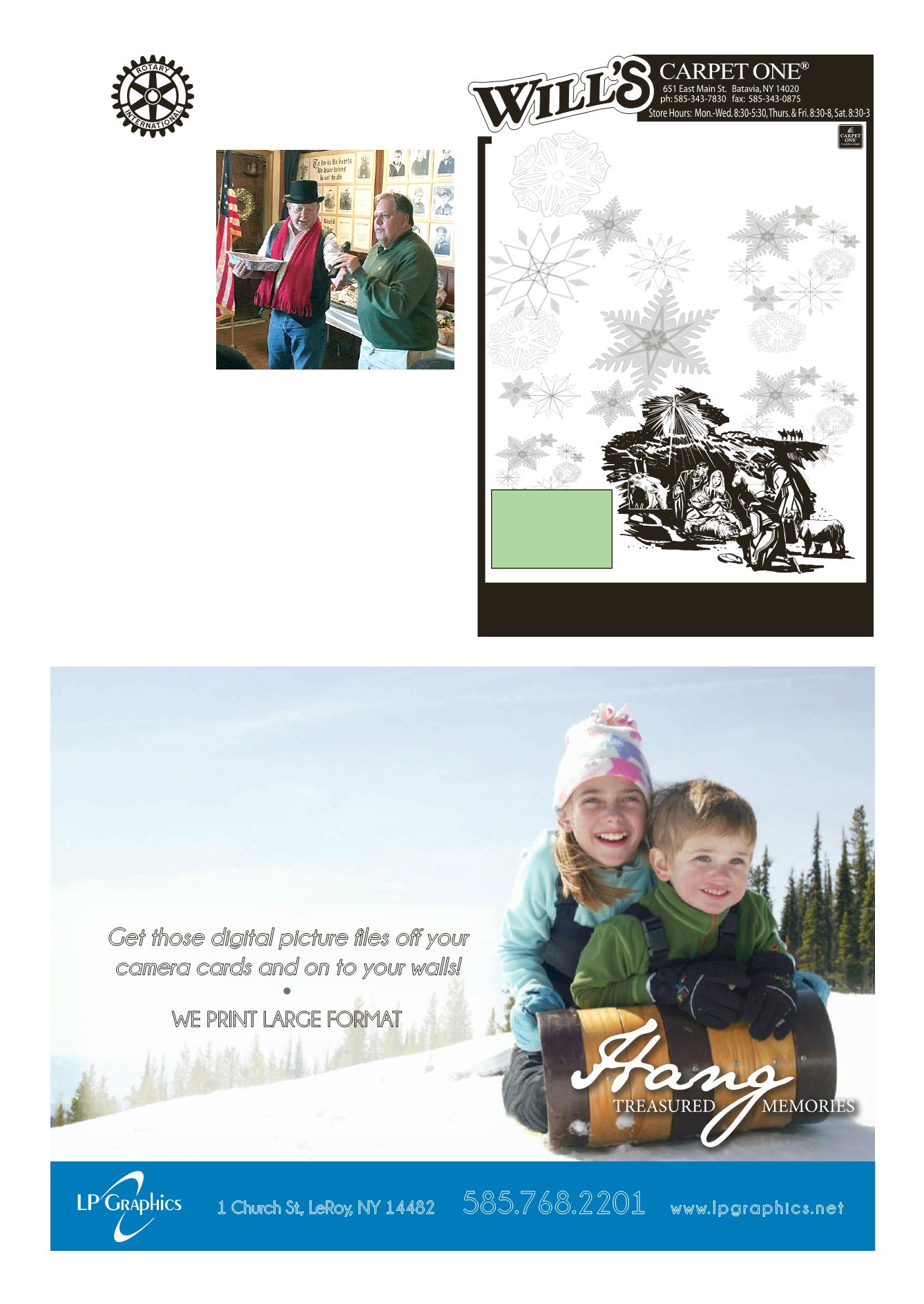 LEROYPENNYSAVER&NEWS -DECEMBER 20, 2015
TheONE store for your perfect floor.
FLOOR
&HOME
LeRotary
Notes
gifts forourauction today.
Prior to the festivities,
several announcements were
made. SalvationBell Ringing at
TOPSonDecember11th,Rotary
Caroling at December 13th,
LeRoy Rotary Holiday Party at
the Gugino's on January 2nd,
and the Area 14 Holiday Party
on January 8th at Terry Hills.
GCC Encore Night will be on
There were over 30 Christmas
themed items up for auction
today. Items ranged fromChrist-
mas treats, wreaths, venison,
wines, andspecialtycheeses.The
auction was filled with laughs,
fun, and raising money for an
excellent cause. The top 5 items
bringing the most money was
Grace Carlsen's apple pie, Bob
Bennett's venison, Mary Ann
Vink's cheese basket, Paula's
Donuts carrot cake, and Sarah
Moag's Scottish Brioche. When
it was said and done, $1,270.00
Please like the Rotary Club of
Thursday, Dec. 24th at noon
Wewishyouhealthandhappiness
As crispas theday
they weremade.
1ChurchSt., LeRoy, NY14482
585.768.2201
raphics.net
Get thosedigital picture files off your
cameracards andon to your walls!
WE PRINT LARGE FORMAT
Our state-of-the-art wide format color
printer allows prints up to42" wide
by any length youdesire!