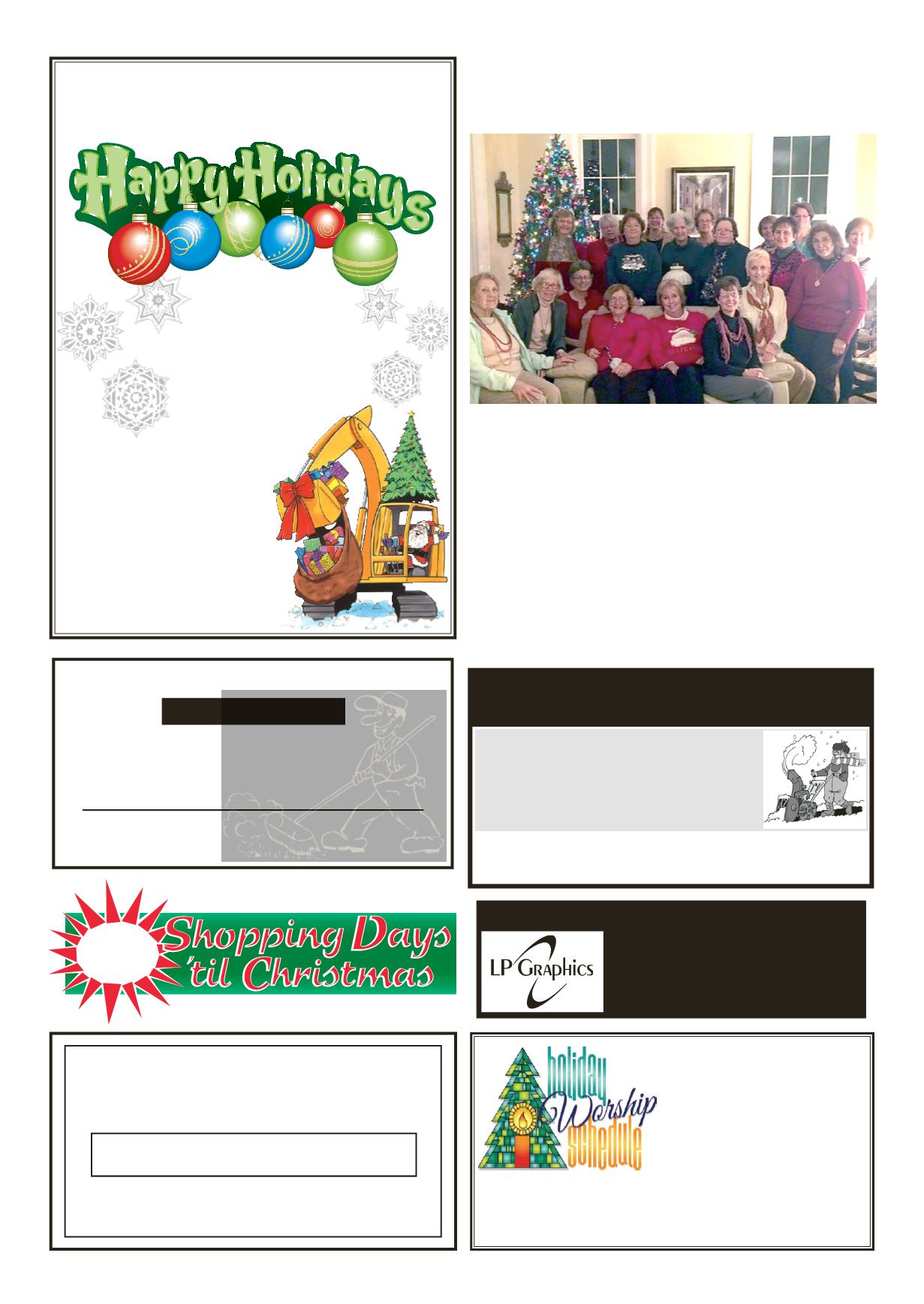 LEROYPENNYSAVER&NEWS -DECEMBER 20, 2015
WeWant ToWishAllOfOur
Customers andCommunity
TSPCORP.
TomMcGinnis
Excavating&Plumbing
Residential
&Commercial
CallUsAt
768-6769
Plumbing • Heating
Installation&Repair Service
For All Residential &Commercial Work
CleaningService
•Carpet &UpholsteryCleaning
•Spot Cleaning&Odor Removal
•Tile&WoodFloor Cleaning&Waxing
•Complete Janitorial Services
Town & Country Garden Club
are pictured here enjoying their
Annual Christmas Party which
was held on Wednesday, De-
cember 9th at Jules Feltes home.
Twenty-two members attend-
ed. Appetizers and Christmas
desserts were provided by the
Hostess Committee. Everyone
enjoyed the food and playing
Sue Lints' seasonal games. An
optional monetary donation for
theBackpackClubwascollected
GardenClub's
AnnualChristmasParty
in lieu of a gift exchange.
The next meeting will be held
onFebruary10that6:00pm. Ev-
eryone is asked tobringadish to
pass and your own table service
for the pot luck dinner.We look
forward to sharing ideas for the
upcoming year and having a fun
Anyone interested in more
information about the LeRoy
GardenClub shouldcontactAnn
Waltersat737-9481or768-8130.
• Engine andTransmissionRebuilds
• Lawn andGardenEquipment
•ATV's, Dirt Bikes • Light Equipment
• PickUp andDeliveryAvailable
• Snowblowers • Snowmobiles •Generators
8525Rt. 237, Stafford, NY
1ChurchSt., LeRoy, NY14482
585-768-2201
FAX585-768-6334
WeDo
Pavilion/Wyoming
UnitedMethodist
ChristmasEveServices
withRev. Dr.Wilson
Pavilion - 7:00PM
Wyoming - 9:00PM
Both Services includeHoly Communion, singing of Christmas
Hymnals, and close with the traditional candle lighting.
All arewelcome to comeand enjoy!
5