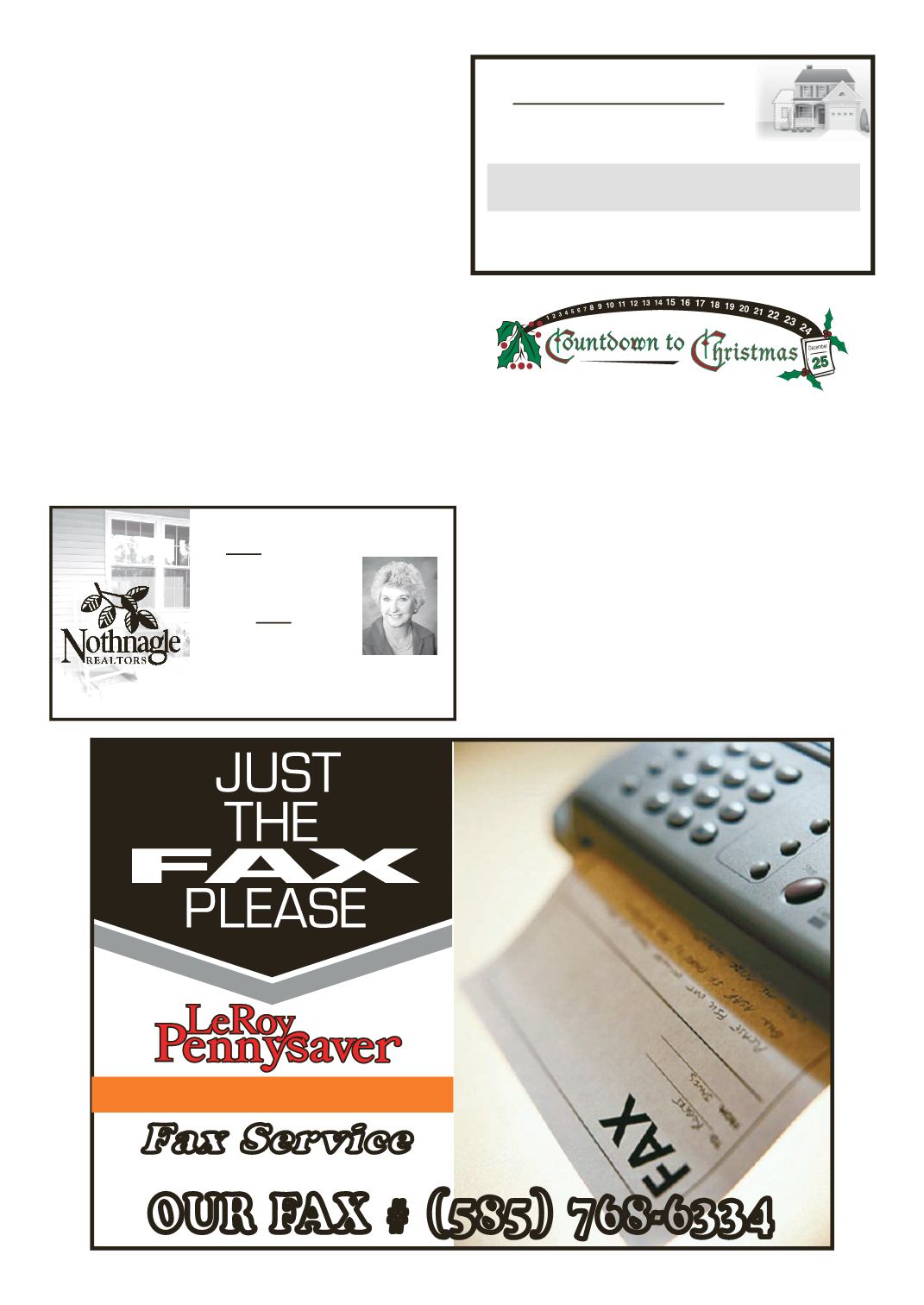 LEROYPENNYSAVER&NEWS -DECEMBER 20, 2015
The Village of Le Roy Police
Department has been receiving
increased complaints about a fox
or foxeswhichhavebeen seen in
multiple locations inside theVil-
lage. ThePolicehave responded
but have yet to find a fox acting
sick, injured or aggressive this
year. The LeRoy Police have
consulted the New York State
Department of Environmental
Conservationwho stated that the
foxes are present in the area due
to3specific reasons:1) theyhave
located a food source nearby,
possiblygarbageoravailabledog/
catdishes,2) they feel safedue to
a lack of predators, and 3) they
may have located a safe place to
TheDEC further stated that ifa
fox is not posing a danger to so-
ciety such as acting sick/injured/
aggressiveor chasingadomestic
animal it is illegal to kill or trap
themwithout theproper trapping
permit. If a homeowner would
like a fox trapped, there are sev-
eral trappers that canbehired for
a fee to thehomeowner anda list
canbe foundon theDECwebsite
Further more information can
be obtained from the internet in-
The LeRoy Police would ask
that if a citizen sees a fox acting
dangerous, sickor injured,please
call 9-1-1 so that aPoliceOfficer
can respondandcheckon the fox.
IncreasedComplaints
OnFox InTheVillage
12/15/2015 -TheLeRoyPoliceDepartment isattempting todeter-
minewhostolea full sizeFrontierPhoneCompanybucket truck from
theMyrtle Street area of LeRoy. The theft was reported at 4:40 pm
Monday evening after a lineman parked the truck in the area of 34
MyrtleStreet andwas conductingworkon anearbypole.While the
linemanwas on a ladder at the telephone pole, an unknown suspect
entered the truck and stole it. The truck was last seen eastbound
onMyrtle Street. The truck was located at 7:03 pm in the City of
Rochester near theGlendale andMaryland Street intersection. The
LeRoy Police are interested in locating and speakingwith a person
of interest described as amid-twenties, whitemale seen in the area
of both locationswearing a blue hooded sweatshirt, white shirt and
jeans and carrying a high chair.
If youhave any informationpertaining to this theft or this person
of interest,pleasecontact theLeRoyPoliceDepartment at345-6350.
"CompleteCarpentry Service"
M
ILLER
B
ROTHERS
B
UILDERS
CustomHomes •Remodeling•Additions
Roofing• Siding
DANIEL
MICHAEL
Batavia
585-343-6750
NOW is theBEST time
toBUYwith the interest rates
at their lowest!
Don't wait
toBUY -
call
LindaBeaumont
for all your real
estateneeds.
LindaBeaumont
Home (585) 768-6315
LicensedReal Estate
Salesperson
Multi-MillionDollar Producer
1ChurchSt., LeRoy, NY • (585) 768-2201