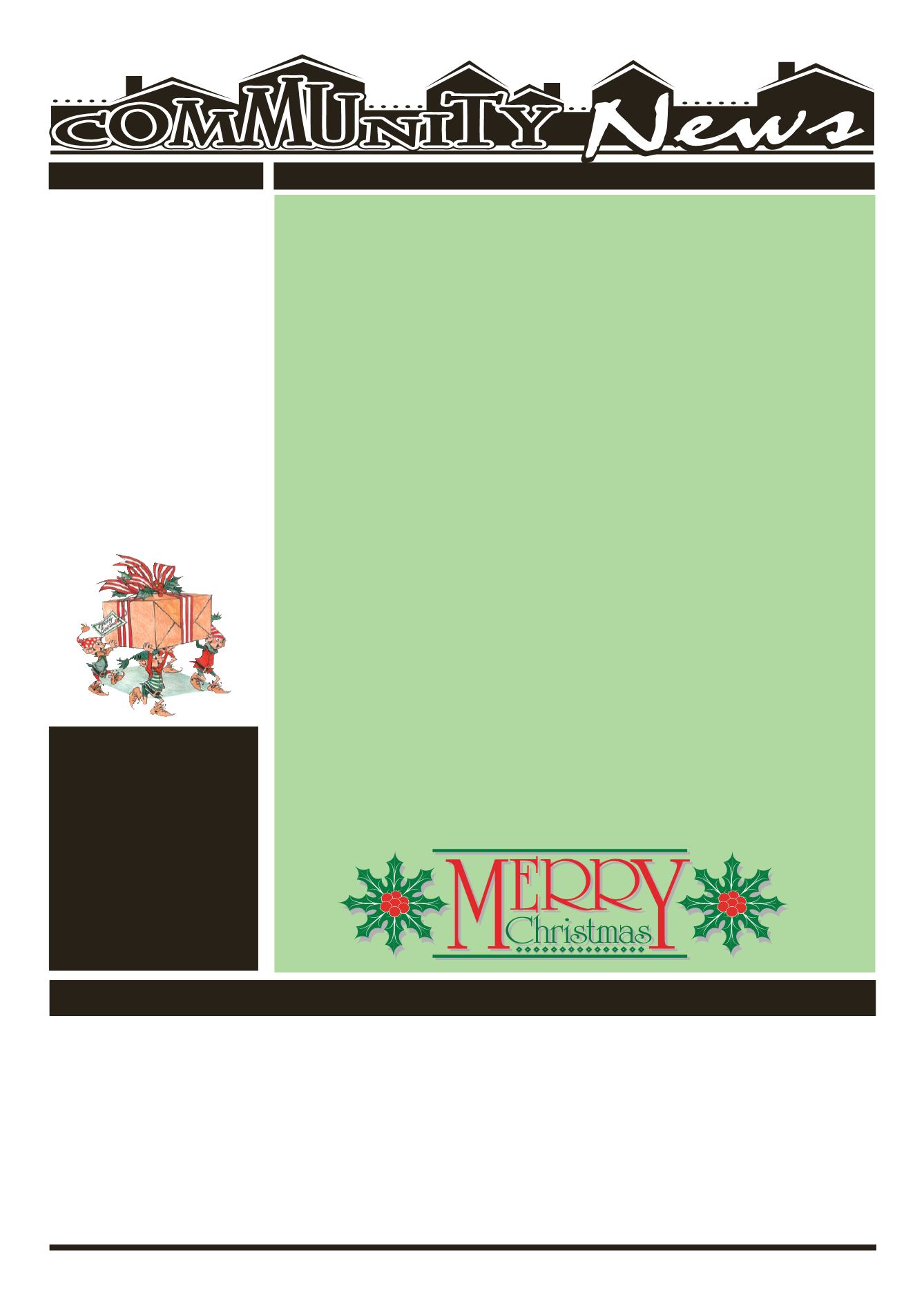 LEROYPENNYSAVER&NEWS -DECEMBER 20, 2015
All GeneseeCounty residents, 60andolder, can takepart in thisweek'sactivitiesat theBataviaSenior Center, 2BankSt., Batavia. Formore information, call 343-1611.
SENIORCITIZENSACTIVITIES (December 21st -December 25th)
WEEKLYEVENTS
OBITUARIES
ArthritisExercise
is scheduled tobeginat 9:30a.m.;
Bridge
is scheduled tobeginat 11:00a.m.
Cribbage
is scheduled tobeginat 1:00p.m.
Quilters
is scheduled tobeginat 9:00a.m.;
Euchre
is scheduled tobeginat 1:00p.m.
Cribbage
isscheduled tobeginat1:00p.m.;
Bridge
isscheduled tobeginat1:00p.m.
ChristmasHoliday -SeniorCenterClosed
SUNDAY,DECEMBER20
Konnect Youth Group at Living Waters Church,
LeRoy. Sundays from 6:30 to 8:30 pm for ages 12-18. "BringDown
all theWalls! ConnectwithGodandConnectwithothers." Formore
information, check us out online at: livingwatersleroy.org/kon-
Breakfast with Santa at Oatka Fish & Game Club.
8:00am. Santaarrivesat9:00amand leavesat11:00am.
MONDAY,DECEMBER21
TOPS (Take Off Pounds Sensibly)
theLeRoyPresbyterianChurch, cornerofClay&MainStreets.Doors
openat6:00pmandmeeting is from6:30-7:15pm.Visitorsareal-
wayswelcome. Call 585-768-7103 formore information.
TUESDAY,DECEMBER22
Preschool Storytime:
Every Tuesday at 11 am featuring stories,
craft and songs at Pavilion Public Library, 5Woodrow Dr., Pavilion.
LCCP's GRACE'S KITCHEN:
CLOSEDDEC. 22nd. RE-OPENDec. 29th.
A FREE dinner every Tuesday evening, 5-6:30 pm at the Masonic
CommunityCenteron12BankSt.Plentyofparking.Takeout&delivery
are available. Formore info. contact SelbyDavis at 585-738-8882or
GRACE'SCLOSET: A clothinggiveawayprogram
RoyUnitedMethodistChurch,10TrigonPark, LeRoy,9:30am to11:30
ameveryThursday.Wehaveclothing forall ages. Weneedbeddingof
allkindsespeciallyblankets.Donationscanbedroppedoffatthehouse
next to the church. Pleaseput all bags INSIDEon thebackporch. NO
ELECTRONICS, COMPUTERS,DISHES, etc.
OpenTuesdays5-6:30pm.
Anyquestions call theoffice768-8980.
AXIS Student Ministry at LivingWaters Church
LeRoy. Tuesdays from 6:30 to 8:30 p.m. for 7th to 12th grade. Our
goal is for teens' lives to be impacted, and radically changed. For
more information, check us out at:
LeRoyZoningBoardofAppealsMeeting
attheTown Hall,48MainSt.For further info. call768-6910,Ext.223.
OrnamentsandaMovieattheWoodwardMemorialLibrary
to5:00p.m. forchildren inkindergarten through6thgrade. WatchUnaccom-
paniedMinors on the big screen. Therewill also be ornament crafts for kids
tomake.You canwatch themovieandnotmakeanornament, you canonly
makeornaments, or you candoa littleof both! . RegistrationRequired! Call
768-8300or registeronlineat
WEDNESDAY,DECEMBER23
Wednesdays from6:30pmuntil8:00pm -
will be having their youth program. titled "JOY CLUB". It is open to
children in thepre-school ageup to6thgrade. Itwill beheldat the
church 10956 S. Lake Road, Rte. 19. It is a fun time of Bible stories,
game time, refreshments andmemorywork. Call for further infor-
mation585-584-3179ext.12. Leaveyournameandnumberand the
secretarywill call youback.
Village of LeRoy BoardMeeting,
7 pm at the Town Hall Board
THURSDAY,DECEMBER24
Town of LeRoy BoardMeeting,
7 pm at the Town Hall Board
FRIDAY,DECEMBER25
Penuel Christian Fellowship,
One Step to Freedom addictions
ministry, a Christ Centered Addictions program, a weeklymeeting
every Friday at 7 pm. Call the Church formore information at 768-
SATURDAY,DECEMBER26
UPCOMINGEVENTS
CommunityCalendar Submissions shouldbe sent to:
Le Roy
Pennysaver
BYRON - Ralph S. Cintorino, 91 of
Byron and formerly of Batavia, passed
away peacefully on Friday (Decem-
ber 11, 2015) at Crossroads House.
Memorial contributions may be made
to Crossroads House, 11 Liberty St.,
BYRON -KarenL.Gagnon,71,ofByron
passed away Monday, December 14,
2015) at theBataviaHealthCareCen-
ter, in Batavia. For further information,
ROCHESTER/PAVILION- James M.
Morgan, age 68, of Afton St., passed
away Tuesday, December 15th, 2015
at his home in Rochester. Please visit