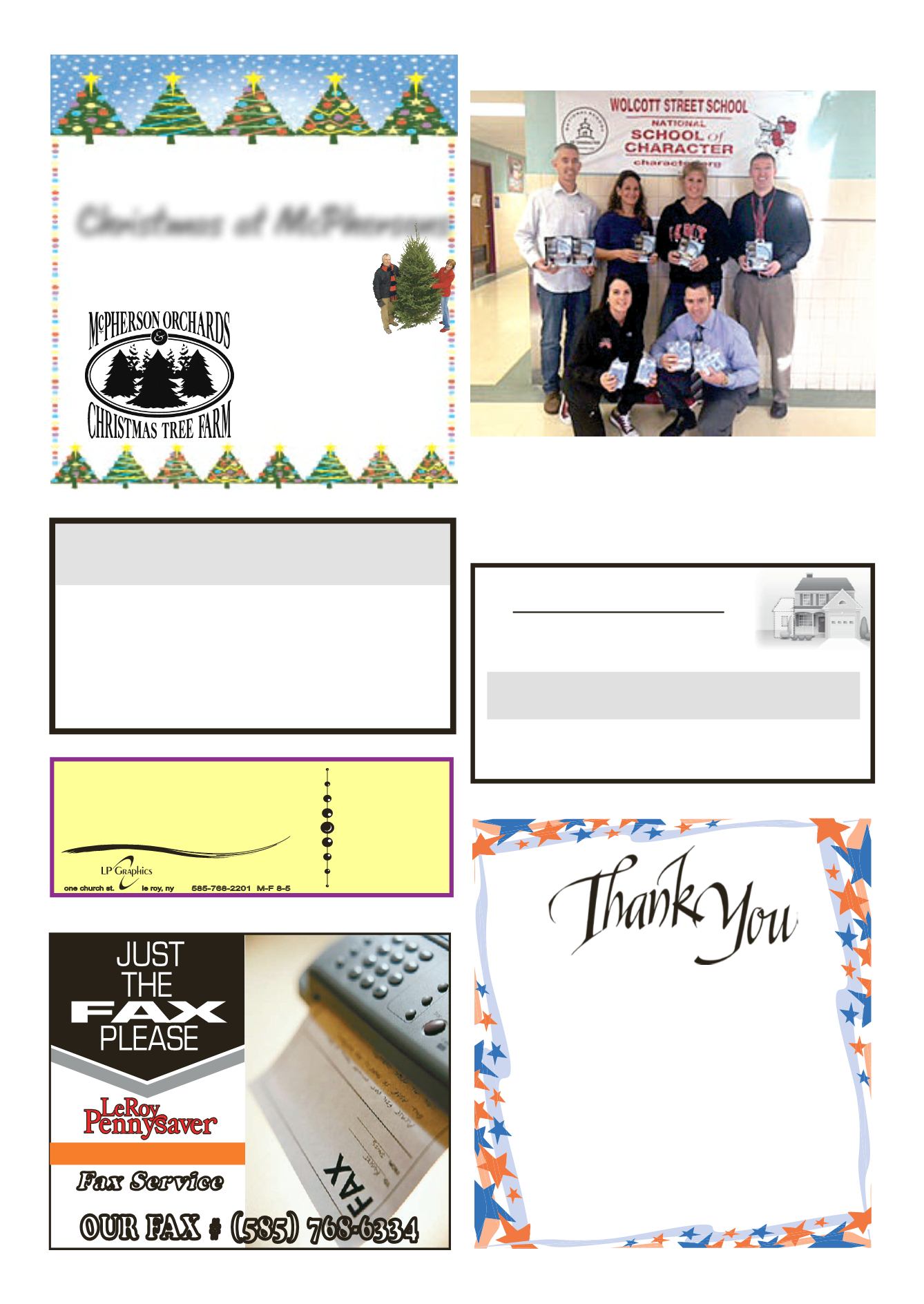 LEROYPENNYSAVER&NEWS -NOVEMBER 15, 2015
1ChurchSt., LeRoy, NY • (585) 768-2201
ALLWORKMANSHIP GUARANTEED • INSURED
297-9097 • 768-7737
• InteriorPainting
• Plaster/LathRestoration
•Drywall&DrywallRepair
•TextureRemoval
• Floors Stripped
&Refinished
•OldCeilings&Walls
MadeLikeNew!
MikeDarby'sPatch&Paint
... to those of youwho voted for us
... to those of youwho supported our campaign
... to those of youwho volunteered as our
... to those of youwho permitted our signs
... to those of youwho received uswarmly at
... to those of youwhowill help us carry on
ANDESPECIALLYTOOURFAMILIES!
Shelley •Darryl • JohnA. • JohnD.
OatkaTrail
LeRoy,NY
Phone768-7094
OpenThisWeek9-5
AFewApplesLeft -Call ForAvailability
STARTSNOVEMBER23rd
Trees •Wreaths&CutYourOwns!
"CompleteCarpentry Service"
M
ILLER
B
ROTHERS
B
UILDERS
CustomHomes •Remodeling•Additions
Roofing• Siding
DANIEL
MICHAEL
Membersof theTri theOatkagrouppresentedJonWilson,Vice
Principal ofWolcott Street Schoolwith student headphones for
both computer labs as well as ear buds for students in need.
Theseheadphoneswerepurchased from theproceedsof theGet
FitRaceweekendheldduring theOatkaFestival.
StudentsReceiveHeadphones
one church st. le roy, ny
one church st. le roy, ny