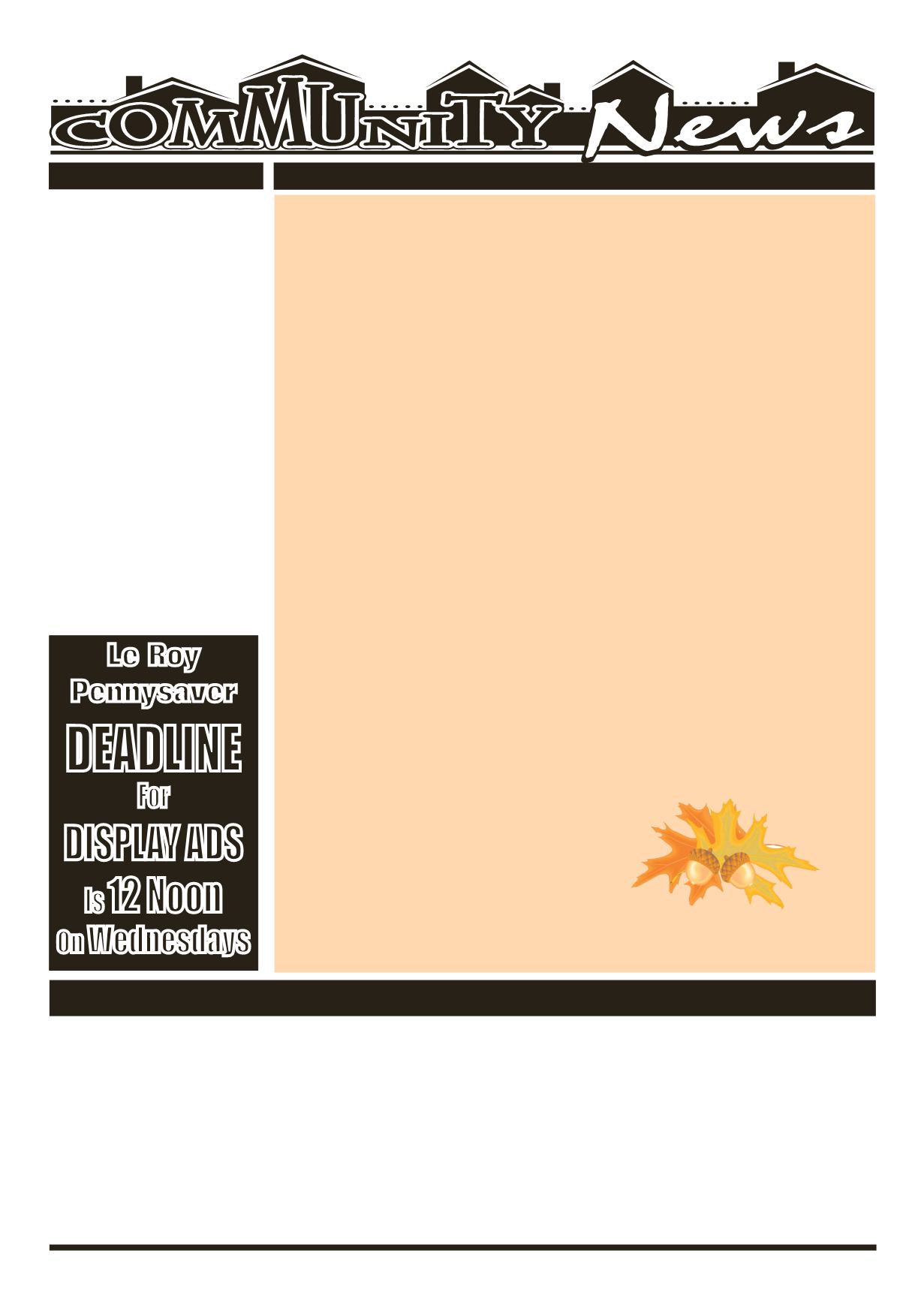 LEROYPENNYSAVER&NEWS -NOVEMBER 15, 2015
All GeneseeCounty residents, 60andolder, can takepart in thisweek'sactivitiesat theBataviaSenior Center, 2BankSt., Batavia. Formore information, call 343-1611.
SENIORCITIZENSACTIVITIES (November 16th -November 20th)
WEEKLYEVENTS
OBITUARIES
Arthritis Exercise
is scheduled tobegin at 9:30 a.m.;
ARepresentative fromUnivera Insurance
will be available from 10:00 a.m.
An IncomeTaxMeeting
is scheduled to takeplaceat10:00a.m.
Bridge
is scheduled tobeginat11:00a.m.;
Medicare
101Meeting
is scheduled tobeginat 6:00p.m
Newsletter Assembly
is scheduled tobegin at 8:45 a.m.;
Marshall FundPlanningTeamMeeting
is scheduled tobegin at 12:00
Cribbage
is scheduled tobeginat 1:00p.m.
Quilters
is scheduled tobeginat 9:00a.m.;
Euchre
is scheduled tobeginat 1:00p.m.
LifespanMeeting
is scheduled tobeginat 9:30a.m.;
TaiChi
is scheduled tobeginat 9:30a.m. followedby
GentleFitness
Cribbage&Bridge
are scheduled tobeginat 1:00p.m.
ArtClassandLineDancing
is scheduled tobeginat 10:00a.m.;
Euchre
is scheduled tobeginat 1:00p.m.
SUNDAY,NOVEMBER15
Konnect Youth Group at Living Waters Church,
LeRoy. Sundays from 6:30 to 8:30 pm for ages 12-18. "BringDown
all theWalls! ConnectwithGodandConnectwithothers." Formore
information, check us out online at: livingwatersleroy.org/kon-
MONDAY,NOVEMBER16
TOPS (TakeOffPounds Sensibly)
meetsMonday evenings at the
LeRoyPresbyterianChurch, cornerofClay&MainStreets.Doorsopen
at 6:00 pm and meeting is from 6:30-7:15 pm. Visitors are always
welcome. Call 585-768-7103 formore information.
TUESDAY,NOVEMBER17
Preschool Storytime:
Every Tuesday at 11 am featuring stories,
craft and songs at Pavilion Public Library, 5Woodrow Dr., Pavilion.
LCCP's GRACE'S KITCHEN:
A FREE dinner every Tuesday evening,
5-6:30pmat theMasonicCommunityCenteron12BankSt.Plentyof
parking.Takeout&deliveryareavailable. Formore info. contactSelby
GRACE'SCLOSET:A clothinggiveawayprogram
RoyUnitedMethodistChurch,10TrigonPark,LeRoy,9:30amto11:30
am everyThursday.Wehave clothing for all ages. Weneedbedding
of all kinds especially blankets. Donations canbe dropped off at the
housenexttothechurch.Pleaseputallbags INSIDEonthebackporch.
NO ELECTRONICS, COMPUTERS,DISHES, etc.
OpenTuesdays5-6:30
pm.
Anyquestions call theoffice768-8980.
Townof LeRoyPlanningBoardMeeting
at theTownHall, 48MainSt. For further info. call 768-6910, Ext. 223.
WEDNESDAY,NOVEMBER18
Wednesdays from6:30pmuntil 8:00pm -
will be having their youth program. titled "JOY CLUB". It is open to
children in thepre-school ageup to6thgrade. Itwill beheldat the
church 10956 S. Lake Road, Rte. 19. It is a fun time of Bible stories,
game time, refreshments andmemory work. Call for further infor-
mation585-584-3179ext. 12. Leaveyournameandnumber and the
secretarywill call youback.
Teens andadults
– socialize and color at the
WoodwardMemo-
rial Library
onWednesday, November 18 at 6p.m. All supplies are
TheseniorcitizensofLeRoyandStafford
dayof eachmonth for apot luckdinner andaplannedprogram. We
meet at theKnights of ColumbusHall locatedbehindSave-A-Lot on
WestMain Street. Eachperson attendingbrings agenerous dish to
passorcontributes$4.00Foranicebuffetmealandsocial. Pleasebring
your ownplace setting andbeverage. Coffee and tea are provided.
Dinner is servedat6:00pmandaprogram follows. Please joinus for
an enjoyable evening. Anyquestions, please contact JudyRidley at
768-2001or Sharon frost at768-6846.
VillageofLeRoyBoardMeeting,
7pmat theVillageHall, 3West
THURSDAY,NOVEMBER19
GeneseeVeteransSupportNetwork
(GVSN) supports thedevel-
opment ofVeterans focusedAAmeetings everyThursday, 6-7pmat
the First Baptist Church, 306 E. Main St., Batavia. Meetings led by
MikeW.&areopen tonon-veteransaswell.Handicapaccessible. For
additional information call 585-302-0825.
FRIDAY,NOVEMBER20
Penuel Christian Fellowship,
One Step to Freedom addictions
ministry, a Christ Centered Addictions program, a weeklymeeting
every Friday at 7 pm. Call the Church formore information at 768-
SATURDAY,NOVEMBER21
FreeFoodoutreachbroughttoyoubyFoodlink
parking lot. Every3rdSaturdayof themonth. 11-1pm. Call Penuel
ChristianFellowshipat585-768-6901withanyquestions.
UPCOMINGEVENTS
CommunityCalendar Submissions shouldbe sent to:
Le Roy
Pennysaver
LINWOOD -JanetL.Cromwell,age
77, of Lady Lake, FL, formerly of
Linwood, diedWednesday,Novem-
ber 4, 2015, inPiffard, NY. In lieuof
flowers,memorialsmaybemade to
the Covington United Presbyterian
Church, 1701 Craig Rd., Pavilion,
NY 14525 or theTeresaHouse, 21
HighlandRd.,Geneseo,NY14454.
LE ROY - Genevieve M. Schuyler,
age 93, of West Bergen Road,
passedawayOct. 25,2015)atUnit-
edMemorialMedical Center. In lieu
of flowers,memorialsaresuggested
to the First Baptist Church, 5 East
LEROY - LouisNicholasCinquino,
age94,ofLeRoy,diedNovember6,
2015. In lieu of flowers, memorials
can be sent to Notre Dame High
School for theRitaArganaandLouis
N. CinquinoScholarshipFund.