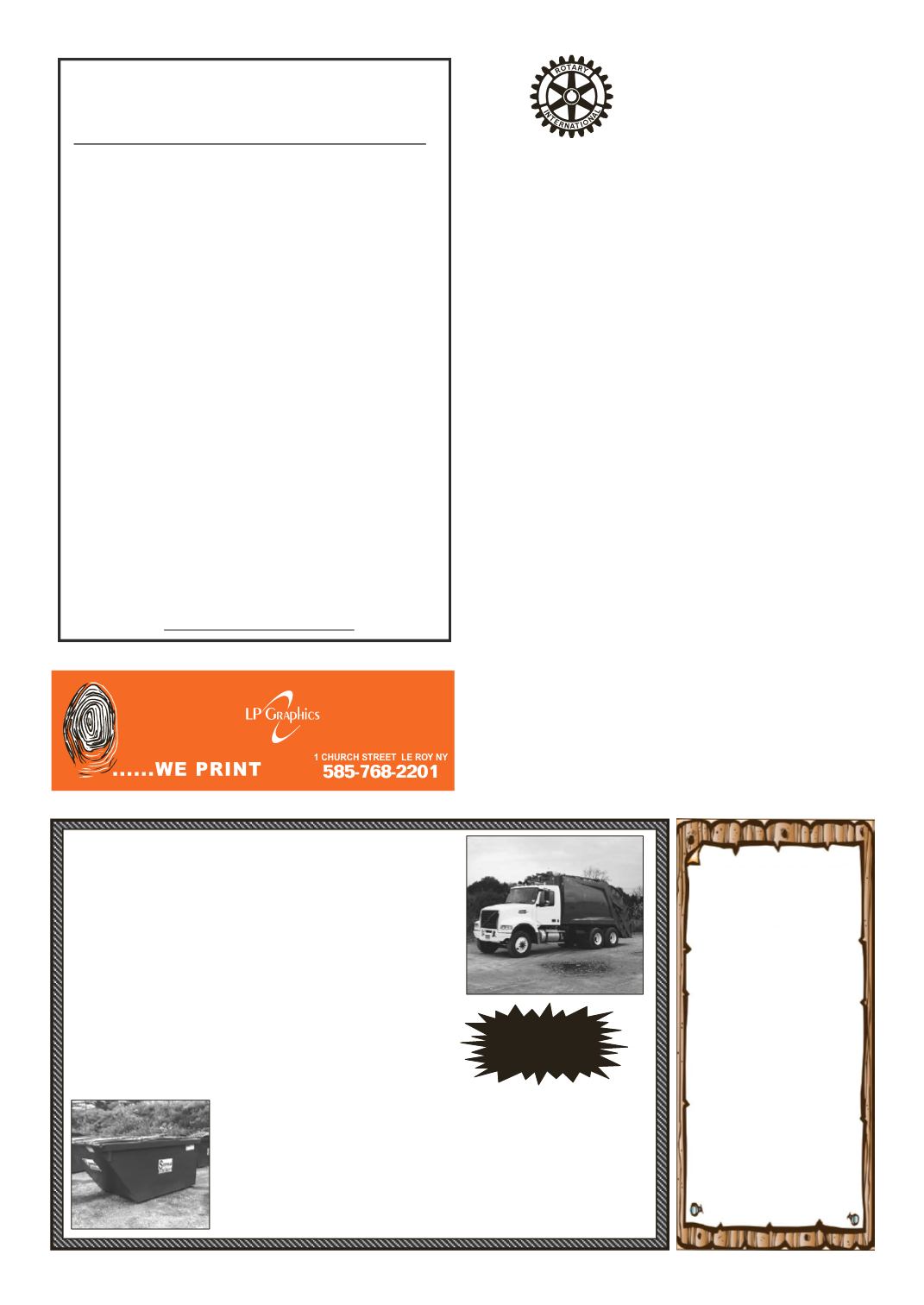 LEROYPENNYSAVER&NEWS -NOVEMBER 15, 2015
Notes: 11/4/2015
for our weekly gathering today.
Following the Pledge, Prayer,
andFourWayTest,webeganour
There were many announce-
ments today.November6th is the
FoundationDinneratSalvatore's,
there will be a Board Meeting
on November 11th at 11 am at
the Greens, November 13th is
Rotary Night at Batavia Downs,
November 15th is the Pancake
Breakfast at theK of C, LeRoy
Rotary Holiday Party is January
2nd, andArea14Party isJanuary
9th at TerryHills. President Tony
reminded the group that No-
vember is Every Rotarian Every
Year, and topleasedonate toThe
Cullough were called on for
missed meetings. Larry Boylan
was fined for a recent "Thelma
& Louise" trip with Past Presi-
dent Lynn Freeman. Jim Ellison
was fined for a beautiful Rotary
license plate cover. Scott Mc-
Cumiskey, Jerry McCullough,
Ben Deragon, and Mary Young
were all fined for pictures at last
weekend's Appliance Raffle.
BruceBakerwas recognized (and
fined) for 52 years in the Rotary
Club of LeRoy, andAnil Sawh-
Bob Bennett reported on this
year's Appliance Raffle. This
was one of the most successful
fundraisers to date, as we netted
over $11,000. We shattered the
previousrecordfor turkey&wine
raffles by having 38 (previous
record was 31). Profits from the
Appliance Raffle are utilized to
support funding requests from
local not forprofit organizations.
Bob then recognized top ticket
33Tickets: LaurenHumphrey
President Tony Gugino then
thankedBobBennett forhiscon-
tinuedserviceon thisevent.After
our weekly raffle, our meeting
Please like "Rotary Club of
LeRotary
Notes
Full time jobopeningavailable immediately inYork,
NewYork14592,onaFamilydairyFarmwithhighly
productive soils, for intensivecropmanagement. This
farm isgrowingandneedsamotivated individual.
Youwill be inchargeof all phases of crop produc-
tion andmust be able to operate andmaintain
modern forage and planting equipment.You
MUSThaveknowledgeandunderstandingof how to
produceHighQualityForages for aHighProducing
Dairy inorder toapply. Communicatingeffectively
withnutritionistsandherdmanagersaboutherd
healthalongwithproviding economically vi-
able solutions valuedbyowners. Mustbeknown
byothersashaving theability to leada teamand
troubleshoot systems.Computer skillsarenecessary.
Two-yearor 4year collegedegree,validCDLand
experiencewithprecision agriculture a real plus.
Benefits includehousing,health insurance,and retire-
Please reply
DairyFarmCropManager
York,NewYork
• 2, 4, 6& 8 cu. yd. sizes available
• Simple& easy to readbilling
Prices
you'll be
happywith!
SCOFIELD'S
ISNOWOFFERING
OldFashion,Dependable, FriendlyService
LocallyOwned&Operated
GiveUsACall,We'll TalkALittleTrash
585-343-8383
LeRoy, NY
Plus Sat. or Sun. if desired
Flexible hours if necessary.
Responsibility&
PatienceRequired.
Experience is not required.
lpgraphics.net