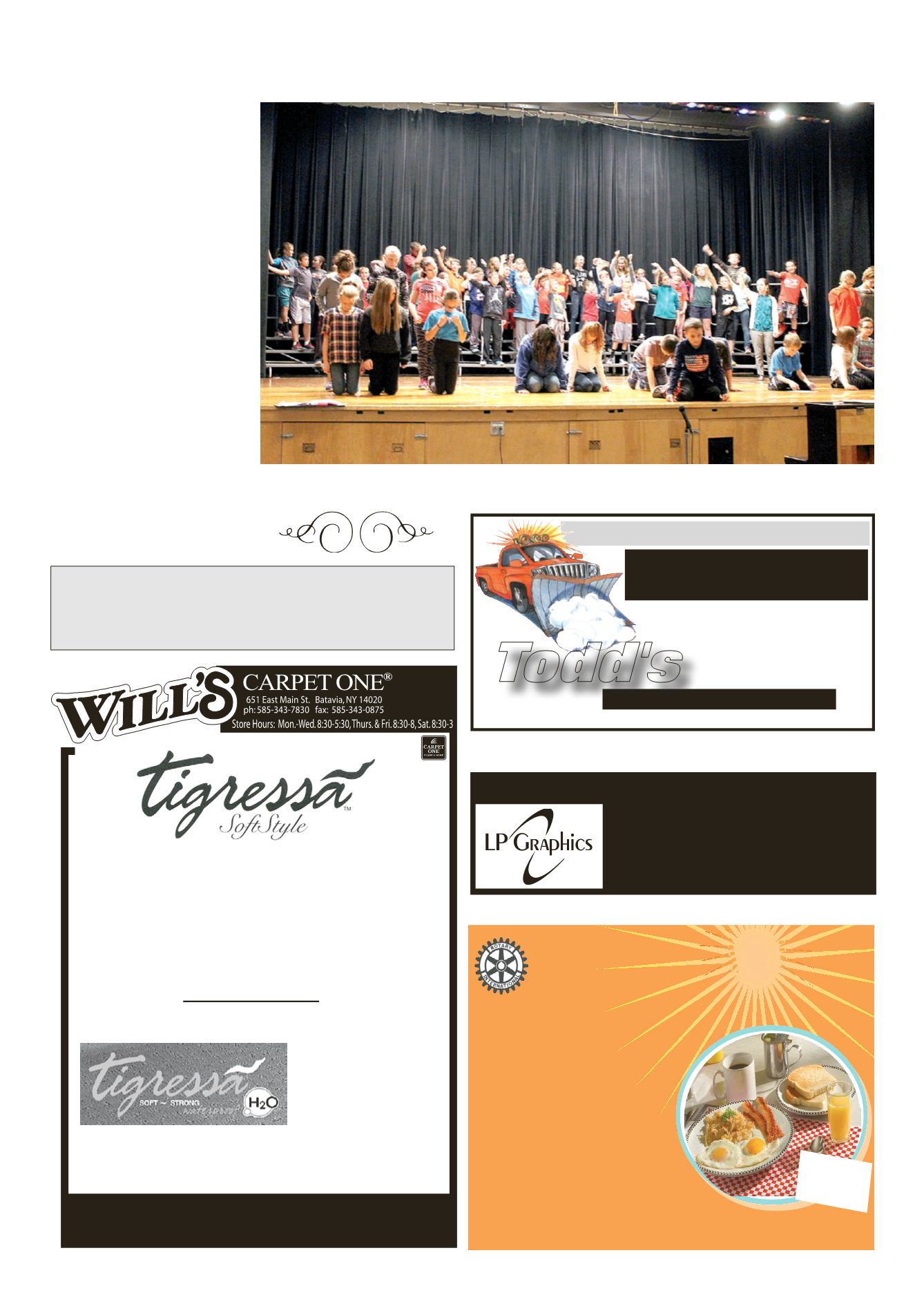 LEROYPENNYSAVER&NEWS -NOVEMBER 15, 2015
TheONE store for your perfect floor.
•FinancingAvailableToQualifiedBuyers
•Professional InstallationAvailable
FLOOR
&HOME
EntireLineOnSale
UpTo
50%
OFF
On Thursday, November 5th,
students from theWolcott Street
School6thgradeclassperformed
TheLionKingKIDS
Memorial Auditorium. Director
Ms. JessaDechant andAssistant
Director Mrs. Lindsay Buckel
auditioned interested 6th grade
students in September, and the
ensemble rehearsed every week
up to theperformance. The show
was a terrific success due to the
students' hardwork andprepara-
tion of lines, memorizing songs
and learningdancemovesaswell
ascreatingmanyof thepropsand
stage decorations from scratch!
As in previous years, the cast
also collected non-perishable
goods at the performances as a
way to aid the community. The
castwould like to thankeveryone
for their generous donations and
for thecontinuoussupportofarts
WSSDisney
TheLionKingKIDS
AidCommunity
Picturedhere is the entire cast ofDisney
TheLionKingKIDS
rehearsing for theirperformances.
SUPPORTYOUR LOCALADVERTISERS!
They help sponsor the local news section of the Le Roy Pennysaver.
THANKS FORYOUR SUPPORT!
1ChurchSt., LeRoy, NY14482
585-768-2201
FAX 585-768-6334
WeDo
NewHomes •Additions •Garages •PoleBarns
ToddCarli • Phone 703-0964
Decks •Windows •Doors
Kitchens •Baths•CeramicTile
Basement Finishing
CustomShelves/Built-Ins
Siding •Remodeling •Roofing
FULLY INSURED
Todd's
Residential • Commercial
Salting • Shoveling
BREAKFAST BUFFET
Tickets
Adults - $6.00, Children (3-10) $3.00, (3 andunder eat FREE)
•• Sponsored by RotaryClub of Le Roy - Proceeds toBenefit Le Roy Youth Programs ••
TakeOut
Available
Sunday,Nov. 15th