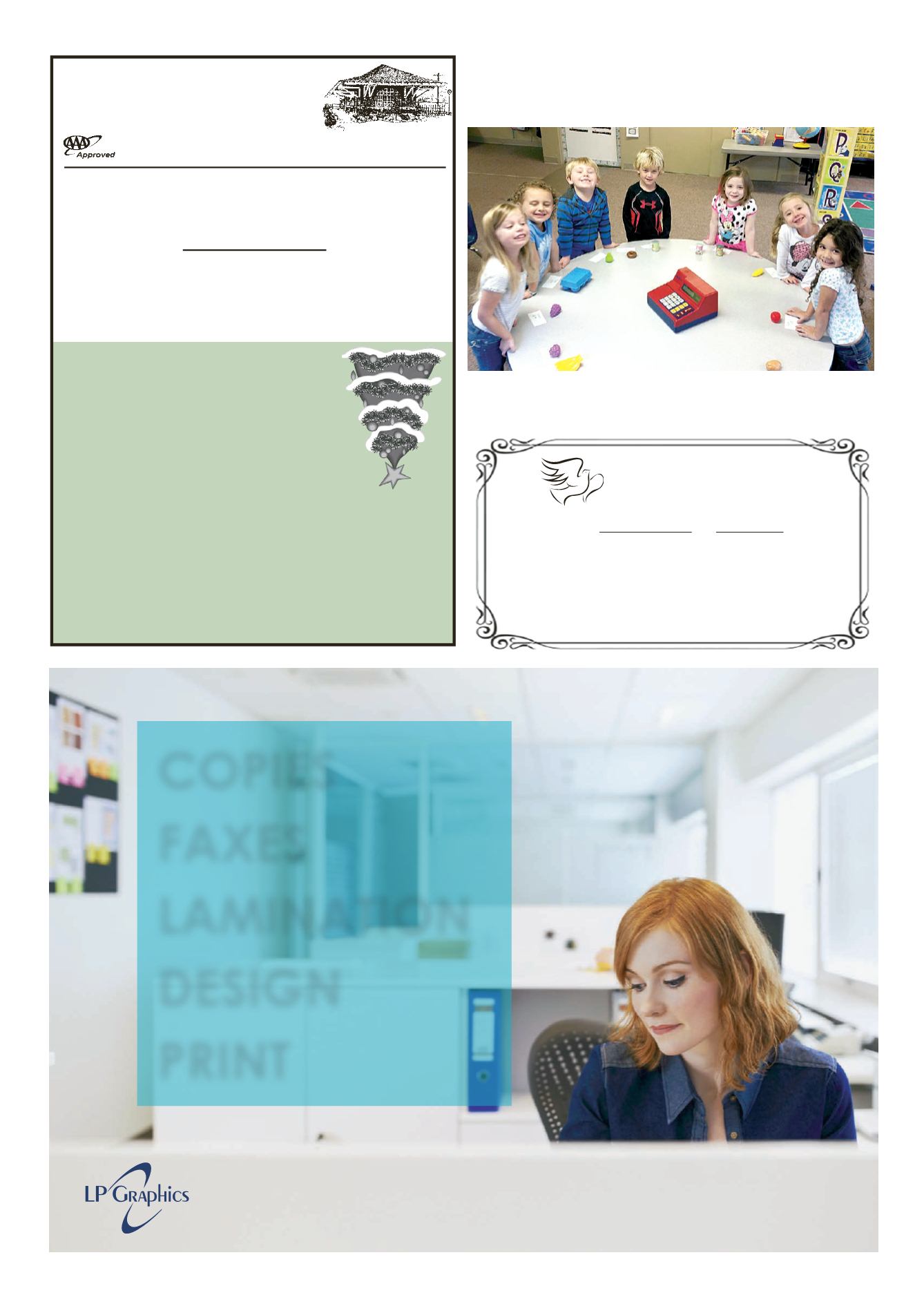 LEROYPENNYSAVER&NEWS -NOVEMBER 15, 2015
Director /Owner
FuneralDirector
F
ALCONE
F
AMILY
Funeral&Cremation Service, Inc.
Director/Owner
"ALOCALFAMILY
CARINGFORLOCALFAMILIES"
D&RDepot
63LakeSt. (Rt. 19), LeRoy•768-6270
Let'sMeetAtThe ...
OpenForBreakfast, Lunch&Dinner - 7DaysAWeek7 am-9pm
SUNDAY, NOVEMBER 15thDINNERSPECIAL
JEN'SRoast½CHICKENdinner
Includes homemade dressing, realmashed potatoes
& a chocolatemousse dessert - $17.99
SUNDAY, NOVEMBER 22ndDINNERSPECIAL
VIRGINIABAKEDHAMdinner
Includes Scalloped potatoes, soup or salad
and pineappleUpsideDownCake - $17.99
This is theweek our
holidaydecorations start going
up,
up,
up,
UP!
Make plans to bring friends
and family to see our unique
treatment of the holiday season.
ServingThanksgivingDaydinner from 11 am-7pm
Reservations are strongly suggested.
View the entiremenu on-line at
We are again offering the very popular "Leftovers to go"
for our guests onThanksgivingDay.
Order a variety of 'leftovers' packaged in
freezable/microwavable containers for the next day's
turkey sandwich ormidnight snack.
1ChurchSt., LeRoy, NY14482
585.768.2201
raphics.net
COPIES
FAXES
LAMINATION
DESIGN
PRINT
SunshineNurserySchool'sExtendedPre-K class learnedabout
moneyand thenset-up theirowngrocerystore.Thestudentswere
eager topurchase the items on their shopping list!
GroceryShopping
FunForSNS