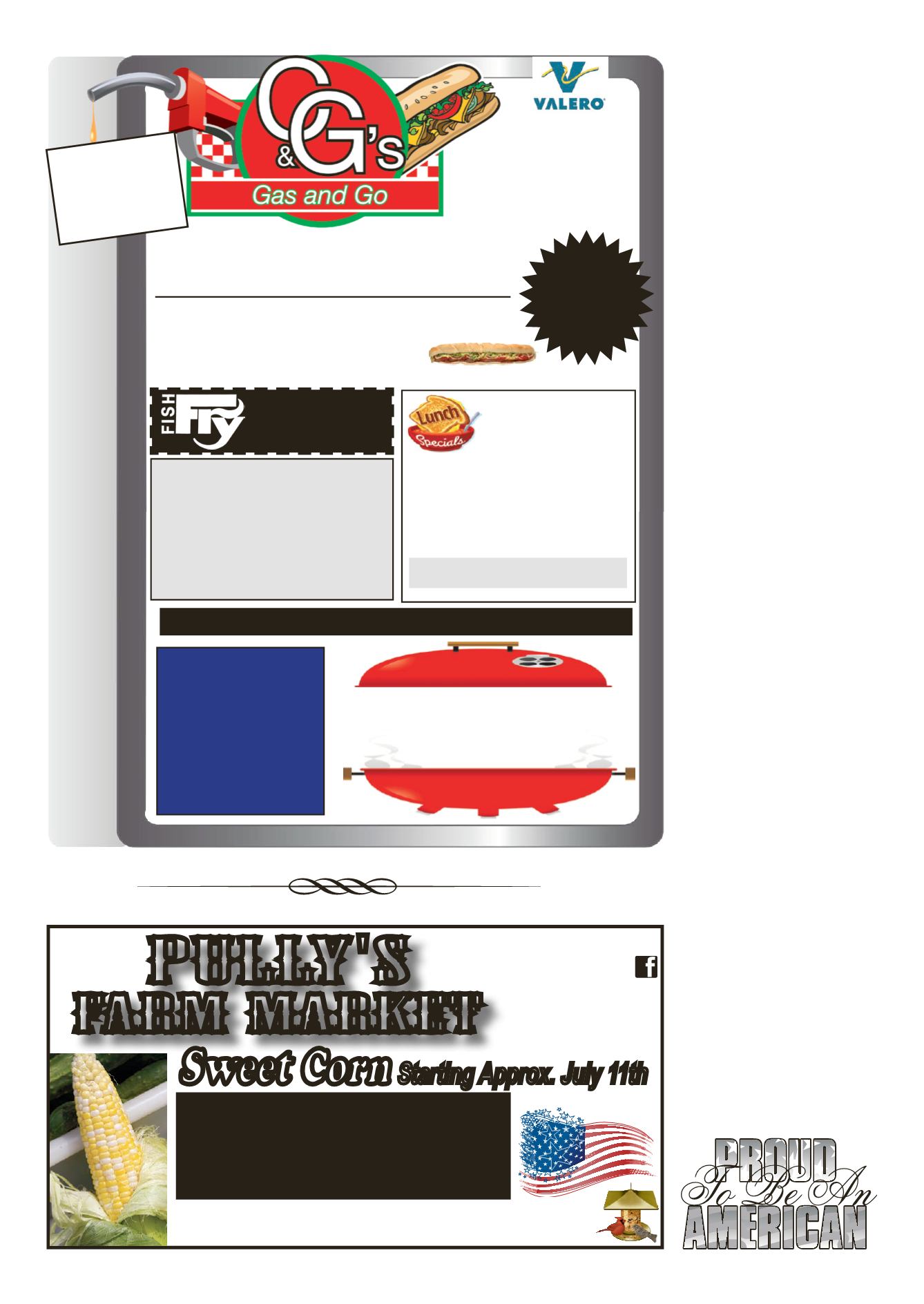 LEROYPENNYSAVER&NEWS - JULY 5, 2015
RyanCarley
pleted his Baccalaureate studies
at SUNY Oswego, earning a
bachelorofartsdegree in theater.
A student who graduates with
honors is indicated by the tradi-
tional Latinphrases summa cum
laude, withhighest honor (grade
averages of 3.8 to 4.0); magna
cum laude, with great honor
(grade averages of 3.6 to 3.79);
andcum laude,withhonor (grade
averages of 3.30 to 3.59).
SarahEhrmentraut
has earned High Honors for the
springsemesterof the2014-2015
academic year at the University
Students named to the Dean's
List at the University of New
Hampshire have earned recog-
nition through their superior
scholastic performance. Highest
Honors are awarded to students
who earn a semester grade point
averageof 3.85or better out of a
possible4.0.Studentswitha3.65
to3.84averageareawardedhigh
honorsandstudentswhosegrade
point average is3.5 through3.64
chaelBrogan announced the fol-
lowing student achievedDean's
List statusatDaemenCollege for
KatherinePatton
A matriculated undergraduate
student who attains a grade
point averageof 3.30or better in
any one semester is eligible for
Phillip JamesMoulton,
ident of LeRoy, N.Y., graduated
from theUniversity of Rochester
on Sunday,May 17, at the 165th
commencementwithabachelorof
arts degree in linguistics andphi-
losophy.Hegraduatedcum laude.
Moulton is thechildofStephen
andMartinaMoulton,andagrad-
uate of LeRoyCentral School in
Cantaloupes •Watermelon
Zucchini • Summer Squash
Watermelon •Cucumbers
Pickles •Cherries •Tomatoes
8160LakeRd. (Rt. 19)
LeRoy, NY
1/2mile south of Thruway
768-2280 • 704-1157
Hours:Mon.-Sat. 9-6, Sunday9-5
pullysfarmmarket.com
BirdSeed
&Feeders
StartingApprox. July 11th
Jams • Jelly • Seeds •Honey • Syrup
Gift CertificatesAvailable!
EARLY BIRDPIZZA SPECIAL!!
Sun. •Mon. •Tues. -LargeCheese - 16"
FRESHMADE TOORDER SUBS
ColdSub
......................$7.99
Hot Sub
.............................$8.99
CheckOut
Our GAS PRICE
5¢OFF
Every SUNDAY
NoCoupons, Please
Saturday& Sunday ONLY
SUPERSUBSPECIAL
(ColdSub)
OFF
Dinner -
Expires 7/31/15
COUPON
LargeCheesePizzaWith 10Wings
(no coupons)
Monday-Friday
$5.00
IncludesFountainDrink
Hamburgs/Cheeseburgs/ZweiglesHots
Zweigles ItalianSausage
FreshHouseMarinadedChicken Sandwiches
DELI CLOSED
JULY 4th& 5th
Sunday
Regular Hours
TacoTuesday (3 tacoswithDoritos)
Wednesday- C&GMiniPlate: 1Hamburg&1Hot
Dog or 2Hot DogswithMacSalad
Thursday- 2Slices of Pizza and 3Wings
All LunchesComeWith
16 oz. FountainDrink!
*Menu Subject to change