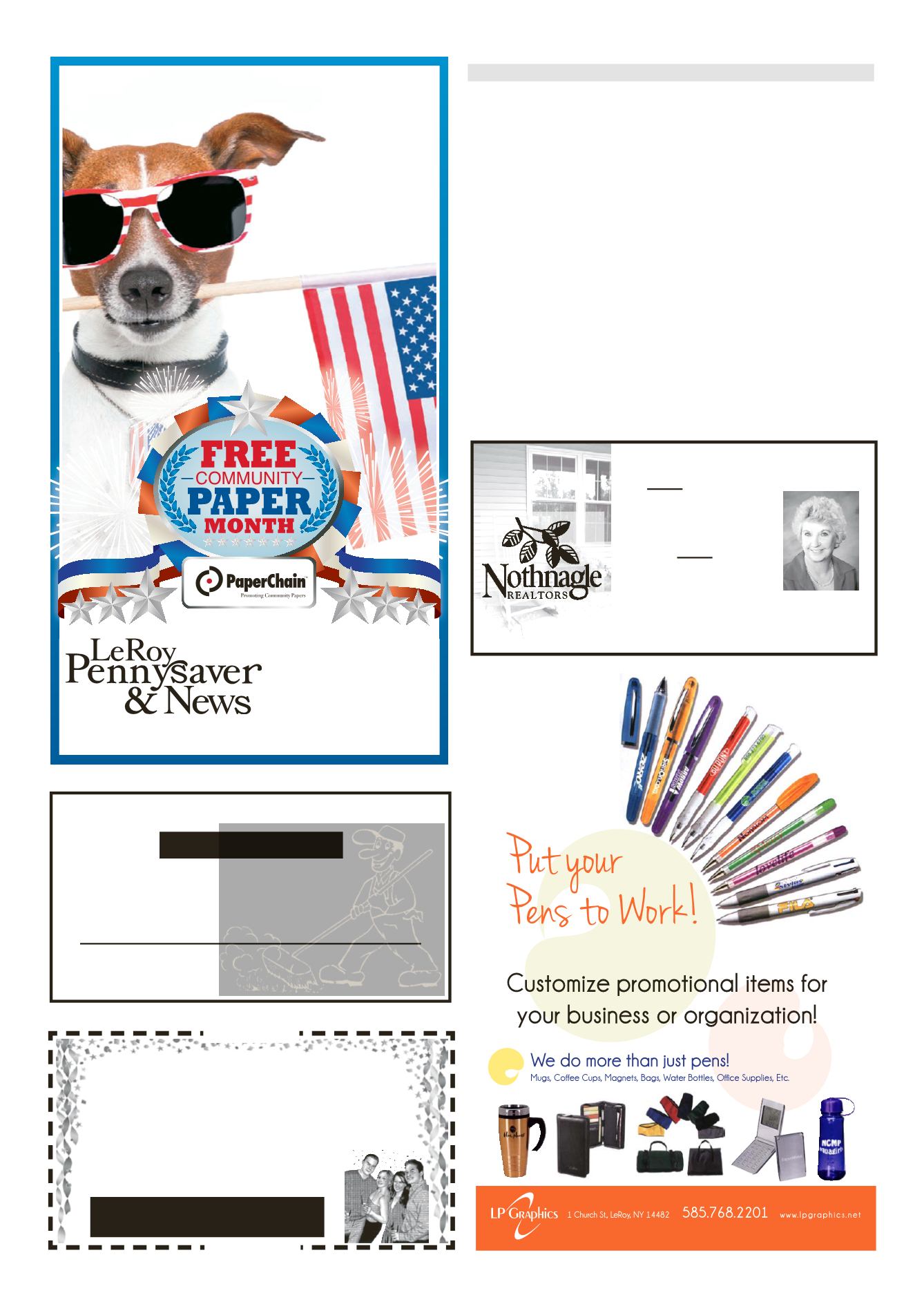 LEROYPENNYSAVER&NEWS - JULY 5, 2015
Batavia
585-343-6750
NOW is theBEST time
toBUYwith the interest rates
at their lowest!
Don't wait
toBUY -
call
LindaBeaumont
for all your real
estate needs.
LindaBeaumont
Home (585) 768-6315
LicensedReal Estate
Salesperson
Multi-MillionDollar Producer
The best
things in life
are free
CIRCULATION VERIFICATIONCOUNCIL DATAMEASURINGPAPERSAUDITED INBOTH 1999 AND 2013.
are thriving. In fact, free
community publications have
been able tomaintain nearly 99%
of their readership since the turn of
themillenium. We love the
neighborhoodswe serve andwe
couldn't do it without your support.
Thank you!
Visit paperchain.com to learnmore
[MEMBER PUBLICATION LOGO&CONTACT INFO]
American Legion
Post 576
585-768-2090
CLIP&SAVE
CLIP&SAVE
Inside - 2RoomsAvailable
Outside - LargePavilion
CleaningService
•Carpet &UpholsteryCleaning
•Spot Cleaning&Odor Removal
•Tile&WoodFloor Cleaning&Waxing
•Complete Janitorial Services
byGreg "Porp"Rogers
Mayor
Summer is upon us, and after
this past winter we deserve a
goodone.TheChiefofPolicehas
urgedme toaskourcitizens, tobe
aware ofmore children on bikes
and in the streets, so please be
extracareful drivingaround.The
Oatka Fest is twoweeks away, I
urge everyone to participate in
someof theactivities. Suchas the
Regatta and Tri theOatkawhich
youcansignup for@ tritheoatka.
com. There will be live music
at the Eagle and theMoose, get
out and enjoy upstate living at
Our sidewalkproject ismaking
great strides despite theweather,
andmore construction to contin-
ue. Ifyouquestionedsomeof the
sidewalksbeingaddressed, itwas
determined in the scope of work
set forth by our Safe Routes to
School Grant. Next yearwewill
be looking at other streets that
Something unique this summer
is a series hosted by the Library
starting 7/25 at 6:30 entitled
"That'sMyStory"which isstories
about the past living inLeRoy, it
promises to be interesting.
"Themostpatheticperson in the
world is someonewho has sight
but has no vision". HelenKeller
Notes From TheMayor's Office