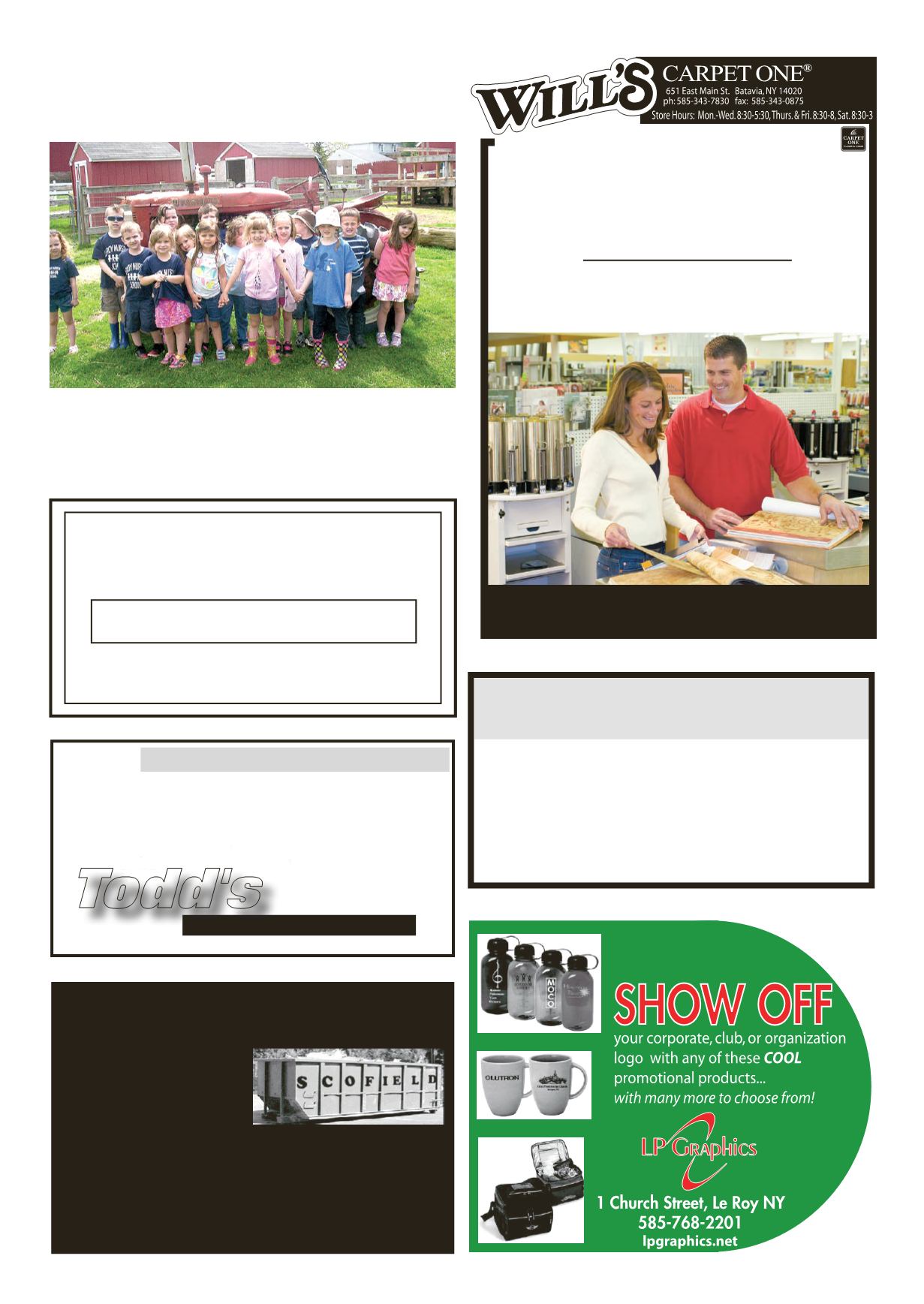 LEROYPENNYSAVER&NEWS - JULY 5, 2015
TheONE store for your perfect floor.
FLOOR
&HOME
NewHomes •Additions •Garages •PoleBarns
ToddCarli • Phone 703-0964
Todd's
Decks •Windows •Doors
Kitchens •Baths
CeramicTile
Basement Finishing
CustomShelves/Built-Ins
Siding •Remodeling
Roofing • SnowPlowing
FULLY INSURED
ALLWORKMANSHIP GUARANTEED • INSURED
297-9097 • 768-7737
• InteriorPainting
• Plaster/LathRestoration
•Drywall&Drywall Repair
•TextureRemoval
• Floors Stripped
&Refinished
•OldCeilings&Walls
MadeLikeNew!
MikeDarby'sPatch&Paint
Plumbing • Heating
Installation&Repair Service
For All Residential &Commercial Work
15, 17, 20, 25, 30,
and 40 cu. yd.
CONTAINERS
ScofieldRolloff •343-8383
NobodyBeatsOur Prices!
IN-STOCKWallpaper
Borders
-
NEWSTYLESofDIYVinyl
LeRoy Nursery School visited Spring Dale Farm. It was a fun
filled day seeing all the animals and being able to touch them.
The children also enjoyed the robotic cow, the playground and
enjoying snack there. Picturedhere iswhere they got to sit on a
big old tractor. Farmers for aday!
LNSVisits
SpringDaleFarm