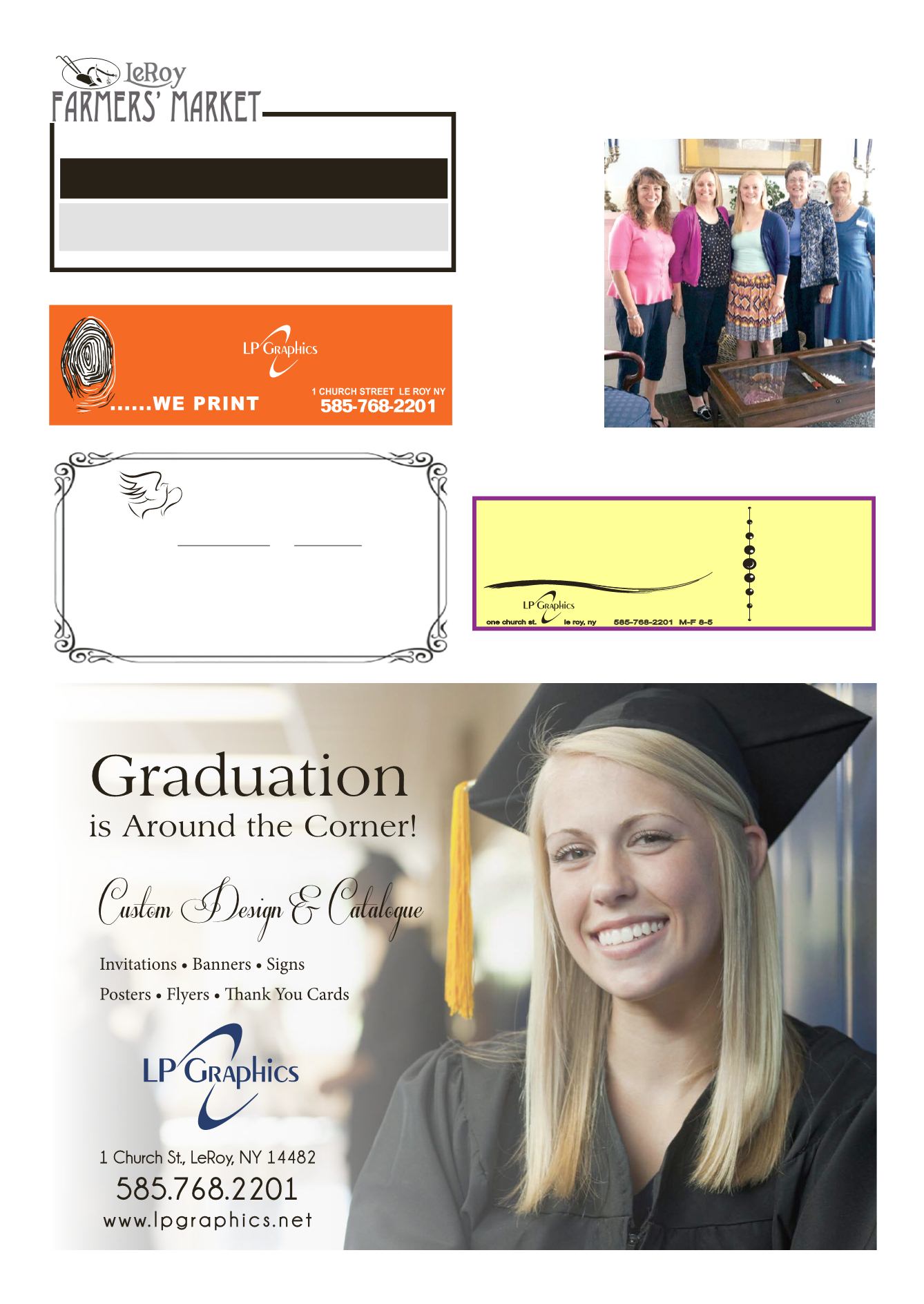 LEROYPENNYSAVER&NEWS - JULY 5, 2015
Director /Owner
FuneralDirector
F
ALCONE
F
AMILY
Funeral&Cremation Service, Inc.
Director/Owner
"ALOCALFAMILY
CARINGFORLOCALFAMILIES"
LeRoyFarmer'sMarket onFacebook
TRIGON PARK
Saturday, July 11th
9:00 am-12:30 pm
LOCAL • FRESH•DELICIOUS •NUTRITIOUS
Seasonal Fruits andVegetablesWill BeArrivingWeekly!
July 11th -
BevHess is in ourMusicTent and therewill be a
FairyGardendemonstration at 10:00 in ourCommunityBooth.
Jams, jellies, eggs,Yancey'sFancyCheeses, NundaMustards,
OnceAgainNut Butters, baked goods, organic produce, honey,maple syrup
and fresh, locally grown produce.
Natalie Moulton,
daughterofStephen
andMartinaMoul-
ton, LeRoy, was
presented with the
2015 Olmsted Me-
morial Scholarship
at the First Presby-
terianChurchofLe-
Roy. Pictured here
are: Amy Bolton,
Martina Moulton,
Natalie Moulton,
Lucy Mackenzie,
andLoraAllen, Ol-
msted Scholarship
committee.
2015OlmstedMemorial
Scholarship
one church st. le roy, ny
one church st. le roy, ny
lpgraphics.net