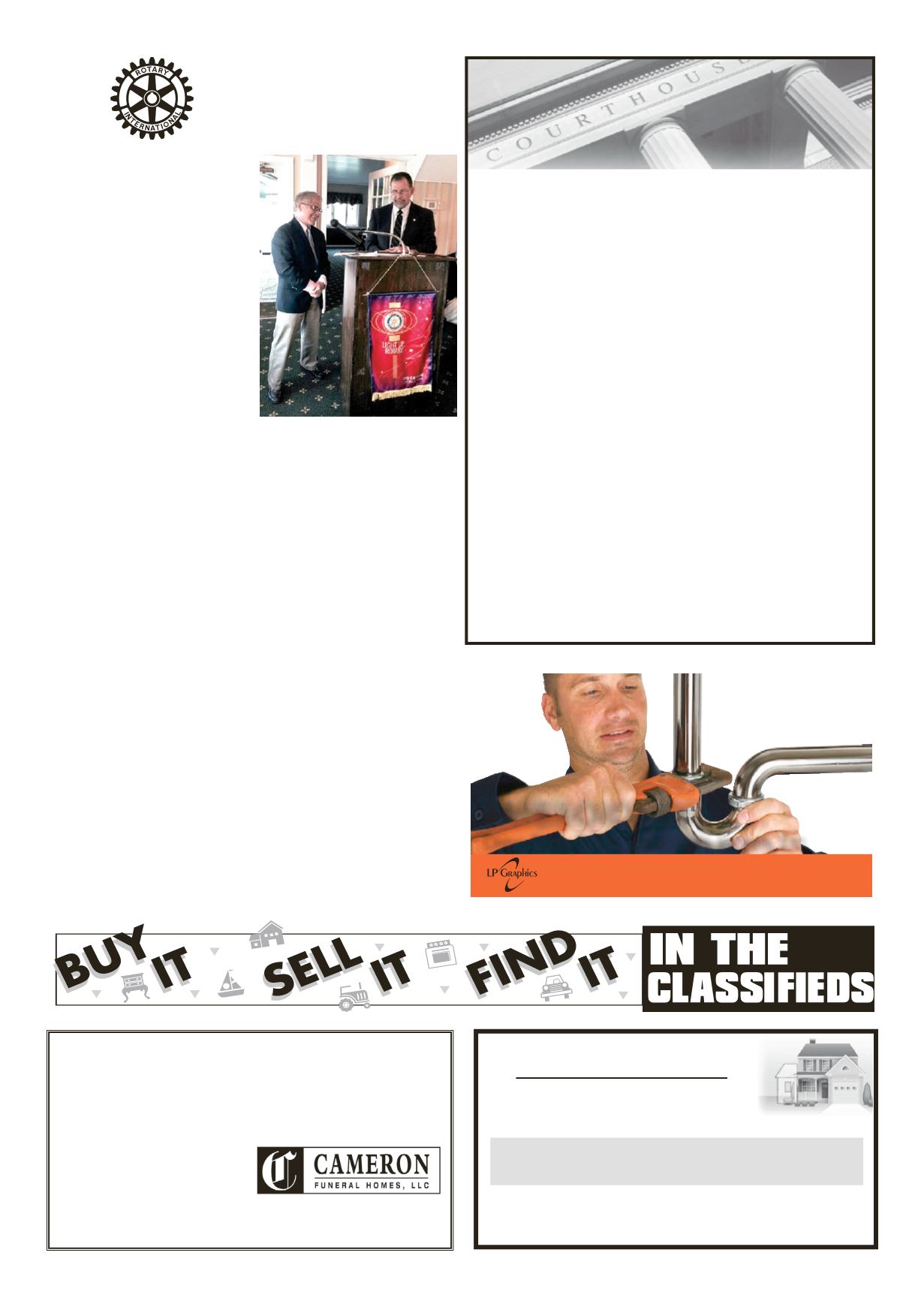 LEROYPENNYSAVER&NEWS - JULY 5, 2015
HelpingFamiliesCelebrateaLifeLived
"Our FamilyServingYours Since 1907"
Trusted•Honest •Proven
Cameron, Brady&Steuber
FuneralHome
111Wolcott Street
LeRoy,NY 14482
(585) 768-6800 •
Likeus onFacebook
"CompleteCarpentry Service"
M
ILLER
B
ROTHERS
B
UILDERS
CustomHomes •Remodeling•Additions
Roofing• Siding
DANIEL
MICHAEL
LeRotary
Notes
Notes June 24th
TheRotaryyear isdrawing toa
close (the newRotary year starts
July1st) andwith that comesour
annual Installation Dinner. This
year, the committee, JimEllison,
June Dusen, Sam Vagg, Lauren
Humphrey & Erik Fix, chose
StaffordCC for the venue.
The meeting roomwas bril-
liantly decorated under the cre-
ativeeyeofJuneDusenwhonev-
erceases toamaze.LarryBoylan
servedasMaster ofCeremonies.
Hecalledon JimEllison,Martha
Bailey andBobCarlson, respec-
tively, to lead us in the Pledge,
FourWayTestand theInvocation.
Bob Bennett presided over the
finingsessionashedeftlyhas for
years.Thefiningmoneycollected
at the InstallationDinner always
goes to a local cause chosen by
The Paul Harris Fellowship
Award is the highest honor that
Rotarybestows.Theaward,quite
simply, recognizes individuals
for their contributions to Rota-
ry. We honored four awardees
this year. Sherye Boylan was
"pinned" by her husband Larry.
IncomingPresidentTonyGugino
received his second Paul Harris.
TimMoag was unavailable and
willbepresentedhissecondPaul
Inhonor of our 75thyear, and
in recognition of his inspiration
to us all, our Club awarded a
Paul Harris to the namesake of
our R.E.A. Milne Scholarship
Foundation, the late Dr. Robert
Milne. President Randy took
over thepodium forhis"farewell
address". He began will some
historic reflections of Rotary of
LeRoy's 75 years, recognizing
milestones and members, past
and present. After the history
lesson, Randy thanked themem-
bership, in a variety ofways, for
their contributions for a success-
fulyearof"LightingUpRotary"!
The Rotary slogan for this new
year is "Be a gift to the world"
and Tony Gugino is setting the
example by taking the Presiden-
tial oath for his second time as
RotaryPresident.He also served
as President for 1987-1988.
Finally, the gavel was cere-
moniously passed to President
TonybyPastPresidentRandyand
another Rotary year is, as they
say, in thebooks.Don't forget to
TOWNOFLEROY
AnticipatedVacancy
PART-TIME~COURTCLERK
General JobDescription:
Preparation/issuance of legal documents; Receipt/reporting/
deposit of all fine, fee, bailmonies;Management of court calendar;
Reporting/correspondence to all local, county and state agencies;
Court date judicial preparation;General related clerical work. The
work is performedunder the general directionof theTown Justices
Qualifications:
The successful candidatewill have the greatest degree of:
• Minimum high school diploma – preference for post secondary
• Strongcomputer/clerical skills–preference forsuccessfulclerical
• Strong reading, writing, speaking, listening, people skills – pref-
erence for demonstrated success in these areas
• Strong preference for education/experience in legal profession
Application:
Send letter of interest, resume, and references by July20th, 2015 to:
Town ofLeRoy
48MainStreet, LeRoy, NY 14482
Attn: TownClerk, PatriciaCanfield
Dress Shirts, Polos, Vests, Hats, Jackets, Etc.
1ChurchSt.
LeRoy, NY14482
585.768.2201