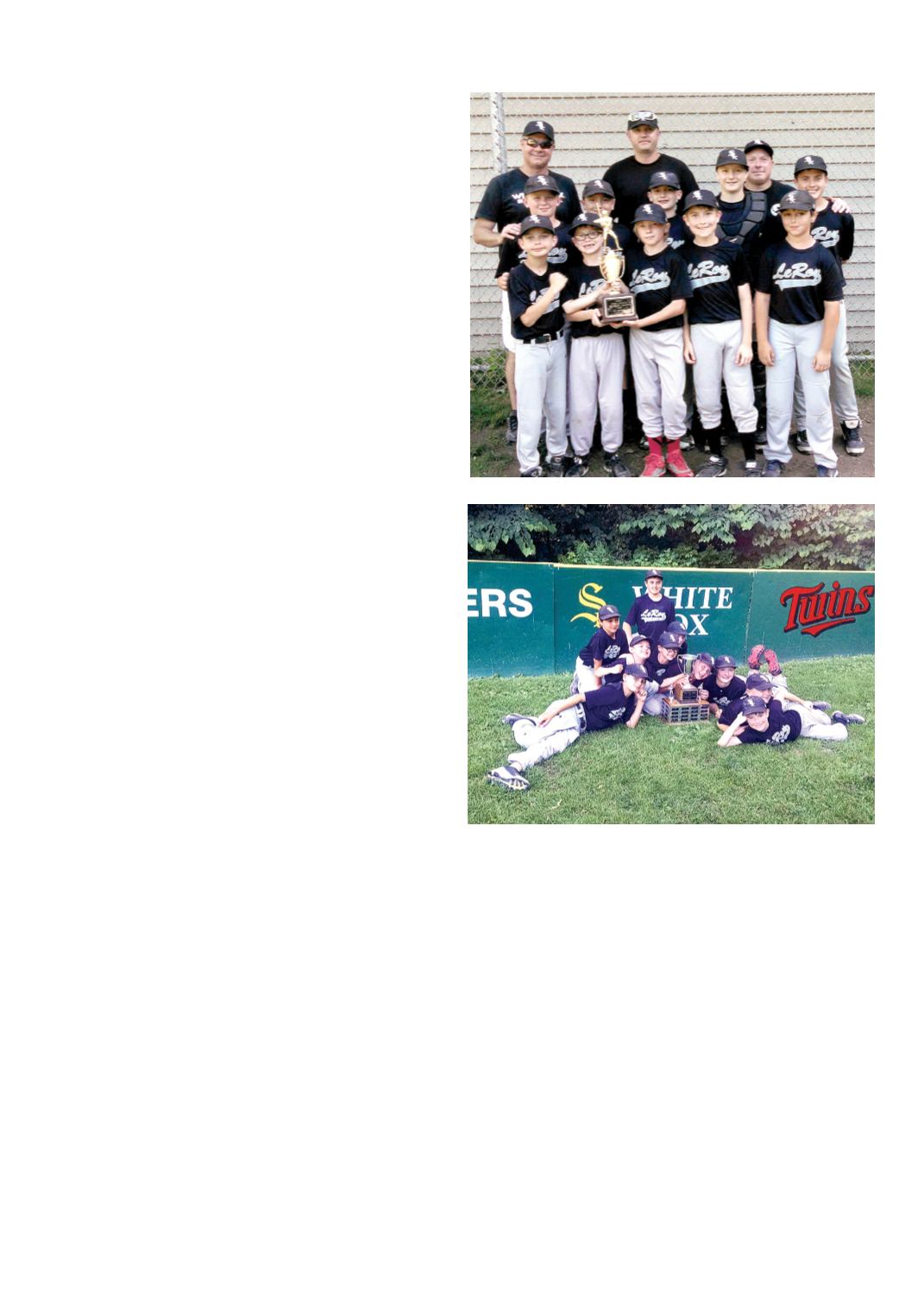 LEROYPENNYSAVER&NEWS - JULY 5, 2015
LeRoyLittleLeague -White Sox - 2015ScanlanCupChampions
After an excitingLittle League
season there were two teams left
standing, theTwinsand theWhite
Sox. TheWhite Soxwere the #1
seed andHistorical CupChampi-
ons,while theTwinshadwon8of
their last9games.The teamswere
all set to square off in the best of
Game 1
WhiteSox 3 Twins 0
Game 1 of the Scanlan Cup
proved to be an exciting game
between theWhiteSoxandTwins.
In the top of the first, Twin's
leadoff hitter ColinMcCulley hit
a triple. However, theWhiteSox
defense held strong and retired
the next 3 batters. In the bottom
of the first inning, Bryce Lathan
hit a double and was later hit in
by Andrew Kettle to make the
score1-0 after one. KennySaun-
ders started on themound for the
WhiteSoxandcontinued to retire
the next 6 Twin's batters. In the
top of the fourth, Ethan Beswick
reached base on a single andwas
followed by Cole Rauscher who
hitadouble. LillyUberty reached
base on awalk to load the bases.
Then Kenny Saunders earned a
strikeout toend the inning leaving
the bases loaded. Cole Rauscher
startedon themound for theTwins
andpitchedone inning. ColinMc-
Culley came in the second inning
and held theWhite Sox scoreless
until the 4th inning when Ryan
Friend belted a shot into right
center and scoredonan inside the
park homerun to make the score
2-0 after 4 innings of play. In the
bottomof the5th inning,Andrew
Kettle drew awalk andwas later
hit in by Mike Buccina to make
the score3-0after 5 innings. The
Twins came storming back in the
top of the 6th as Ethan Beswick
and Cole Rauscher hit singles to
get on first and second. Kenny
Saunders ran out of pitches with
one out in the topof the 6th. The
WhiteSox turned toJasonLeSage
who gave up a single to Jackson
Locke to load thebases thenstruck
out thefinal2batters tosecure the
win. The final score was White
Sox3 andTwins 0. KennySaun-
ders pitched 5 1/3 strong innings
strikingout 10and JasonLeSage
pitched thefinal 2/3 innings strik-
ing out 2. Pitching for the Twins
wereColeRauscher who pitched
1 inningandColinMcCulleywho
pitched 4 innings striking out
10. Hitting for the Twins were
Colin McCulley with a triple,
Ethan Beswick with 2 singles,
Cole Rauscher with a single and
double and JacksonLockewith a
single. Hitting for theWhiteSox
were Ryan Friend with a home
run, BryceLathanwith a double,
Kenny Saunders with a single,
AndrewKettlewithasingle,Mike
Buccina with a single and Jason
Game 2
WhiteSox12 Twins 7
Offense took center stage in
Game 2of theScanlanCup. The
Twins got off to a quick start in
the bottom of the first as Ethan
Beswick reached base and Joey
Brennenhit a single. With2 run-
ners on base, Jackson Locke hit
a single to score Ethan Beswick
andJoeyBrennen. JacksonLocke
would also scoreon ahit byLilly
Uberty tomake thescore3-0after
one. ColeRauscher startedon the
mound for the Twins and retired
the first 6White Sox batters. In
the top of the third inning Jack
Duyssen led off with a single to
get things started for the White
Sox. Bryce Lathan would hit a
double to score Jack Duyssen.
Ryan Friend hit a single to score
Bryce Lathan. Kenny Saunders
kept things going with a single.
Both Ryan Friend and Kenny
Saunders would later score on
a hit by AndrewKettle to make
the score 4-3 White Sox after 3
innings. The Twins defense held
the White Sox scoreless in the
top of the 4th. In the bottom of
the 4th, Matthew Beswick and
XavianWalker both drewwalks
and a single by Colin McCulley
loaded the bases. EthanBeswick
hit a single to score Matthew
Beswick and Cole Rauscher hit
a single to score XavianWalker.
Cole Rauscher would also score
on a hit by Joey Brennen. Joey
Brennen scoredon another hit by
LillyUberty tomake thescore7-4
after 4 innings. Ryan Friend led
off the top of the 5thwith awalk
andKenny Saunders hit a single.
AndrewKettlehit a single to load
thebases. RyanFriendandKenny
Saunders both scored on walks
andAndrewKettle also scored to
tie the game. Bryce Lathan then
hitadouble toscoreJasonLeSage
and tomake the score 8-7 after 5
innings.AndrewKettlestartedon
themound for theWhiteSox and
pitched 4 strong innings. In the
bottom of the 5th, Bryce Lathan
came in on relief and struck out
the first batter. Colin McCulley
hit a double, Ethan Beswick
hit a single and Cole Rauscher
reached base to load the bases.
Bryce Lathan then struck out the
next batter and a pop up to the
catcher, Ryan Friend, ended the
inning. In the top of the 6th for
theWhite Sox, Ryan Friend and
KennySaundersbothdrewwalks
and Andrew Kettle hit a double
to score Ryan Friend and Kenny
Saunders. Andrew would later
scoreaswell. JasonLeSagealso
reachedbaseandwould laterscore
on ahit by JackDuyssen tomake
thescore12-7 in themiddleof the
6th. BryceLathan thenstruckout
the final 3 Twin's batters to end
the game. Pitching for theTwins
wereColeRauscher who pitched
4 1/3 strong innings striking out
6 and JoeyBrennenpitched12/3
innings striking out 3. Pitching
for theWhite Sox were Andrew
Kettle who pitched 4 innings
striking out 5 and Bryce Lathan
who pitched 2 innings striking
out 6. Hitting for theTwinswere
ColinMcCulleywitha singleand
double,EthanBeswickwith2sin-
gles, ColeRauscherwith a single
and double, Joey Brennen with
2 singles, Jackson Locke with a
single,LillyUbertywith2singles,
and Kaden Berger with a single.
Hitting for the White Sox were
Bryce Lathan with 2 doubles,
RyanFriendwitha single,Kenny
Saunderswitha singleandadou-
ble,AndrewKettlewith2 singles
and a double, JackDuyssenwith
3 singles, Alex Dowell with a
singleandChaseCummingswith
WhiteSox,HistoricalCupChampions.
WhiteSox, ScanlanCupChampions.