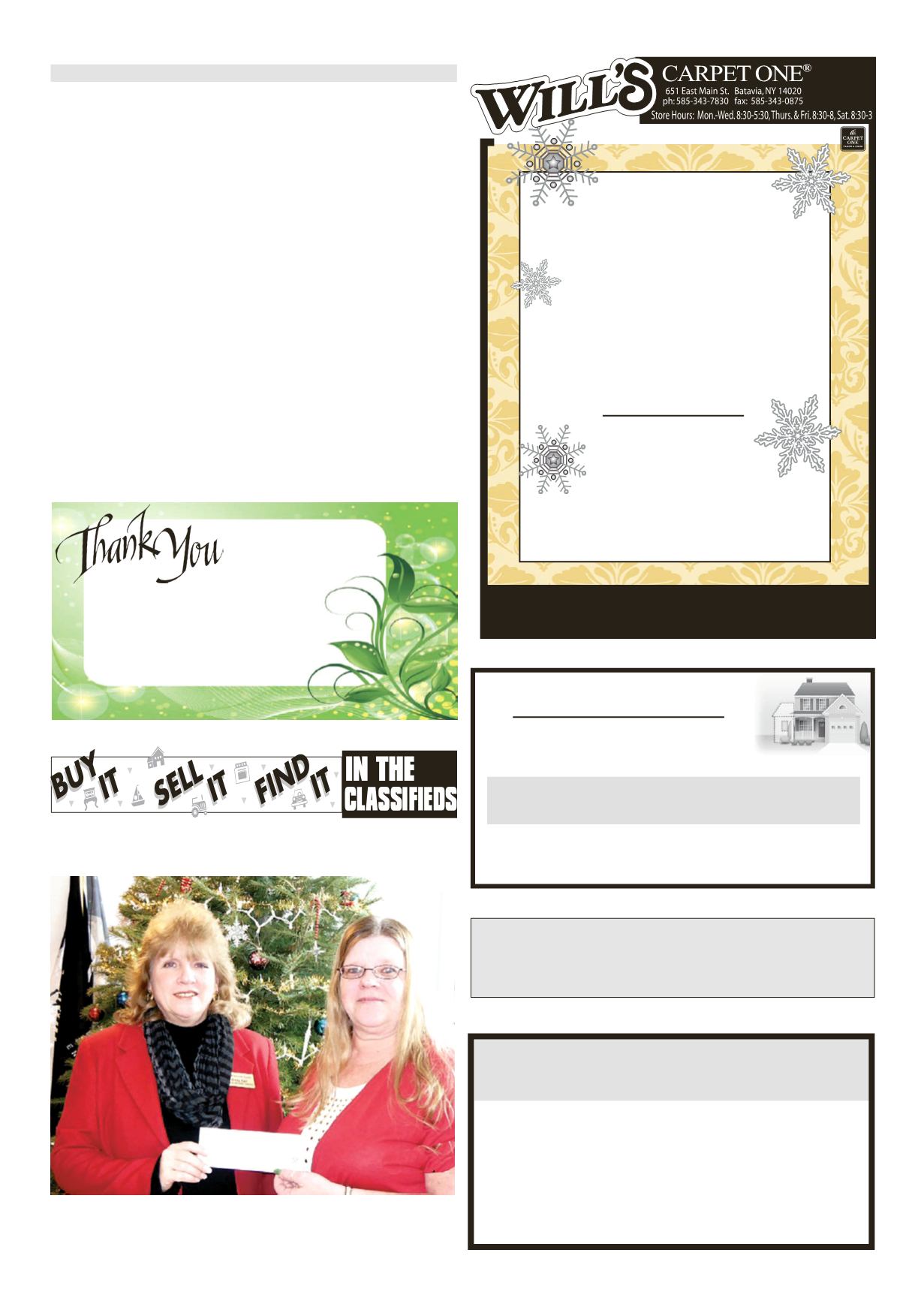 LEROYPENNYSAVER&NEWS - JANUARY 18, 2015
TheONE store for your perfect floor.
"CompleteCarpentry Service"
M
ILLER
B
ROTHERS
B
UILDERS
CustomHomes •Remodeling•Additions
Roofing• Siding
DANIEL
MICHAEL
SUPPORTYOUR LOCALADVERTISERS!
They help sponsor the local news section of the Le Roy Pennysaver.
THANKS FORYOUR SUPPORT!
ALLWORKMANSHIP GUARANTEED • INSURED
297-9097 • 768-7737
• InteriorPainting
• Plaster/LathRestoration
•Drywall&Drywall Repair
•TextureRemoval
• Floors Stripped
&Refinished
•OldCeilings&Walls
MadeLikeNew!
MikeDarby'sPatch&Paint
FLOOR
&HOME
Remnants!
Remnants!
Remnants!
LargeSelection ofCarpet Remnants
Small andLargeSizesAvailable.
We canmake area rugs to your size.
Binding available orwe can installwall-to-wall.
FREE
Discontinued Carpet Samples
(Limit 6)
Great forDogBeds, Boots orCarMats
TheLeRoyWomenof theMoosedonated$400.00 to theYWCA
DomesticViolenceProgram.LorieOliverheldaHarvestDinner
to raise theFunds topresent the check toCindyEarl.
DonationToTheYWCA
for the overwhelming outpour of
memories, reflections and
A special thank you toLynneBelluscio for an amazing
and touching article. Also special thanks toVern
andDebbie Falcone. They handledour family's
needs quickly, respectfully and kindly.
I would like to take this oppor-
tunity to say a fewwords as my
tenure as FireChief comes to an
end. Ihaveserved thecommunity
for sevenyears, 4 as anAssistant
Chief and 3 as the Chief of the
First and foremost Imust thank
my family,mywifeKim andmy
kids Chelsie and Tommy. They
were the ones that had to put up
withall themeetingandcalls that
tookme away from them.Words
cannot expressmy loveandgrat-
Secondly to themenandwomen
of the LeRoy Fire Department
youmade my job very easy and
should be proud of yourselves.
You don't ever receive the credit
or thanks you all deserve.
Lastly, Iwant to thank thecom-
munity in general. Over the last
few years I was able to build a
very strongworking relationship
with the followingorganizations:
LeRoyPolice,DPW,TownHigh-
wayDept,LeRoySchool,LeRoy
Ambulance and both Village/
TownBoards.Hopefully thisrela-
tionship continues to thrivewith
the new administration. I want
to say THANKYOU to anyone
Imayhave forgotten. It hasbeen
a pleasure serving as the Chief
of one the best organizations I
I also like to welcome the
incoming Chief Dale Ehrhart
and 1st Assistant Chief Timothy