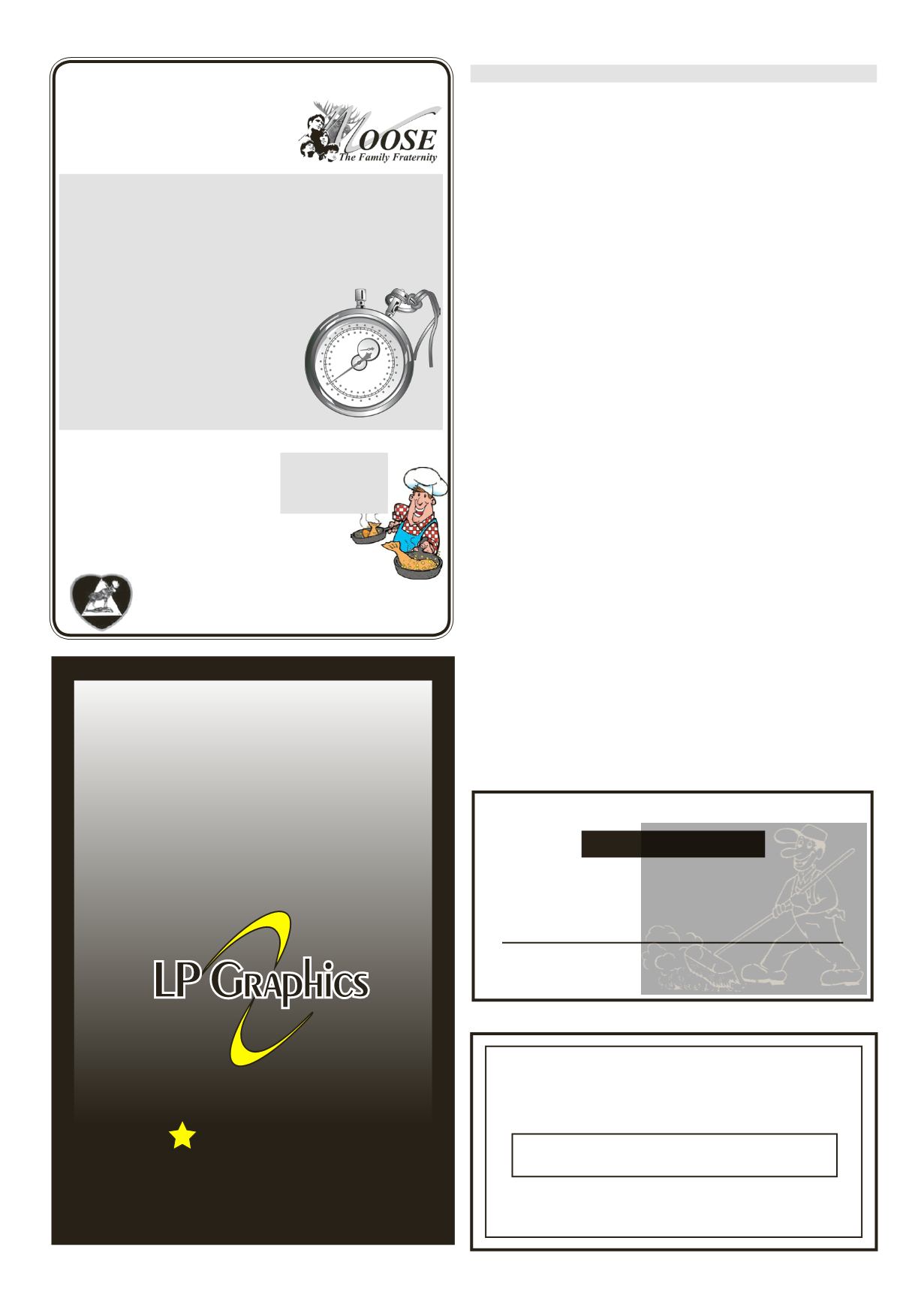 LEROYPENNYSAVER&NEWS - JANUARY 18, 2015
Plumbing • Heating
Installation&Repair Service
For All Residential &Commercial Work
CleaningService
•Carpet &UpholsteryCleaning
•Spot Cleaning&Odor Removal
•Tile&WoodFloor Cleaning&Waxing
•Complete Janitorial Services
Sat., Feb. 28th
1:00 pm - ?
ForMore InfoCall
ChrisP. at 330-3576
Events Sponsored byWomanOf TheMoose, Chapter #370
FamilyCompetition
LeRoyMooseFamilyCenter
21BankSt.
768-6170
Member&QualifyingGuest Events
Thurs., Jan. 22nd
Sat., Feb. 14th
StuffedPepperDinner, 5-7 pm
CakeWalk -AfterDinner, DJ
AshWednesday (Feb. 18th) FishFry
5:30-8 pm -OpenToThePublic
byGreg "Porp"Rogers
Mayor
Happy NewYear to everyone.
With the holiday season behind
us thereare someThankYou's to
be handed out. This is to all the
peoplewhogooutof theirway to
make this a better community, if
I miss someone or group please
excuseme, it is just an oversight
Somanypeople, give somuch,
I could not get it all. LeRoy
Business Council and all who
supported the "First Night" fire-
works show, Andrew Lathan
and his crew for all the work on
the Christmas tree, to all the run
organizers, who bring people to
ourcommunity tohelpspread the
word about howgood it is to live
in LeRoy. To all the organizers
of "Winterfest" all these events
bring energy to our community.
In the upcoming year we have
someprojects on the stove, some
front burner some may be back
burner. The Village will see
many feet of new sidewalks this
year,we are almost finishedwith
the preliminary mandates and
getting ready for bid, hopefully
wewillseesummertimeconstruc-
tion. We will hire out the grant
portion of the sidewalk project
about $420,000 dollars worth,
andpiggyback some of our own
funds to take advantage of the
lower rate from the bidof such a
largeproject, thiswillbe themost
economical time todo thiswork,
so itwill be a top priority.
The Village is faced with re-
placing two icons, Russ Lathan
Sr. andTomFernaayshavegiven
verbal notice they are planning
to retire this year, while both
are very deserving, they are also
veryhard to replace, andwehave
already begun the search.
We are in the last year of our
union contracts, after last year's
30%+ increase inhealthcare, the
insurancecompanies, followedup
with another 13% increase this
year. This is the biggest yearly
challenge we have. We are not
alone; it isanational issueaswell.
On the back burner is, creek
bankcleanup,MainSt. sidewalks
On abrighter note theVillages
debt continues togodown, it has
always beenmygoal tokeep the
services we all desire and get
out of debt, our board and past
boards have done a great job at
this, and there is light at the end
bounce when you hit bottom".
Notes From TheMayor's Office
1CHURCHST, • LEROY, NY • lpgraphics.net
WEHANDLEALLASPECTSOFPRINTING...
PROGRAMS
LETTERHEADS
BILLHEADS
FLYERS
BROCHURES
POSTERS
CARBONLESSFORMS
ENVELOPES
RAFFLETICKETS
NEWSLETTERS
RESUMES
TYPESETTING
RUBBERSTAMPS
ENGRAVEDSIGNS
NAMETAGS
COPIES
LAMINATION
COMMUNITYFAX
NEWSANDPICTURES
ADVERTISING
BUSINESSCARDS
HOURS: Monday thruFriday8:00 to 5:00